2022 at a glance
Though the COVID-19 pandemic remained a key aspect of our work throughout the year, 2022 gave us the opportunity to refocus our energies on a range of other, often related, issues affecting the profession and Canadians. From providing information, advocacy and resources on drug shortages to embedding diversity, equity and inclusion into every aspect of our work, CPhA remained dedicated to empowering the pharmacy community and advocating for your essential role in health care.
Everything we do as an association is intended to support the profession of pharmacy and the pharmacy teams that play such a critical role in the health-care system. In 2022 CPhA enhanced our engagement efforts, launching a number of new activities aimed at identifying, amplifying and representing the full spectrum of diverse voices that make up our profession and supporting you in the work that you do every day.
In 2022, we helped connect federal officials to the pharmacy voices on the front lines and worked hard to ensure pharmacists were recognized and heard.
Exciting advances in scope of practice and public funding occurred in many parts of the country this year, including the ability for pharmacists to assess and prescribe Paxlovid for patients with COVID-19 in 7 provinces so far. Pharmacists in Prince Edward Island and New Brunswick are now receiving funding for many key services they were previously authorized to offer, and we are looking forward to the upcoming expansion of pharmacists' prescribing authority in British Columbia, Ontario and Yukon. CPhA continues to advocate for pharmacists to be given the authority to practice to their full scope, and to be reimbursed for the critical services they provide. The table below highlights just some of the scope of practice and funding changes made in 2022 to enable pharmacists to better care for patients.
Scope of Practice and Funding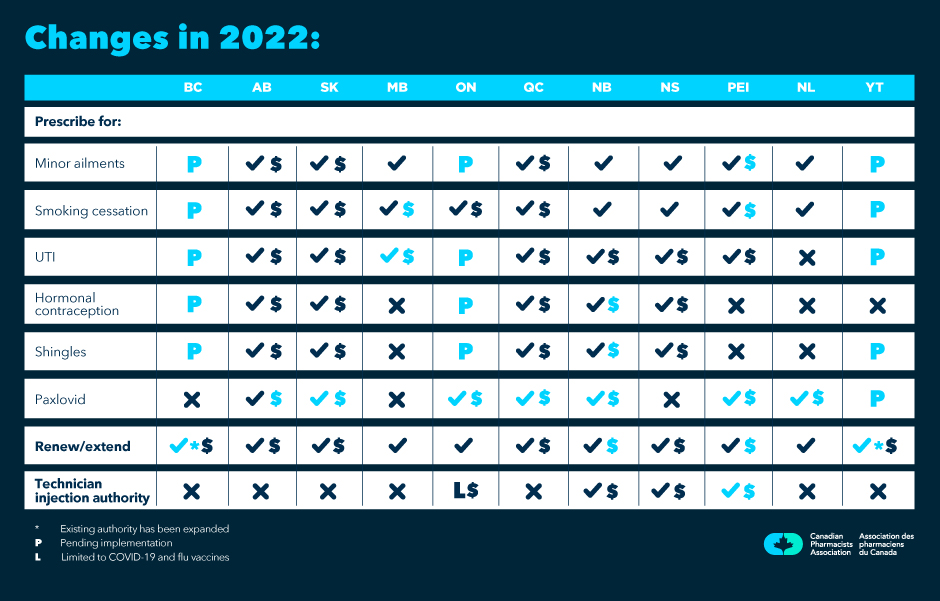 In addition to our materials supporting pharmacy professionals through a number of critical drug shortages this year, CPhA also developed additional resources in other areas and made key updates to our clinical content.

In June we were thrilled to host the Canadian Pharmacy Conference 2022: Pharmacy Rising. More than 250 pharmacy professionals from across the country came together in Ottawa for inspiring keynote speakers, thought-provoking perspectives and the opportunity to look at both where we've been and where we're going next.
| | |
| --- | --- |
| Anmol Sooch, University of British Columbia | Rachel Hanson, University of Alberta |
| Lauren Lueken, University of Saskatchewan | Christine Vaccaro, University of Manitoba |
| Christine Tan, University of Toronto | Mayur Tailor, University of Waterloo |
| Kevin Demers, Université Laval | Olivier Landry, Université de Montréal |
| Donna Mbamy-Conci, Dalhousie University | Jacob Drolet, Memorial University |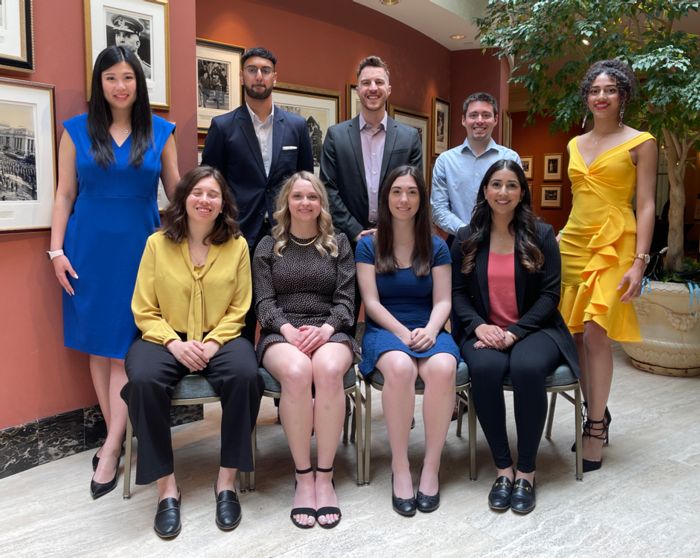 CPhA is grateful for the ongoing and continuous support of our partners and stakeholders. We thank you for your partnership and your dedication to the profession of pharmacy.
Organizational Members
Pharmacy Network
Organizational Affiliates
Webinar & Initiative sponsors
Canadian Pharmacy Conference 2022 sponsors