Canadian Pharmacist of the Year
Lengim Chen Ingram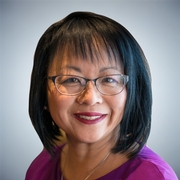 This award recognizes a pharmacist who demonstrates leadership and exemplifies the evolution of the pharmacy profession toward an expanded role in health care.
With 27 years of experience in community pharmacy practice and expertise in drug knowledge, tobacco- use education and management, obesity counselling, diabetes management and injection services, Lengim Ingram's inspiring collaborative practice showcases the diversity and value of pharmacists to patients and the health care system. She is a compassionate team player, and her patient-centred, outcomes-focused philosophy has improved the lives of countless patients under her care.
As an independent clinical pharmacist, Lengim offers a unique and valuable service to her patients. One of only 11 extended practice pharmacists in Manitoba (one of only two based in community pharmacy practice), Lengim is also a Certified Diabetes Educator. She provides full-time clinical diabetes management and care in more than six community medical clinics and sees more than 1000 diabetes cases per year within a fully collaborative health care professional practice. "My practice is unique in that it required me to draw upon a wide range of knowledge and experience as a pharmacist, integrating with other health care professionals to improve patient outcomes in an ever-evolving specialty area," she says. Her role as a respected team member with physicians and nurses has provided the perfect environment for her to practice as a collaborative consultant and practitioner. One of Lengim's strengths is her ability to adapt to changes and use them effectively to enhance her practice for the benefit of her patients. She takes pride in her role as facilitator to connect people — patients, pharmacists, nurses, physicians — and believes that integrating pharmacy with other health professions will lead to better patient outcomes. "I cherish the role I play in the care of the patient within our team," she says. "I think we need more pharmacists in these roles for other health care professionals and government to see our value."
Lengim is passionate about mentoring other pharmacists and encouraging them to think beyond traditional pharmacist roles. Through her daily practice, volunteer activities, mentoring and speaking engagements, Lengim has positively influenced a wide range of individuals involved in the provision of health care. For many, she has redefined the understanding of collaborative practice. "We have so much to offer," she says. "We need to stand proud and strong together, support one another, and go after things that may seem unobtainable."
Lengim holds a BSc in pharmacy from the University of Manitoba, Certified Diabetes Educator and Extended Practice Pharmacist designations and has completed a range of additional professional development programs. In addition to her work as a clinical pharmacist, Lengim is an active member of Diabetes Canada, where she sits on an advisory board to provide guidance for new immigrants about how to live with and manage their diabetes in their new home environment.
A patient's perspective:
"From the beginning, Lengim took the time to understand my mom, her beliefs, experiences and values. Her availability in answering her questions and concerns helped to reduce anxiety about medication changes. Lengim's warm, steadfast approach has calmed my mother and opened up trust in her like no other professional has. It is her authenticity and continued interest that keep moving her progress forward. Lengim has made a positive, measurable impact on my mom and her overall well-being. We are honoured and grateful to have her on our team and in our lives."
What do you like most about what you do?
"It is the patients and their care that has drawn me to this profession. It's the wonderful outcomes and the impact on their lives that pharmacists offer that makes me realize that I have chosen the right profession. I give them hope without judgement when they have often felt that they have failed themselves and their other health care practitioners."