Canadian Pharmacist of the Year
Mike Stuber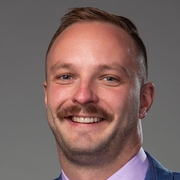 This award recognizes a pharmacist who demonstrates leadership and exemplifies the evolution of the pharmacy profession toward an expanded role in health care.
Described by patients as "extremely knowledgeable… smart, gentle and kind," Mike Stuber works directly and indirectly with people who are at risk of or are infected with HIV/HCV. In his role with the Saskatchewan HIV Collaborative, a provincial initiative that promotes high quality HIV prevention and support services, Mike travels to remote/reserve communities to facilitate HIV care. He is also a clinical pharmacist with the HIV team at the Regina General Hospital where he collaborates with infectious disease specialists, nurses and social workers who work to achieve the best outcomes for more than 400 patients living with HIV in southern Saskatchewan.
Mike is a relentless advocate for his patients' particularly when it comes to access to medication, adherence, removing financial barriers and keeping current on the latest clinical evidence and science in the field of HIV. "My passion lies in providing comprehensive, evidence-based pharmaceutical care to my patients," Mike says. "Exploring non-traditional approaches to patient engagement and greater provider involvement is my specialty." And his patients truly value his dedication, sharing that he "has made the sometimes frightening and unknown world of HIV diagnosis much easier to deal with. Because of him, I am more empowered and informed."
In what is the first of its kind in Canada, Mike operates a pharmacist-driven PrEP Clinic out of Public Health where he, a nurse and a consulting infectious disease specialist, screen, interview, prescribe and monitor pre-exposure HIV prophylaxis (PrEP) for their patients, a medication that a person who is HIV-negative can take to reduce their risk of getting HIV. "Although the clinic is in its relative infancy, it has so far been a smashing success with 40 clients now on PrEP. The feedback from patients has been universally positive," says Dr. Alex Wong, Infectious Diseases at Regina General Hospital. "I am confident that a significant part of the reason why southern Saskatchewan has experienced very
positive outcomes… is because of Mike's consistency and growth in his role as a pharmacist and advocate."
Mike earned his BSP from the University of Saskatchewan and passed the American Academy of HIV Medicine exam in December 2017, making him an officially designated HIV pharmacist. He serves as a clinical expert on several provincial committees including those reviewing both pre-exposure and post-exposure prophylaxis against HIV and was recently appointed the chair of the Canadian HIV and Viral Hepatitis Pharmacists Network (CHAP).