Canadian Pharmacist of the Year
Craig Plain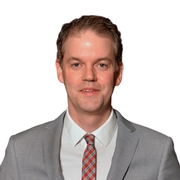 This award recognizes a pharmacist who demonstrates leadership and exemplifies the evolution of the pharmacy profession toward an expanded role in health care.
In the face of a national opioid epidemic, Craig Plain's tireless commitment to some of the most vulnerable patients in the country is demonstrating the power that innovative community pharmacy can have in improving health outcomes for at-risk populations.
At the Pier Health Resource Centre, Craig leads a clinically focused practice in Vancouver's Downtown Eastside. In an area plagued by social and health issues, including high rates of homelessness, substance abuse, psychotic disorders and overdoses, Craig practises with compassion, singlehandedly expanding the scope of community pharmacy in BC under the most intense and dynamic circumstances. Pier Health's model is designed to encourage long-term relationships with patients. "By putting the talk with the pharmacist first, we can spend more time upfront with the patient to listen to them, educate them and provide positive reinforcement," explains Craig.
Though the pharmacy sees about 150 patients a day, Craig doesn't wait for his patients to come to him. Committed to adherence, Craig has been proactive in community outreach, regularly travelling to residences, homeless shelters and even community parks or alleys where patients may be found. He has worked diligently to help residents to stick to their
medication programs, resulting in a more stable lifestyle and improved quality of life.
It's very clear that Craig is saving lives. Pier Health was the first pharmacy in BC to distribute free naloxone kits and training, and Craig and his team have successfully administered emergency injections on three occasions. Working in partnership with St.Paul's Hospital, Craig is the only pharmacist in BC authorized to administer anti-psychosis injections, giving patients greater flexibility and increasing adherence success. His clinical documentation provides the UBC psychiatry research team with invaluable research and statistics on the local population to address the community's ongoing needs for accessible health services.
Craig is a 2005 pharmacy graduate from the University of British Columbia (UBC). He is a recipient of the BCPhA Ben Gant Innovative Practice Award and mentors several UBC pharmacy students each year, inspiring them to practise outside the box and reshaping their vision of what is possible.