Canadian Pharmacist of the Year
Kelly Grindrod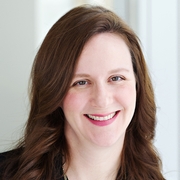 This award recognizes a pharmacist who demonstrates leadership and exemplifies the evolution of the pharmacy profession toward an expanded role in health care.
Dr. Kelly Grindrod wears many hats. Researcher, teacher, mentor. Pharmacist, health care provider, innovator. At the heart of each role is a passion for problem-solving, and helping others navigate similar problems. Whether she's interacting with students, patients, fellow researchers or front-line pharmacists, Kelly's drive to find creative solutions to messy problems plays a key role in each of the varied facets of her unique practice. "On any given day, I can go from seeing patients in the clinic, to writing a paper, to supervising graduate students, to managing a large group of students in a lab," she says. "I have a lot of freedom to do what I want in my job, which means I spend a lot of time being creative and thinking outside the box. It's a wonderfully rewarding career."
In her community practice, Kelly is a compassionate advocate for her patients. The Kitchener Downtown Community Health Centre is a multi-disciplinary, team-based primary care clinic providing care to vulnerable populations, mainly supporting patients with chronic pain and mental illness. Each week at the clinic, Kelly brings students to work side-by-side with family physicians, psychiatrists, nurse practitioners, nurses, social workers and others, setting an exceptional example of a pharmacist providing outstanding care as a full member of the team, bringing the pharmacists' unique perspective to consultations.
Kelly is also an internationally recognized researcher with a passion for health informatics. With a keen interest in the potential role of digital health technologies, Kelly's research into multidisciplinary decision-making about medication therapy is centred on electronic health systems. She has published numerous articles in peer-reviewed journals on this topic and a range of others, and is a frequent contributor to the Canadian Pharmacists Journal (CPJ), as well as a member of its editorial board. She is also the author of a wide range of practice tools, original research and OpEd publications, and is a sought-after speaker both nationally and internationally.
As a professor at the University of Waterloo, Kelly is described as a skilled and creative educator, teaching classes in health informatics, therapeutics and professional practice labs. Often mentioned by name on student exit surveys for the value she has brought to their education, Kelly tends to focus on skills that can be used within the constraints of a busy community pharmacy. She is also dedicated to practice change and embracing the evolution of the profession. She initiated an annual course re-development process, ensuring that her courses explore emerging and non-traditional roles for pharmacists, and that they remain timely and reflective of current practice challenges. "I love that I get to show people a different side of pharmacy, and to also show my students how rewarding an academic career can be," she says.
Kelly's passion for education reaches far beyond the classroom and clinical placements. In addition to the development and rollout of an incredibly successful opioids education program that has trained thousands of individuals across the country in the appropriate use of naloxone, she is the founder and lead for the Pharmacy5in5 website, which has more than 10,000 users across Canada. Pharmacy5in5 is an innovative game-based platform that uses various multimedia approaches, including YouTube videos, quizzes and infographics, to educate pharmacists and support their evolving practices. "Pharmacy can be a puzzle, where you have dozens of pieces that need to fit together. In a busy pharmacy, it can be hard to find the time to solve the puzzle. That's why we started making our infographics and animated videos," she says. "Pharmacists need support to navigate the many challenges facing the health care system right now. The usual solutions don't always work, whether it's because a first-line therapy has been recalled, or because the standard treatments are not working for a patient. I love that through my work, I've been able to find creative solutions to show pharmacists how to embrace these challenges and to feel empowered to help their patients."
Though nominated for this year's award prior to the outbreak of the COVID-19 pandemic, Kelly's dedication to supporting pharmacists in their day-to-day practices has become even more evident in the face of this global health crisis. The Pharmacy5in5 platform now features several COVID-related lessons, including weekly quizzes on topics critical to pharmacy practice during COVID-19. She has also been featured in a number of webinars and resource videos, OpEds and media stories. Her passion for pharmacist education continues to drive her work, as she strives to ensure that pharmacists of all experience levels can access information in innovative and accessible ways. Since the pandemic was declared in early March, Kelly has been outspoken about the critical role pharmacists play in keeping Canadians safe, and need for support from governments. "COVID has been an eye-opener. Pharmacy isn't a flashy profession. We tend to put our heads down and get the work done," she says. "When COVID arrived, we quickly saw how critical pharmacies were to a healthy community." Thinking about future pandemics, she feels pharmacies need to be more fully integrated into the health care system and that pharmacists need to be recognized as public health providers. "Pharmacies stay open no matter the circumstances." she says. "They picked up a lot of the slack when COVID shut down communities, are working around the clock to manage drug shortages, and will play a critical role if a vaccine becomes available. We need to protect them so they can protect us."
Kelly completed a Bachelor of Science in Pharmacy at the University of Alberta, and a Master of Science and Doctor of Pharmacy at the University of British Columbia. She is a past winner of numerous awards, including Best Community Outreach Initiative and Gold Award for Best Use of Social Media from the Canadian Council for the Advancement of Education, the Waterloo School of Pharmacy Graduate Mentorship Award, the Canadian Foundation for Pharmacy Wellspring Leadership Award and has co-authored two CPJ Best Paper of the Year Awards.