Canadian Pharmacist of the Year
Dr. Carole Goodine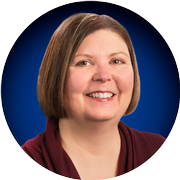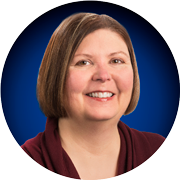 Douglas, NB
This award recognizes a pharmacist who demonstrates leadership and exemplifies the evolution of the pharmacy profession toward an expanded role in health care.
Passionate about improving patient care and health outcomes through research, innovation and quality care, CPhA's 2023 Canadian Pharmacist of the Year is a shining example of how dedication, compassion and perseverance can foster ongoing change and evolution in health care.
Dr. Carole Goodine's pharmacy career has spanned 3 decades, 3 provinces and many different areas of pharmacy, from community practice to acute care and research. Until recently, she was the Clinical Pharmacy Manager at Doctor Everett Chalmers Regional Hospital in Fredericton, NB, where she worked directly with seniors on the inpatient geriatric and rehabilitation unit, monitoring medication use in hospital and preparing them to manage medications safely at home. She is now the Project Lead on the Hospital to Home project, a research study evaluating the impact of a care transition pharmacy service on patient experience. "I believe that research promotes innovation, and it will help us discover new ways to support our patients with pharmacist-led care," she says.
Through her work with older adults in New Brunswick, home to one of Canada's oldest populations, Carole has observed that medication overload, or polypharmacy, creates the potential for patient harm as well as opportunities for pharmacy innovation. She is dedicated to helping her patients understand the medications they are taking, how to take them and why changes may be required, especially as they are being discharged from a hospital stay. "Medication changes often happen during a hospital admission that need to be communicated when patients return to the community," she explains. "It is so important for pharmacists to help patients understand their medications, and we can play a critical role in removing barriers and helping facilitate the transition home."
As a researcher and practitioner, Carole is always seeking opportunities to improve pharmacy services for older adults so that they have the tools and support needed to ensure safe and effective medication management at home, and she believes that deprescribing is an essential part of that process. She managed a 20-member multidisciplinary team that developed a polypharmacy app now known as MedReviewRX. This application was designed for health-care providers, including physicians, pharmacists and nursing staff, to support deprescribing medications for patients living in nursing homes, allowing them to access and view MedSafer recommendations. MedReviewRx software collects data on patient medical history and medication information and sends it to MedSafer, which then cross-references that information with medical conditions to produce a deprescribing opportunity report highlighting medications that could potentially cause harm, or be tapered or stopped and providing suggestions on how to taper the potentially problematic medications. The electronic medication review tool was first successfully implemented at York Care Centre and is currently being piloted at 5 nursing homes in New Brunswick in collaboration with organizations including McGill University Health Centre, MedSafer and the Centre for Innovation and Research in Aging (CIRA).
As a strong supporter of expanding pharmacist scope of practice, Carole believes that MedReviewRX and other tools can help pharmacists take on a greater responsibility for deprescribing initiatives for patients. She also believes that technology can support pharmacists as they take on greater roles in primary care. "People are living longer with chronic health conditions, medication regimens are more complicated, patient care is more complex and technology is changing the way health care is delivered," she explains.
Carole's dedication to innovation and research has been recognized in many ways over the course of her career. She received the New Brunswick Pharmacists' Association's Award of Special Recognition and a CSHP National Success Story Prize for leading the development of a toolkit of standardized and educational materials for warfarin patients (2015); was awarded research funding from New Brunswick Innovation Foundation's R3 Research Innovation Awards (2018); and was awarded a CBC Viewers' Choice Award (2018) for developing the Polypharmacy App prototype. Carole has presented her research findings at several conferences, including the 2019 AGE-WELL conference, 2022 CHSP-NB conference and the 2022 Canadian Association of Gerontology conference. She was also named the 2021 winner of the New Brunswick College of Pharmacists' Partnership in Progress Award, recognizing those who foster a collaborative relationship with one of more health-care professionals, and who have demonstrated the positive effect of optimizing patient care and the health or safety of the general public through collaborative practice. "It's all about communication," she says. "The more we collaborate with each other, the better care we're able to provide."
On the advocacy front, Carole has been an active member of the Canadian Society of Hospital Pharmacists (CSHP) and chaired the CSHP-NB Advocacy Committee while also sitting on the National CSHP Advocacy Committee. She has also served on the board of directors for the New Brunswick Pharmacists' Association.
Carole Goodine's contributions to pharmacy are many and ongoing, addressing real-world challenges in New Brunswick, and applicable nationwide. A passionate and valued member of the profession, she has and continues to make a difference for those on her team and for those in her care.
"The most rewarding part of my practice is when I discover that I've made a difference," she says. "As a clinician, it's wonderful to help someone feel better or to explain information in a way that makes sense to them. As a researcher, it's rewarding to present project results and add to scientific knowledge. I feel proud to be a pharmacist when I hear stories about the impact that pharmacists have on patient care."