Pharmacy Appreciation Month (PAM)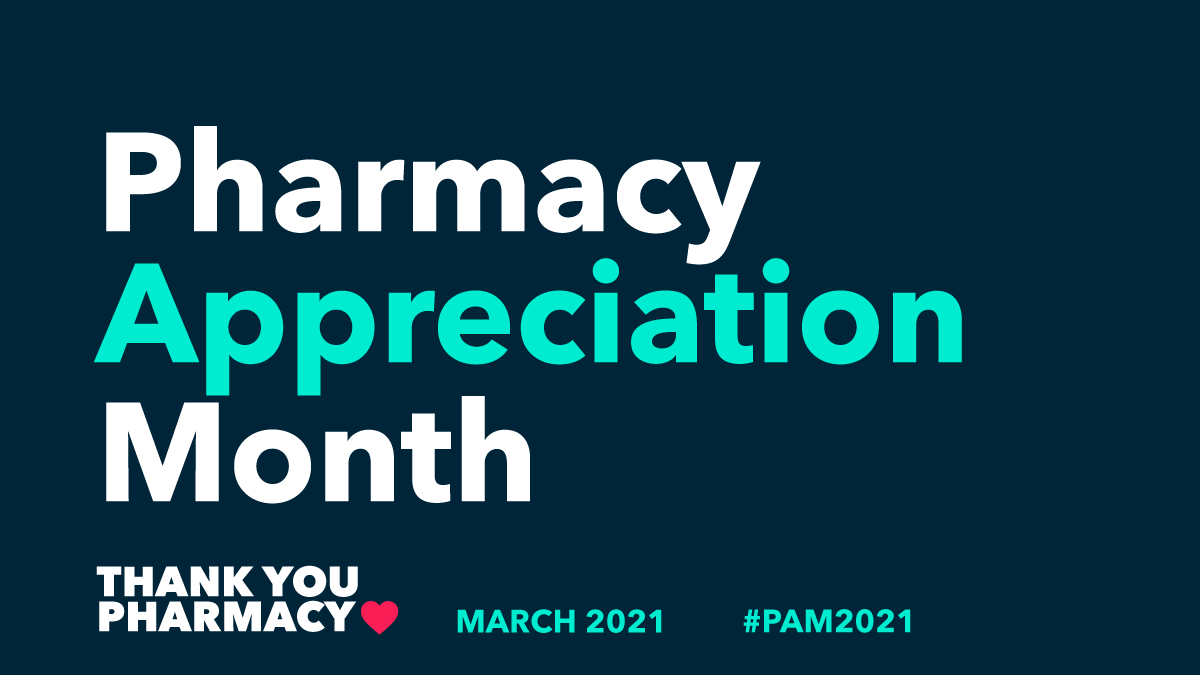 Through the unprecedented challenges of the past year, the pharmacy community stepped up like never before to answer questions, allay concerns and give a record number of flu shots, all the while keeping patients and staff safe. Your patients and all of Canada have seen you go to extraordinary lengths to continue to serve them and your community.
It's time to celebrate the pharmacy community and the role you play, day in and day out! That's why this March Pharmacy Awareness Month, the annual national campaign that shines a spotlight on all things pharmacy, is moving from 'awareness' to 'appreciation' to better reflect and celebrate the extraordinary role pharmacists play in health care, especially during the COVID-19 pandemic.
This March 2021, we hope you'll join us in celebrating Pharmacy Appreciation Month and all the reasons pharmacy is so special!
For patients and the public
Convenient, accessible and close to home, Canada's pharmacists are there for you when you need them — including evenings and weekends. With more than 42,500 pharmacists in Canada, working in over 10,500 pharmacies, pharmacists are the most accessible health-care providers in the country — a fact that became more apparent than ever throughout COVID-19. Here are a few ways you can get involved:
Wish your pharmacy team a Happy Pharmacy Appreciation Month next time you are at the pharmacy.
Have a pharmacy team member you love? Enter our #MyFavePharm contest and you'll be entered into a draw for an opportunity to win a tablet for both you AND your favourite pharmacy team member.
Take a few minutes to learn more about what your pharmacist can do for you at rethinkpharmacists.ca.
For pharmacy professionals
Get involved
CPhA has developed a wide variety of resources to help you celebrate and promote Pharmacy Appreciation Month. In addition to graphics and messaging for you to use, the PAM Communications Toolkit includes lots of ideas to get you started.
Get inspired
Contact your provincial pharmacy organizations or follow them on social media to gain inspiration from what others in your area are doing to promote PAM.
Follow CPhA on Facebook, Twitter and Instagram and use the hasthtags #PAM2021 and #ThankYouPharmacy to see how pharmacy is celebrating across the country.
#MyFavePharm Contest

Love your pharmacy team? Tell us why! We are asking patients to tell us why they love their pharmacy team in our #MyFavePharm contest! Those who complete and submit nomination forms before 11:59pm ET on March 22 will be entered into a draw for an opportunity to win a tablet for both themself and their favourite pharmacy team member! Open to residents of Canada (excluding Quebec) View full contest rules.
Help spread the word
Share the contest link with your network and use our promo resources to get started, including social media graphic, poster and social media messages in our PAM toolkit.