About CPhA
The pharmacy profession and health care in general are changing, creating new opportunities for pharmacists to focus on providing better patient care. Since 1907 our national, non-profit organization has charted the course through many developments in pharmacy, and continues to be the national voice of Canadian pharmacists.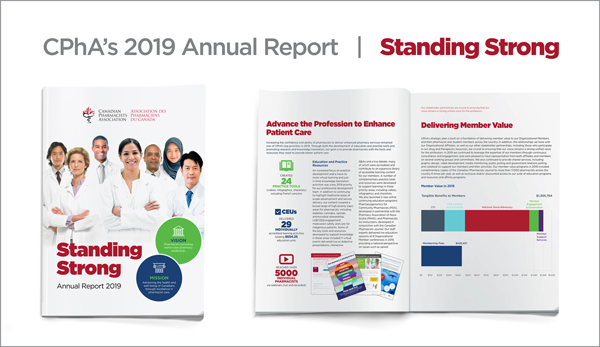 Our Mission
Advancing the health and well-being of Canadians through excellence in pharmacist care.
Our Vision
Pharmacists providing world-class pharmacy leadership.
Stronger Together
Following the implementation of a new governance structure and membership model in 2014, CPhA emerged stronger and more focused than ever. During this time of growth and unprecedented collaboration amongst pharmacy associations across Canada, CPhA charted a new course with a revitalized mission, vision and strategic plan to ensure a stronger and more unified national voice for the pharmacist profession.
How CPhA Helps Pharmacists
We help pharmacists and achieve our mission and vision by collaborating with our member organizations, pharmacists and key stakeholders through:
Speaking as the national voice for the profession.
Leading practice advancement to enable pharmacists to utilize the full extent of their knowledge and skills in providing health care.
Protecting the safety, security and integrity of the medication system through the development of and participation in medication safety and quality improvement initiatives.
Supporting pharmacists in providing medication management, health promotion and disease prevention services.
Collaborating with other health care providers and key stakeholders to optimize health outcomes for Canadians.
Our History
Fifteen pharmacists created the Canadian Pharmacists Association (CPhA) when they came together to act on issues affecting their profession. That was in 1907, and since then CPhA has been the national voice for pharmacists.
Key Dates in Our History
1907: The Canadian Pharmaceutical Association is founded.
1923: CPhA becomes publisher of the Canadian Pharmaceutical Journal, now Canada's oldest professional journal.
1929: CPhA assumes responsibility for The Canadian Formulary.
1960: First edition of the Compendium of Pharmaceuticals and Specialties (CPS) is published.
1967: Centennial Scholars Award (now Centennial Award) established in Canada's centennial year.
1980: CPhA relocates from Toronto to Ottawa.
1995: First edition of the Compendium of Therapeutic Choices is published.
1997: Name changed from Canadian Pharmaceutical Association to Canadian Pharmacists Association.
2004: The electronic version of CPS is launched as e-CPS.
2006: e-Therapeutics (now RxTx) launched
2007: CPhA celebrates its first one hundred years.
2008: Blueprint for pharmacy finalizes a Vision for Pharmacy: Optimal drug therapy outcomes for Canadians through patient-centred care.
2012: Bilingual e-Therapeutics+ (now RxTx) is launched.
2014: CPhA Board of Directors approve a new governance and membership model.
2018: Canadian Pharmacists Journal celebrates 150 years.