Dean George A. Burbidge Award
Jessie Hallett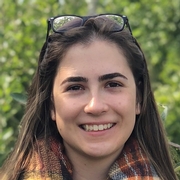 Awarded to the student achieving the highest mark on the Pharmacy Examining Board of Canada's qualifying exams.
Originally from Antigonish, Nova Scotia, Jessie Hallett graduated in 2019 with a Bachelor of Science in Pharmacy from Dalhousie University. She recently completed her Accredited Canadian Pharmacy Residency at the Saint John Regional Hospital in New Brunswick.
Throughout her degree and residency, Jessie developed a passion for the pharmacist's role in care of pediatric, anticoagulation, and solid organ transplant patients. "These are patient populations that we are really only introduced to in school, but that have very unique medication needs," such as dosage adjustments for growth, targeted management around surgeries and procedures, and that are at risk for complications from medications that may seriously affect their health. "So many pharmacists are wary of stepping up their management of these patients, and my residency project this year showed that pharmacists have a low confidence in their ability to manage solid organ transplant patients. The reality is that we can make a difference in the medication use experience for these patients." She encourages other pharmacists to reach out to interprofessional colleagues when they have questions or concerns, as they are eager to share information.
Her advice when friends preparing for the PEBC examinations reach out? "I didn't shell out for any expensive review or OSCE prep courses. I reviewed the exam outline on the PEBC website, and made a schedule for myself. Don't try to change how you study to match what your classmates are doing. You know yourself best. Keep doing what has gotten you this far."
Next, Jessie is preparing to start with the Lawtons/Sobeys group as a relief pharmacist. "All of the brightest pharmacists I've worked with have practiced in multiple different areas of pharmacy. They've inspired me with their level of knowledge, adaptability, and high quality patient care. Right now, I don't know where I will end up, so I am trying to have as many different experiences as I can at the start of my career to be able to best help my patients in the future."