Dean George A. Burbidge Award
Cherry Hui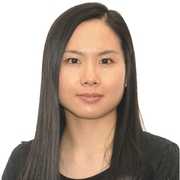 Cherry Hui graduated with a Doctor of Pharmacy (PharmD)degree from the University of Toronto and received the highest
standing in Canada on the 2016 PEBC qualifying exams. As she begins her career, Cherry is excited about the evolution of
the profession over the past few years, and what it means for pharmacists' ability to deliver more services than ever before. "As the health care system changes, my goal is to be able to provide better and more comprehensive care, ensuring better health outcomes for my patients," she says. Cherry currently works as a staff pharmacist at a community pharmacy in Ajax, Ontario.

What is the most critical skill pharmacists will need to be successful in the health care system of the future?
"Regardless of how the health care system changes in the future, I feel that one of the most important qualities a pharmacist should have continues to be compassion."