Canadian Pharmacists Journal
The voice of pharmacy practice research in Canada
Published six times per year, CPJ features original research, commentaries, evidence briefs, clinical practice guidelines, and practice tools focused on advancing the practice of pharmacy in Canada.
CPJ is going exclusively digital
After 155 volumes in print, the Canadian Pharmacists Journal is going online-only. We're evolving as our readers evolve, into a responsive, downloadable, online format that's with you whenever and wherever you want to read.
CPJ will still feature the same cutting-edge research, clinical practice guidelines, commentaries and practice tools, and will continue to be the voice of pharmacy practice research in Canada, helping turn knowledge into practice.
Access CPJ Online
If you are already registered on CPhA's website, simply use your existing username and password to ACCESS CPJ ONLINE.
If not, register here to unlock your access.
Digital issues of CPJ
We'll also be sending out digital issues of the journal 6 times a year! Once you're registered, watch your inbox for a link to each new issue.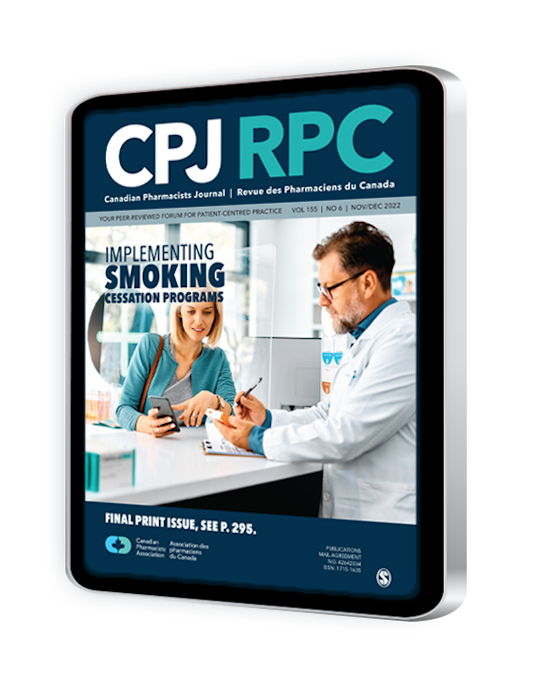 CPJ and the future of pharmacy practice
We may be one of the oldest journals in Canada, but we're focused on bringing pharmacy practice into the future. Listen to Editor-in-Chief Ross Tsuyuki speak about how the journal provides evidence for the impact of pharmacists' care on patient outcomes, and how you can take part.
Get Involved
We are looking for reviewers with expertise and interest in a wide range of practice areas to peer review submissions. We also encourage you to submit your manuscripts for consideration.
Advertise in CPJ
Contact us by email [holly.dietz@sagepub.com] or phone us at 1-805-410-7474.
You can also reach out to cpj@pharmacists.ca with any queries.