Canadian Pharmacists Journal (CPJ) Best Paper of the Year
Nathan Beahm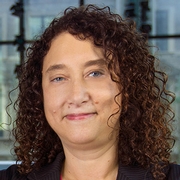 This award is given annually by the CPJ Editorial Advisory Board to the manuscript judged most likely to positively impact pharmacy practice and lead to better patient care.
"Pharmacy in the 21st century: Enhancing the impact of the profession of pharmacy on people's lives in the context of health care trends, evidence and policies"
CPJ's Best Paper of the Year (for 2019) describes health care trends, evidence and policies in order to identify future opportunities for the profession of pharmacy. Dr. Dolovich and her co-authors (Drs. Zubin Austin, Nancy Waite, Feng Chang, Barbara Farrell, Kelly Grindrod, Sherilyn Houle, Lisa McCarthy, Lori MacCallum, Beth Sproule) paid particular attention to opportunities that use the full scope of pharmacy practice to make a difference in patients' lives.