Payment for Pharmacy Services
Pharmacists are valued members of the Canadian health care team, providing high quality primary care services that lead to better health outcomes for patients. Through medication and chronic disease management, immunization services and wellness programs, pharmacists contribute to a healthier population, resulting in savings to overall health care spending. Provincial governments also recognize the value of investing in pharmacy services and many provinces now cover these services as part of their provincial drug plans. See below for an up-to-date scan of public payment for pharmacy services in each province.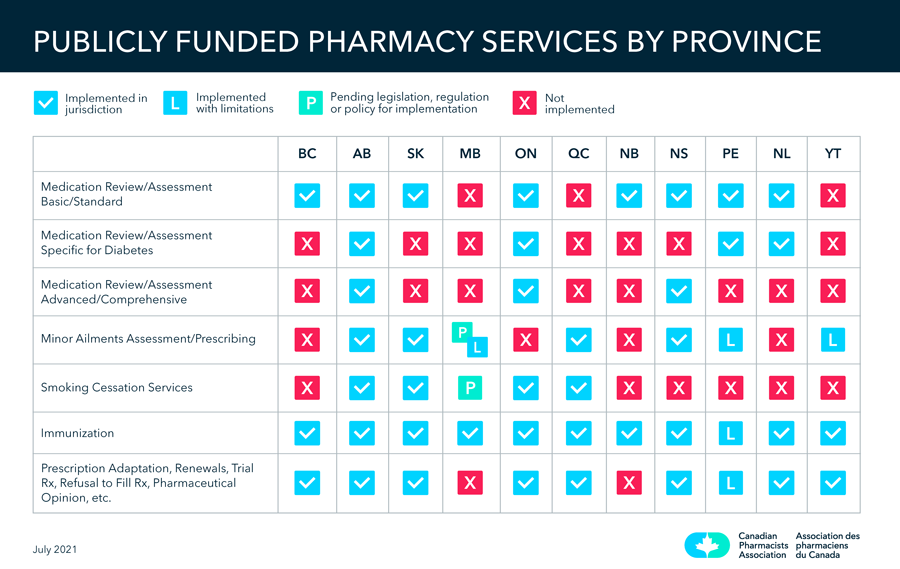 Download a PDF of this chart.
A National Comparison of Pharmacy Services Funded by Government
Alberta
Comprehensive annual care plan
Comprehensive annual care plan – Follow up
Standard Medication Management Review
Standard Medication Management Review – Follow up
Standard Medication Management
Review – Diabetes
Specific Care Plan
Standard Medication Management
Review – Tobacco
Cessation Specific Care Plan
Administration of Drug by Injection
Prescription Adaptation
Immunizations (flu and others)
Prescription Renewal
Prescription Emergency
Prescribing at Initial Access or to
Manage Ongoing Therapy
Refusal to Fill
Trial Prescription
Assessment to Screen and/or Test for Infectious Disease related to COVID-19
Assessment for the Intention to Test for COVID-19
Manitoba
Immunization (flu and others)
Smoking cessation (2021)
Urinary tract infection (pending)
Newfoundland and Labrador
Medication Management – Adapting
Therapeutic Substitutions
Medication Management – Diabetes
Medication Management – Multiple
Medications
Immunizations (Flu Shots)
Refusals to Fill
Trial prescriptions
Deprescribing and follow-up (PPIs and sedatives - SaferMedsNL)
Ontario
MedsCheck Annual
MedsCheck Follow Up
MedsCheck for Diabetes
MedsCheck for Diabetes Follow Up
MedsCheck at Home
Pharmaceutical Opinion
Immunization (flu)
Smoking Cessation – First Consultation
Smoking Cessation – Primary Follow Up
Smoking Cessation – Secondary Follow Up
Quebec
Adjusting a Prescription
Extending a Prescription
Emergency Contraception Prescribing
Refusal to Fill
Pharmaceutical Opinion
Transmission of Drug Profile
Naloxone training
Consultation on medication abortion
On Call Service
Prescription Substitution in cases of drug shortages
Showing How to Administer medication
Minor Ailments:
Minor acne
Hemorrhoids
Canker sores
Allergic conjunctivitis
Dysmenorrhea
Diaper rash
Cold sores
Urinary tract infection
Thrush from corticosteroid inhaler
Allergic rhinitis
Vaginal Yeast infections
Atopic dermatitis
Medication when No Diagnosis is required:
Traveller's diarrhea
Malaria
N/V pregnancy
Smoking cessation
Perinatal supplement
Hormonal contraception
Pediculosis
Heart valve antibiotic prophylaxis
Altitude sickness
Cytoprotection (ulcers)
Yukon
Adapting prescriptions
Extending prescriptions
Therapeutic substitutions
Immunizations (flu and shingles)
Minor Ailments (for COVID-19 pandemic only):
Atopic dermatitis
Acid reflux
Ringworm
Conjunctivitis
Erectile dysfunction
Urinary tract infections
Minor headaches
Minor muscle strains and sprains
Dysmenorrhea
Gastroesophageal Reflux Disease (GERD)
Dyspepsia
Musculosketal strains and sprains
Headache
Superficial bacterial skin infections
Hemorrhoids
Tinea skin infections (tinea corporis, tinea cruris, tinea pedis, tinea unguium)
Shingles
Minor Acne
Cold Sores
Insect Bites
Allergic Rhinitis
Diaper Dermatitis
Oral Aphthous Ulcer
Oral Thrush
British Columbia
Medication Review – Standard
Medication Review – Pharmacist Consultation
Medication Review – Follow Up
Immunization (flu, and others)
Refusal to fill
Prescription Adaptation - Renewal
Prescription Adaptation – Change (dose/formulation/regimen)
Prescription Adaptation – Therapeutic Substitution
Trial Prescriptions
Biosimilar Patient Support
Methadone Maintenance – Injection
New Brunswick
PharmaCheck
Immunization (flu)
Nova Scotia
Advanced Medication Review
Basic Medication Review
Medication Review Follow Up
Prescription Adaption
Refusal to Fill (Prescription Monitoring Program)
Therapeutic Substitution (PPIs and Sartans)
Immunization (flu)
Prescription Renewal
Uncomplicated cystitis
Herpes Zoster
Contraception management
Naloxone Training
PEI
Medication Review and Follow Up
Medication Review (Diabetes) and Follow Up
Basic Medication Review
Refusal to Fill
Compliance Packaging
Immunizations (flu)
Prescription Adaptation
Therapeutic Substitution
Saskatchewan
Medication Assessment
Interim Supplies – Continuing of
Existing Prescription (more than one)
Unable to Access Supplies – Continuing of Existing Prescription
Insouciant Information
Alter Dosage
Alter Formulation
Drug Reconciliation
Minor Ailments:
Atopic dermatitis
Acid reflux
Ringworm
Conjunctivitis
Erectile dysfunction
Urinary tract infections
Minor headaches
Minor muscle strains and sprains
Dysmenorrhea
Gastroesophageal Reflux Disease (GERD)
Dyspepsia
Musculosketal strains and sprains
Headache
Superficial bacterial skin infections
Hemorrhoids
Tinea skin infections (tinea corporis, tinea cruris, tinea pedis, tinea unguium)
Shingles
Minor Acne
Cold Sores
Insect Bites
Allergic Rhinitis
Diaper Dermatitis
Oral Aphthous Ulcer
Oral Thrush
Emergency Contraceptive Prescribing
Refusal to Fill
Smoking Cessation
Compliance Packaging
Immunization (flu)