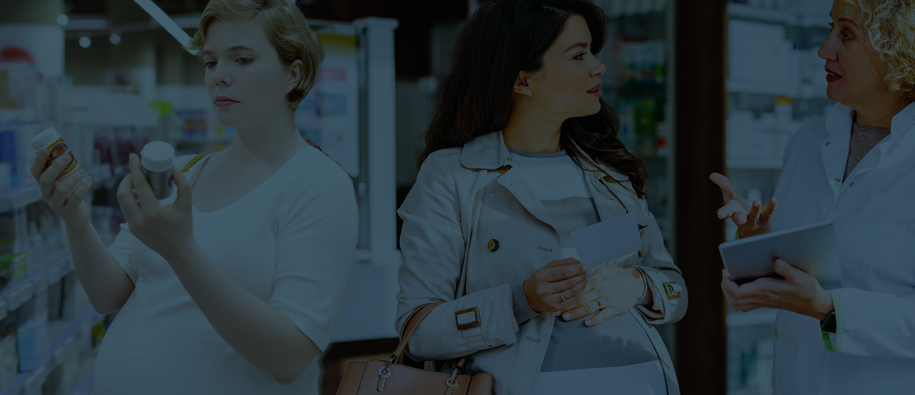 On embracing change

May 2023
They say that the only constant in life is change. Those words are resonating with me more than usual these days. When I first started writing this blog, we were awaiting the arrival of our second child. As it happens, he surprised us with an early entrance so I'm finishing this piece now as a mother of two!
The idea of embracing change is something it seems we all received a crash course in during the pandemic. The way we responded to circumstances outside of our control and adapted to our new environments, showcased to the world how willing and able pharmacy is to support our patients…
We essentially made lemonade from lemons and consequently, the last 3 years have been a period of growth and evolution for the profession.
The one thing that has become more and more apparent to me, no matter who I'm speaking with or what setting I'm in, is our common humanity. No matter where we are in our careers, we're all just trying to navigate life—the ups, the downs and the inevitable curveballs. Each one of us is trying to lead a fulfilling life and ultimately striving for harmony between our work and personal lives.
Change is your friend not your foe; change is a brilliant opportunity to grow. — Simon T. Bailey
I recently heard Michelle Obama say, "You can have it all, but not at the same time." These words are both motivating and realistic. They also seem fitting for me to reflect on as I transition to maternity leave, pressing pause on my position as CPO. The truth is, I'm looking forward to this time in my life, where I can embrace motherhood and be fully present with (and for) my family. This has been a tricky feat with a demanding job. Being a woman in a leadership role comes with a unique set of challenges, and as I've worked through them, I've remained committed to sharing openly and authentically about my experiences. Many of you know that my pregnancy journey was not smooth, but my unwavering desire to continue to represent and advocate for my fellow pharmacists endured until the day I delivered. Though it required me to be quite humble at times, I was very proud to attend meetings and conferences while pregnant – a visible representation of the change that's possible. My intention was to show that women don't have to choose between motherhood and their careers (an historic narrative that we can let go of). With more and more attention being placed on gender equity, I believe the world and society are slowly transforming to support women in all states and stages achieve their goals both at home and at work.
Transformation and growth
Shifting the focus back to the profession and keeping with the theme of change, since joining CPhA in 2021 I've witnessed an incredible transformation in the way pharmacy is being included and positioned within the health-care arena. I'm noticing it in our discussions at CPhA, at the tables we are invited to sit at and in our advocacy work. Pharmacy is more relevant and present than ever, and I hope you're seeing that from where you're sitting too.
I'm also seeing more and more pharmacists engaged and empowered to speak out on the issues that matter to them. I have been inspired by the steadfast and emerging leaders within our industry who are shaping our future. I feel an immense amount of pride at the force we have created! There are pharmacists in every corner of our country leading by example and documenting their experiences publicly. They are telling our pharmacy story - revealing what's fractured and what's booming. Last month, I attended a pharmacy conference in Toronto and was blown away by the energy and camaraderie. All around me, I could see and feel the power of pharmacy and the growing potential for our collective efforts to represent and advance our profession.
Transition
In the coming months, I know that paying attention to my own health and wellness (including lots of self-care) will be key part of my maternity leave. In fact, I will likely use the time to explore the new resources put out by our Wellness Task Force as part of the Pharmacy Workforce Wellness initiative. The team has evaluated and curated a set of resources identified by the Canadian Health Workforce Network and has shared an initial selection of options for individuals in a new Wellness Toolkit. Over the coming weeks and months, the toolkit will expand to include resources relevant to pharmacy teams, organizations and system leadership, and I encourage you to check it out along with me!
I'm happy to share that this group and our wellness activities at CPhA are in excellent hands with Dr. Sadaf Faisal who will be leading our work on the wellness front while I'm away. Stay tuned to learn more about Sadaf and to get involved in some of our upcoming initiatives. Thank you to all those who participated in our 2023 Canadian Pharmacy Mental Health and Workforce Wellness Survey. The results are in, and we'll be sharing those with you in the coming weeks.
The currents of change
In the world of pharmacy, there's evidence of change every way you turn. From coast to coast to coast, we are witnessing the evolution of our profession. And though it's happening unevenly and may seem slow at times, a promising theme is clearly emerging: pharmacists and pharmacy teams have a critical and growing role to play in the delivery of primary care in their communities. The changes to funding models in the Atlantic provinces and the recent expansion of pharmacy practice in the Yukon are a true marker of a shift in health-care strategy within this country and we're excited to see that continue.
Small ripples in pharmacy are making waves in health care. Our profession is making a difference, and our efforts are resulting in positive outcomes for patients, caregivers and communities. Pharmacists and pharmacy teams are making health care more accessible and taking on more health-care leadership roles. I'm proud of you. I'm proud of us. Here's to growth in 2023, as individuals, as teams, as organizations and as a profession.
Stay safe. Stay well. I'll see you soon!

---