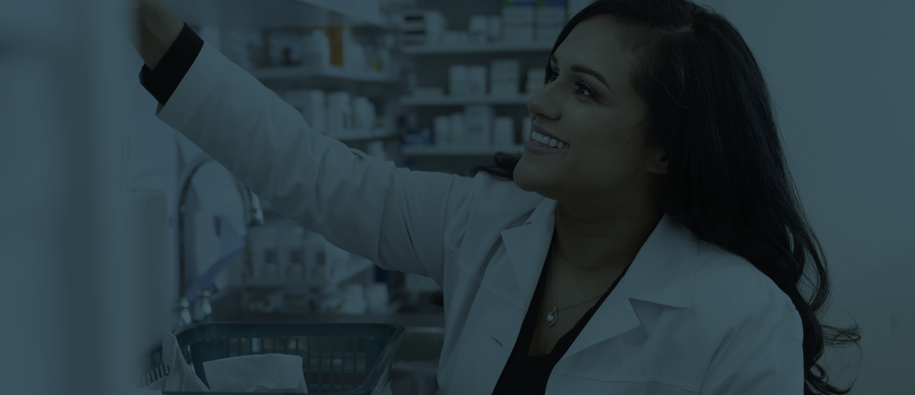 An open letter to the profession I love

January 2022
Dear Pharmacists,
As we round the corner of the pandemic, I can say with certainty that this has been one of the wildest rides of my life. This pandemic has been challenging in many ways, but it's also brought with it many important lessons. It's taught me to appreciate the small joys in life, to not take anything for granted and to make the most of the opportunities we're given. It's with this in mind that I am stepping into this new role as CPhA's Chief Pharmacist Officer excited to serve the profession and every one of you.
My vision
Throughout my career, I've worked in community, hospital, research, corporate, technology, academic and hospital settings—I've done it all. I'm sharing this because I want you to know that when I identify as a pharmacist, I am not just looking at it through one lens. My experiences have shaped me into an open-minded and forward-thinking leader who sees the profession in its marvelous entirety—flaws and all.
It's a privilege to be your voice, to represent your thoughts and ideas and bring your perspectives to the work being done at CPhA. My hope is to increase transparency and create a window so you can see what is happening at the association, weigh in on our activities and engage with us every step of the way.
My motivation to join CPhA is rooted in my desire to contribute to the future of pharmacy. A future where we are thriving as a profession, connected to each other from coast to coast, practicing to our full scope and making a meaningful difference in the lives of those we care for. I see us as health-care leaders, partnering with our pharmacy technician colleagues and empowering our patients to live long, healthy lives. I have big ideas, but they need your input and your support. This is your invitation to play a role in shaping our future. I want to know where you think our national association should focus its attention and what matters most to you.
This is our moment
In the last year or so, pharmacists have truly embraced our role in public health, demonstrating our value and capability as health-care professionals. In the face of adversity, pharmacists have retooled and redirected resources to help save lives and fight COVID-19. We've showed up each day with tenacity, ready to support, educate and guide our patients through these challenging times. Through it all, we've undoubtedly and repeatedly proven our value as a profession. I can say with confidence that I've never been prouder to be a pharmacist.
It's now time to take the respect and recognition that we've earned and map out the next steps for our profession. This is our moment, and we need to decide where we go from here.
What it's going to take
I truly believe there is a bright future for pharmacy, and I'm here to fight for it. But it's going to take hard work, dedication, and a collective commitment to:
Unity — We need to come together as a profession. Historically, we've been defined by the place we practice or the position we hold, rather than by our common professional identity. While there is value in differentiating ourselves, these descriptors also contribute to our ongoing divide. It's time we put the descriptors aside. When we view our profession as a collective whole, our unique knowledge and varied backgrounds only make us stronger.
Diversity & Inclusion — To truly represent the profession, our leadership and board need to reflect the diverse makeup of the pharmacy community. CPhA has an opportunity to evolve into an organization that embraces this diversity, and I will work to ensure all voices are sought, heard and amplified.
Engagement & Collaboration — We want pharmacists to weigh in on emerging trends and issues affecting the advancement of the profession. Through me, pharmacists have a direct line to CPhA, where I will provide leadership and advice from the front line. We also need to work collaboratively with all of the stakeholders that make up pharmacy in Canada, coordinating our provincial and national efforts in shaping the future of pharmacy.
Innovation — We are amid arguably the biggest disruption our profession has ever seen. Alongside a global pandemic, we are seeing other emerging trends that we need to prepare for, like e-commerce platforms, virtual care and the need for sustainable work environments. Part of the important work we'll be doing includes identifying and leveraging market disruptors to help pharmacists take advantage of opportunities to enhance the care they provide to their patients.
CPhA's commitment to you
This new CPO position and CPhA's updated strategic plan demonstrate our renewed commitment to the front line. We are focused on ensuring that your varied perspectives are clearly heard and that they guide the discussions and decisions at CPhA. We want to foster a vibrant and thriving profession, committed to innovation and to charting a new course for pharmacy in Canada.
For this to work, we need to hear from you. We need to know what's important to you. I, myself, want to learn about your practices and to hear your stories. I want to better understand what keeps you up at night so I can bring both your hopes and your fears back to the leadership team at CPhA. When I think about why I got into pharmacy, it was to help others—to make meaningful connections with patients and to make a difference in their lives. I am now redirecting my energy and my attention so I can make a difference in your lives.
Over the past 18 months we've been a profession on the rise. We've shown our value, expanded our scope and established a greater role in health care. To the outside looking in, we are a thriving profession. But we can't lose sight of the fact that this is a profession defined by individuals, and I know that many of you are struggling. We recently asked Canadian pharmacists to rate their psychological wellness and the results were heartbreaking. More than 60% of respondents would consider their mental health poor or fair. There is something glaringly wrong and we need to talk about it. How do we find balance between taking on more, while acknowledging our capacity? I don't have the answers, yet. But I sincerely hope that you'll work with me to find them and that you'll trust me, CPhA and each other as we embark on this new chapter together.

---