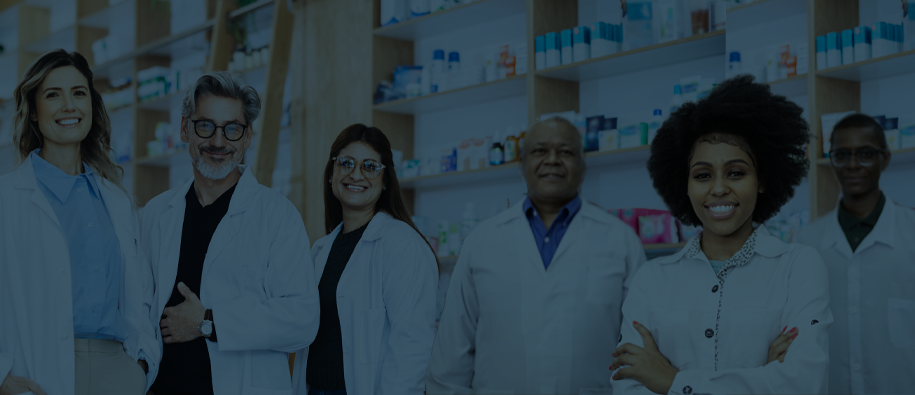 On Pharmacy Appreciation Month

March 2023
It's been 3 years since the Coronavirus disease 2019 (COVID-19) was declared a global pandemic by the World Health Organization (WHO). When I reflect on where pharmacy was in 2019 compared to where we are now, there are some very clear markers of our professional advancement. The last few years have generated a heightened awareness about the role that pharmacy plays and can play within our health-care system. More and more Canadians are recognizing that pharmacists are equipped with knowledge and skills to help to support them with their health needs, and not just in the context of filling a prescription. Individuals are interacting with their pharmacist at earlier stages of life, not only when they are sick, but for disease prevention and general health advice. Whether it's as a prescriber, an immunizer or a first point of contact for the health-care system, pharmacists are being seen by patients as a valuable health-care resource in their communities.
PAM: A pivotal shift from awareness to appreciation
At the end of 2020, while we were in the thick of the pandemic, CPhA looked ahead to March 2021 and made an important and pivotal distinction—we switched from promoting Pharmacy Awareness Month to Pharmacy Appreciation Month. The fact of the matter is, society is quite aware of who we are, and it's happened organically. It's almost as though the pandemic served as a public awareness campaign for the profession. We've built momentum over the last few years and the narrative and tone have changed. PAM is no longer about explaining who we are, it's about celebrating the difference we're making. Years of being underrecognized, undervalued, and underutilized have turned into a growing recognition and appreciation of our critical role. This year's PAM theme, "Discover the Power of Pharmacy" sends a very clear message that we are indeed a powerful force, and that with the right resources and support we have the potential to transform the way Canadians view and access primary care in our communities.
The presence and relevance of pharmacy practice in our current health-care climate is remarkable. We are coming out of our shell, out from behind the counter, and showing up in full force. Pharmacists are finding their voices and making waves on the issues that matter most to us and our patients. Whether it is on #TwitterRx or the 6 o'clock news, pharmacists are being sought after for their thoughts and views. They are being asked for advice and guidance. Through medication shortages and our growing role in public health, we are not shying away from these new opportunities. In fact, many of us are here for it. We are ready and willing to speak loudly and proudly about the role we play in our patients' lives.
Expanding scope and funding for better patient care
In addition to the public, governments have also taken note as they continue to look for ways to help alleviate strain on our health-care system. Better utilizing the expertise of pharmacists has naturally emerged as a viable solution to addressing system gaps. Since being called upon to assist with administration of COVID-19 vaccines, pharmacy teams have given over 25 million shots. And as pharmacists evolve, so have our pharmacy technician colleagues—they too have taken on new authorities and responsibilities in medication management. It's true what they say: Teamwork makes the dream work!
The expansion of prescribing authority for pharmacists continues to be valuable to patients across the country. From Paxlovid prescribing to the expansion of common ailments in several provinces and the emergence of pharmacist-led walk-in clinics, there have been many big wins over the past year. And not just around scope, but with public funding of these services, which is a critical element in expanding pharmaceutical care.
Focus on mental health and workforce wellness
Despite this building momentum, I can't help but wonder how we change the trajectory of poor mental health and burnout within the profession. We've made some progress, and yet we aren't much closer to achieving a place of sustainability or a sense of balance between our competing priorities. The pressure keeps mounting, public and government expectations keep growing and unfortunately, we haven't found the right model to meet the medication management needs of the country… yet! I am confident that we are, however slowly, making our way there.
When I'm in meetings about addressing the health workforce crisis, the topics being discussed are focused on recruitment and retention and the importance of collecting data for the purposes of planning. It's not enough to know the number of pharmacists we have in the system right now—this is just a headcount. What we need to know are the details about what pharmacists are doing and where are they needed most to better understand the demand. Are we using our health human resources effectively? As new models of care continue to be explored, we're seeing the value of innovation in many pockets of the country. We need technology to help connect us so we can collaborate and use a team-based approach to health care delivery.
Building on momentum and embracing change
At CPhA, we are taking this work to heart. Our 2023 priorities are aimed at building on the momentum of the past few years and embracing change to improve pharmacy practice and support the professionals who underpin it. From supporting and strengthening our workforce to looking at long-term solutions to drug shortages, developing front-line resources and continuing to actively enhance our commitment to diversity, equity and inclusion, we are facing these challenges with you and working together to realize our vision of a thriving profession and healthy population.
As we work through understanding what our biggest challenges and pressure points are we also need to be open to change. To letting go of the comfort of the past and embracing the discomfort and thrill of building a new future.
The power of pharmacy
I recently came across a saying: "In any given moment we have two options: to step forward into growth or step back into safety." - Abraham Maslow
We have come too far to step back, so it's full steam ahead. But we need to be open and honest about how we get there and what we need to make it happen. There's an exciting and growing movement of pharmacy professionals standing up for themselves and speaking out. We are finding our voice. Wherever you are working and whatever your role, just know that you're making a difference. Your contributions to the team you're on and to this profession matters.
As we enter a new season, let's renew our energy and commitment to embracing the future where pharmacy is as universally recognized and understood as nursing and medicine.
What does the power of pharmacy mean to me? It's our combined strength, it's our collective knowledge and wisdom. It's the shared experience of navigating the complexities of health care.
Remember… the power of pharmacy is YOU!
Be well,

---