Opioid Stewardship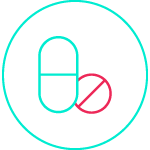 Pharmacists across the country are on the front line of dealing with opioid misuse and are often the first health care providers to notice a prescription drug problem in a patient. From assessing new and long-term prescriptions for opioids, ongoing monitoring of effectiveness, optimizing care, identifying patients with risk factors or misuse, and education and recommendations for harm reduction strategies, pharmacists play a key role in promoting rational opioid use, balancing safety with decreased pain and overall quality of life. Our practice resources designed to support you in your role as an opioid steward include:
Webinar Recordings:
Tools for Practice and Patient Education:
Video Stories:
Please also visit Opioids & the CDSA for more evidence, resources and advocacy tools supporting an enhanced an harmonized scope of practice for pharmacists to better manage opioid therapy.