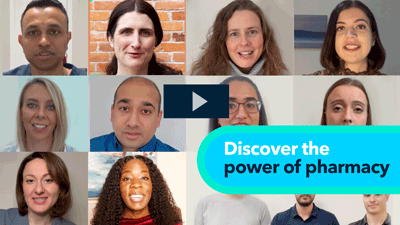 MARCH IS PHARMACY APPRECIATION MONTH
March is Pharmacy Appreciation Month (PAM) in Canada—the annual national campaign that shines a spotlight on all things pharmacy and celebrates the growing role pharmacy professionals play in our health-care system. This PAM, we're celebrating our pharmacy teams and highlighting to everyone that the power of pharmacy is you—the amazing individuals who have been there for their communities time and time again. Take a look at our website to find out how you can get involved.

SHARE YOUR EXPERIENCES: 2023 CANADIAN PHARMACY MENTAL HEALTH AND WORKFORCE WELLNESS SURVEY
In January 2022, over 1400 pharmacists and pharmacy technicians from across Canada completed CPhA's first ever Mental Health and Workforce Wellness Survey. The results showed that pharmacy professionals were being challenged in many ways and their personal wellness was suffering as a result. These results have guided our efforts to support the profession over the past year, including the formation of a Pharmacy Wellness Task Force and Workforce Steering Committee. It's been a year and we're checking in again to see how you're doing. We need to understand what you're experiencing now so that we can continue to advocate on your behalf and share the impact that workplace and staffing challenges are having on you and your team. Please share your thoughts with us by March 22.

IPPC INDIGENOUS PHARMACY SCHOLARSHIP NOW AVAILABLE
The Indigenous Pharmacy Professionals of Canada (IPPC) and CPhA are thrilled to announce the launch of the new IPPC Indigenous Pharmacy Scholarship! With both PharmD and technician scholarships available for the 2023/2024 academic year, this funding will help reduce financial barriers for Indigenous youth interested in pursuing a career in pharmacy. Applications are now being accepted and the deadline to apply is April 30. Thank you to our founding sponsors, Johnson & Johnson, Shoppers Drug Mart, Green Shield Canada and Sobeys National Pharmacy Group, for their generous support of the IPPC Indigenous Pharmacy Scholarship.


ADVOCACY UPDATE: DRUG IMPORTATION
In early March, CPhA was in Washington, DC, to meet with decision-makers on drug importation proposals aimed at Canada. Joelle Walker, CPhA's vice-president of public affairs, also participated in a panel on issues implementing foreign drug importation policies at the Counterfeit Drug Briefing for the 118th Congress on February 28. Our goal at these meetings was to help inform US decision-makers about Canada's drug supply challenges and the risks associated with both federal and state proposals. While we believe the federal drug importation regulations first issued in November 2020 as an interim order largely protect Canada's drug supply, we remain concerned that public announcements could cause panic buying amongst Canadians, particularly in light of our recent drug shortages.

CPO CONVERSATIONS: ON PHARMACY APPRECIATION MONTH
In this issue of CPO Conversations, CPO Danielle Paes reflects on PAM and the change from awareness to appreciation, the evolution of the profession through the pandemic, and the steps we need to take next to continue to advance our role in health care. She also highlights the approach being taken to address the health workforce crisis and the value of unlocking the power of pharmacy.

CPS FULL ACCESS: FEATURES AND TOOLS FOR MINOR AILMENTS
Find all the information you need to advise your patients on minor ailments, all in one place! CPS Full Access features peer-reviewed information and user-friendly tools and features, including treatment algorithms, patient information handouts, infographics, drug tables and more. Check out our new video to learn more!


CHOOSING WISELY TALKS: PHARMACISTS' EXPANDING SCOPE AND WHAT IT MEANS FOR APPROPRIATE PRESCRIBING
On March 22 at 12pm ET, CPhA CPO Danielle Paes will take part in a panel discussing the expanding scope of practice for pharmacists and how we can support pharmacists and other health professionals in promoting resource stewardship and appropriate prescribing practices. The panel will also discuss recent changes to scope and future thinking around interprofessional collaboration in patient care.