Pharmacists' Expanded Scope of Practice
Pharmacists are taking on expanded roles and are increasingly being recognized as the medication management experts of the health care team. Here is our chart for an up-to-date review of what pharmacists are doing in each province: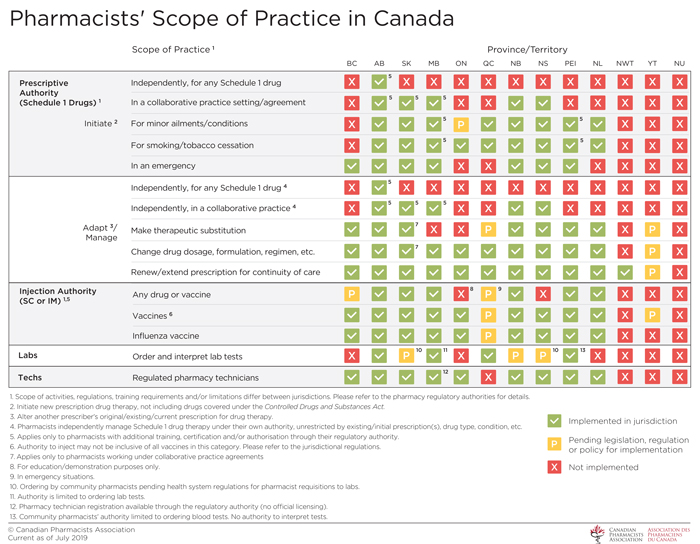 Download a PDF of this chart. [en français]
Scope of activities, regulations, training requirements and/or limitations differ between jurisdictions. Please refer to the pharmacy regulatory authorities for details.

Initiate new prescription drug therapy, not including drugs covered under the Controlled Drugs and Substances Act.

Alter another prescriber's original/existing/current prescription for drug therapy.

Pharmacists independently manage Schedule 1 drug therapy under their own authority, unrestricted by existing/initial prescription(s), drug type, condition, etc.

Applies only to pharmacists with additional training, certification and/or authorisation through their regulatory authority.

Authority to inject may not be inclusive of all vaccines in this category. Please refer to the jurisdictional regulations.

Applies only to pharmacists working under collaborative practice agreements.

For education/demonstration purposes only.

In emergency situations

Ordering by community pharmacists pending health system regulations for pharmacist requisitions to labs.

Authority is limited to ordering lab tests.

Pharmacy technician registration available through the regulatory authority (no official licensing).

Community pharmacists' authority limited to ordering blood tests. No authority to interpret tests.