Resource Round-up: Mental health
Need help?
If you or someone you know is in immediate danger, please call 9-1-1 or go to your nearest hospital.
If you or someone you know is thinking about suicide, call the Canada Suicide Prevention Service at 1-833-456-4566. Support is available 24 hours a day, 7 days a week.
Free and confidential mental health and substance use support is available 24 hours a day, 7 days a week from Wellness Together Canada. You can talk to a professional one on one. Call 1-866-585-0445 or text WELLNESS to 741741.
Canada's pharmacy teams have taken on a lot throughout the COVID-19 pandemic to care for and support their patients and communities. The prolonged pressure of the pandemic and the ongoing strain on our health system continues to highlight the significant physical and mental stresses health workers bear as they care for their patients.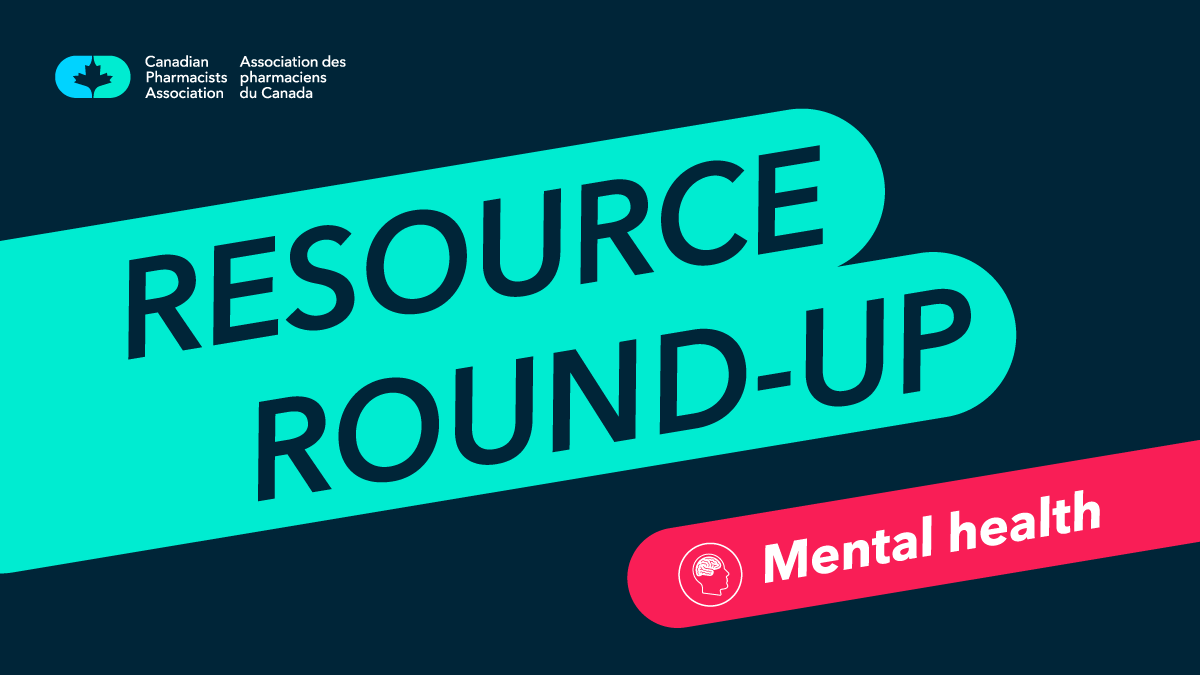 Taking care of yourself
Supporting Pharmacists' Health and Wellness During COVID-19 – A brief practice tool with practical tips and resources for pharmacy professionals. (CPhA)
Resilience: A Primer for Pharmacists – A webinar about strategies for managing stress and burnout with University of Toronto professor Zubin Austin. While held prior to the pandemic in December 2019, this webinar still provides some foundational strategies you can use to support your own mental health. (CPhA)
Psychological Health and Safety – A 3-part series and workbook on psychological safety that guides pharmacy leaders on how to accommodate those on your team who may be facing challenges, start discussions on psychological health, and create a mentally safe working space. (Ontario Pharmacists Association)
A Prescription for Professional Wellness – A podcast series hosted by Amy Oliver, Pharmacist and Certified Leadership Coach, and Dr. Carly Crewe, Psychotherapist and Empowerment Coach to help facilitate conversation about mental health challenges that pharmacy professionals are currently facing. (Ontario Pharmacists Association)
Supporting the resilience of the pharmacy workforce – The Centre for Practice Excellence (CPE) at the Leslie Dan Faculty of Pharmacy has developed a suite of tools and resources to help build resilience, including a resilience and emotional intelligence inventory for health-care professionals.
Resources for Health Care Workers During COVID-19 – Mental health and addiction supports for health-care workers impacted by the COVID-19 pandemic (CAMH)
LTC+ – Mental Health and Resiliency Resources for Healthcare Providers, Staff and Leaders – A collection of mental health resources for health-care providers, leaders, and educators (Healthcare Excellence Canada)
Helping Health Care Workers Cope with COVID-19-Related Trauma – A resource on Post-Traumatic Stress Disorder and other mental health concerns that could be faced by health-care workers, staff, and leaders. (Anxiety Canada)
"Psychology Works" Fact Sheet: Emotional and Psychological Challenges Faced by Frontline Health Care Providers During the COVID-19 Pandemic – A fact sheet to help frontline health-care providers across professional disciplines to better recognize the challenges and stressors that may be impacting them. (Canadian Psychological Association)
Wellness Together Canada – Free online resources, tools, apps and connections to trained volunteers and qualified mental health professionals when needed. Create an account and answer a series of questions to guide you in choosing from a variety of tools and resources. (Government of Canada)
CPS: Drug and therapeutic information
Our drug and therapeutic content covers a wide variety of mental health issues, including anxiety, depression, insomnia, PTSD and addiction support. This information is designed to help you help your patients, but it also has many tips for ways to take care of yourself.
Pharmacy Workforce Wellness
CPhA launched the Pharmacy Workforce Wellness initiative to help address the core causes driving stress and burnout in the profession, and identify solutions and strategies aimed at minimizing the impact of the pandemic and its effect on the pharmacy workforce.
Our Resource Round-up series gathers available resources and practice tools on important health topics to help you in your practice. This is not an exhaustive list of available resources. Something missing? If you have information, tools or resources you think we should include, please let us know at practicedevelopment@pharmacists.ca.
Last updated on December 1, 2022