Happy World Pharmacists Day 2023
The Canadian Pharmacists Association is joining the pharmacy community across the globe on September 25 to celebrate World Pharmacists Day!
"Pharmacy strengthening health systems" is the theme of World Pharmacists Day (WPD) this year, highlighting the critical role that pharmacy has to play as health systems around the world continue to recover from the COVID-19 crisis and take action to meet future needs.


Canada is increasingly turning to pharmacy to meet our health-care needs
The momentum has continued over the past few years, and we've seen new authorities and new funding for pharmacy services as governments align health-care delivery models with patient needs and expectations. From coast to coast to coast, we've witnessed pharmacists further empowered to practice towards their full scope, and to serve their patients with fewer barriers.
According to a new survey we conducted ahead of WPD2023, a majority of Canadians agree that expanding the range of services offered at pharmacies, including walk-in clinic services for common ailments, vaccinations, testing and lab services, chronic disease management, and prescribing contraception, enhances access to and quality of health care.

2023 highlights
So far this year in Canada we have seen new authorities allowing pharmacists to assess and prescribe for minor ailments for the first time in some provinces and the expansion of minor ailments programs and funding in others. We've seen 3 more provinces allow pharmacists to prescribe hormonal contraception to improve access, bringing the total to 8 provinces. And we have seen the growth of pharmacy-led primary care clinics as well.
Here's a look at some of the highlights: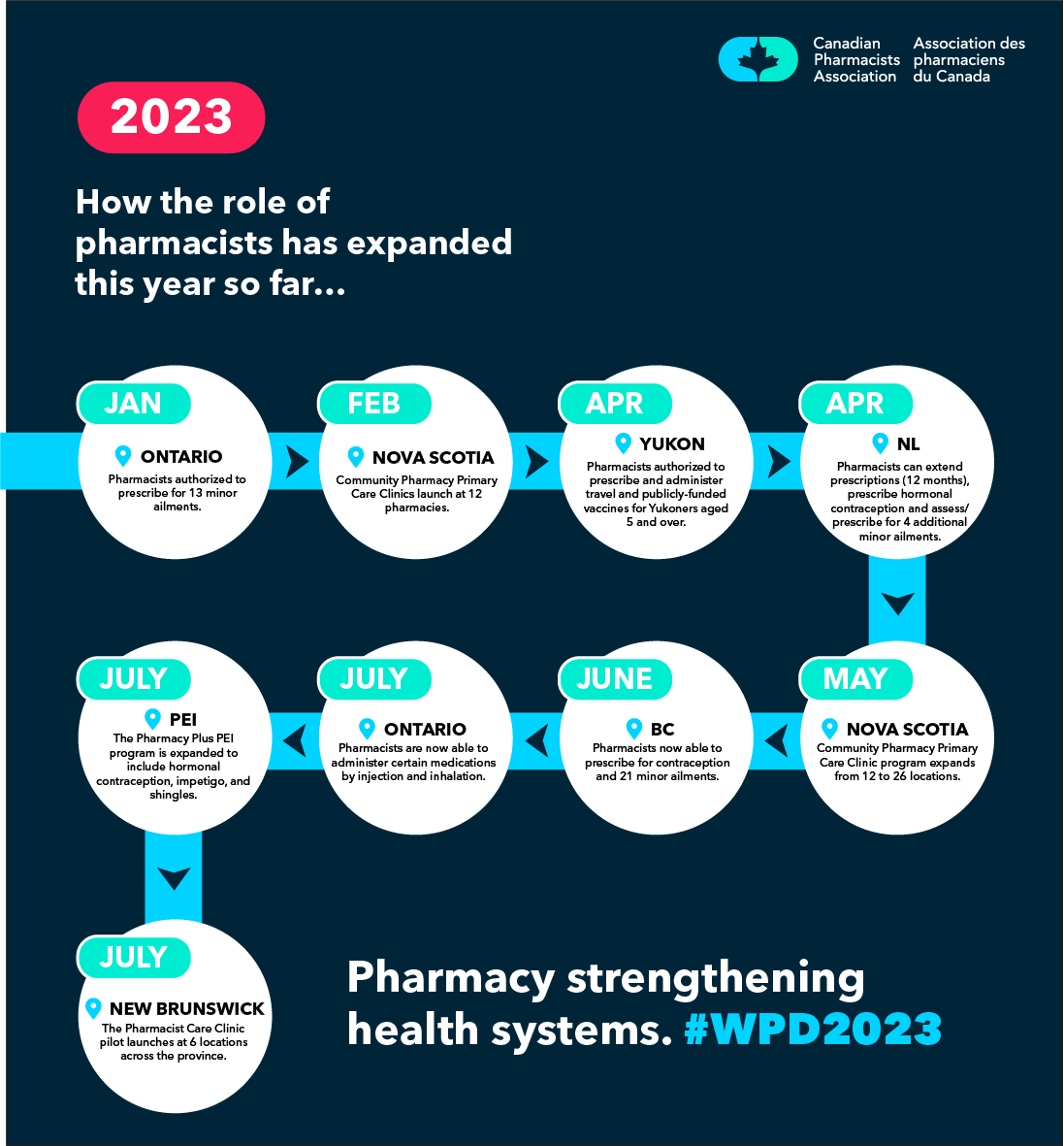 TL/DR: It's good news for patients…
At the center of it all is the amazing pharmacy professionals who are there for their patients each and every day!
We want to wish a Happy World Pharmacists Day to Canada's 45,000+ pharmacists!