IPPC Indigenous Pharmacy Scholarship by Sobeys National Pharmacy Group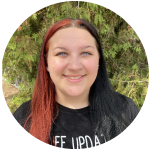 Jessica Fortier
Saskatchewan Polytechnic
Jessica Fortier is a second-year student in the Pharmacy Technician program at Saskatchewan Polytechnic. Inspired by her mother's work as a continuing care assistant, Jessica knew from a young age that she wanted to work in health care, yet she was uncertain of exactly what she wanted to do.
After considering both nursing and lab technician programs, Jessica developed an interest in pharmacy and began a pharmacy degree at the University of Saskatchewan after high school, but still felt it wasn't quite the right choice for her. A conversation with a friend's aunt about her experiences as a pharmacy technician encouraged Jessica pivot her energies to the technician program and she realized she was finally on the right path.
Working at a pharmacy while in school has emphasized the need for and importance of technicians for Jessica. She's experienced firsthand the difference a technician makes to the pharmacy team, and considers the role essential to efficient pharmacy operations.
Though the program is challenging, Jessica is looking forward to beginning her career and is confident that she'll be an asset to her employer, her patients and the health-care system. She thinks it is important to highlight the profession and bring more attention to the critical role they play.
This scholarship has been generously supported by Sobeys National Pharmacy Group.