IPPC Indigenous Pharmacy Scholarship by Johnson & Johnson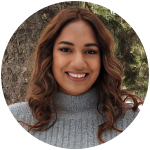 Sasha Merasty
University of Saskatchewan
Sasha Merasty is currently enrolled in her fourth year of the Doctor of Pharmacy (PharmD) program, graduating class of 2024, at the College of Pharmacy and Nutrition at the University of Saskatchewan. Raised in Saskatoon, SK, she is a member of Peter Ballantyne First Nation.
Sasha currently works part-time as a pharmacy intern at a community pharmacy in Saskatoon. She has a passion for community involvement that started at an early age and she hopes to continue advocating for underserved Indigenous populations. Currently, Sasha serves as a member of Indigenous Pharmacy Professionals of Canada (IPPC) Board of Directors, where she hopes to create more funding opportunities for Indigenous students interested in studying pharmacy at the university.
In the future, Sasha plans to open her own pharmacy in her Indigenous community so that she can continue advocating for Indigenous health-care equality and serve as a role model for her Indigenous community. She is a strong advocate for Indigenous health goals, and she believes that these goals can best be achieved by learning how traditional medicines were gathered and understanding the relationship between the land, the medicine and Indigenous communities. Sasha hopes to provide opportunities to improve health-care awareness among Indigenous communities and wants to create learning opportunities for Indigenous patients to encourage them to participate more actively in their health-care plans and goals.
Sasha believes that pharmacies must promote community-focused health care by considering not only what health concerns are prevalent in the community, but also how one can make health care a priority in the community. In addition to providing services that support Indigenous and trauma-informed care, Sasha wants to promote pharmacy services that include more elder interactions and outreach that will establish a culture of support for Indigenous culture and traditional ways of knowing. When she opens a pharmacy in the future, Sasha plans to establish programs that look toward the future of health care in Indigenous communities by offering employment and mentoring opportunities to community members interested in pursuing careers in pharmacy and health care.
This scholarship has been generously supported by Johnson & Johnson.