IPPC Indigenous Pharmacy Scholarship by Green Shield Canada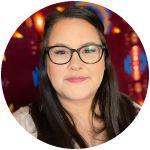 Amy Bell
Saskatchewan Polytechnic
Amy Bell is an Indigenous woman from Canoe Lake Cree First Nation. She is a mother of 4, with twins currently continuing their education at the University of Saskatchewan and children in grades 10 and 8. She graduated from high school on her reserve in 2005, and returned to school once her children were older.
Interested in health care, Amy considered a career in nursing, but she was not a fan of blood and chose instead to pursue diplomas in both medical administration and office assistance before the pharmacy technician program at Saskatchewan Polytechnic caught her attention. After completing some pre-requisite courses, Amy enrolled in the program part-time and is now entering her final year. Though the curriculum is challenging with a lot to learn, Amy believes in taking the time to do it right and is looking forward to completing her education in 2024.
Amy is the first person from her reserve to be pursuing a pharmacy technician diploma. She hopes that seeing her behind the counter at the pharmacy will encourage other Indigenous people to pursue a career in pharmacy, and that her story will inspire others to never give up on their dreams.
This scholarship has been generously supported by Green Shield Canada.