Pharmacy Check-in: Meet Rheya White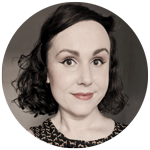 Rheya White, BSc. (Pharm) (they/her)
Community Pharmacy Practice Consultant, Newfoundland and Labrador Pharmacy Board, St. John's, NL
Rheya White is the Community Pharmacy Practice Consultant with the Newfoundland and Labrador Pharmacy Board. This position has provided her with the unique opportunity to visit a wide variety of pharmacies with a focus on quality assurance while simultaneously reflecting on these experiences through a queer and gender-diverse lens. Rheya intends to leverage their privilege as a health-care professional to discuss these reflections with pharmacy professionals across the country while promoting equitable, inclusive health care. To date, this has occurred primarily through self-developed education sessions focused on health inequities faced by 2SLGBTQIA+ communities, potential interventions, as well as gender affirming hormone therapy.
Q&A with Rheya
We caught up with Rheya during Pride Month to talk about how pharmacy professionals can provide and advocate for more inclusive care for the 2SLGBTQ+ community.
What is the #1 thing pharmacists can do to create a safe and inclusive space for members of the 2SLGBTQ+ community?
Recognize where you lack perspective and bridge that gap by listening to others. There isn't one intervention that is certain to be the most impactful for everyone. Rather, you need to put the work in, educate yourself on the needs of your community, listen to diverse perspectives, reflect on what can be improved, and create change accordingly.
While not at the discretion of every pharmacist, inclusive hiring practices can serve as the foundation to this practice. Having a diverse and inclusive team allows a greater number of perspectives when evaluating your space, provided you are requesting and responding to feedback.
Why is inclusive health care important, especially in a pharmacy setting?
Inclusive health care is equitable, ethical and just health care. If we intend to practice as professionals, it's necessary that we demonstrate to our communities a commitment to practice ethically. This includes providing equitable care to all individuals regardless of colour, race, ethnic origin, gender identity, gender expression, sexual orientation and other protected grounds as recognized by the Canadian Human Rights Act. As pharmacists we are not only health-care providers, we are members of our communities and society. By providing equitable care in inclusive environments, we use our privilege to set a positive example for all those we interact with.
How can pharmacists play a greater role as advocates for inclusive health care, especially for the 2SLGBTQ+ community?
Meaningful advocacy begins with educating yourself on what you don't know. In addition to listening to diverse perspectives, seek out continuing education on topics your university may have chosen not to teach you about such as pre-exposure prophylaxis (PrEP) and gender-affirming hormone therapy. While you're at it, demand better from the educational institutions that continue to ignore these topics. Recognize where systemic barriers such as this exist and demand better.
What's the biggest mistake health-care providers make in caring for 2SLGBTQ+ patients and how can they do better?
Treating inclusive care as a list of rules to be followed without appreciating the "why" behind their actions. You are going to have an uphill battle if you see inclusivity as keeping up on what you "can and can't say." Rather, put each patient at the centre of the care you provide them. Think about what their needs are and practise in a manner that intends to encourage their betterment while avoiding harm.
What is the most rewarding part of your pharmacy practice?
On a broader scope, hearing about the changes pharmacies have made since attending one of my presentations. Notably, it's been rewarding to hear from teams that have committed to ensuring individuals' chosen or preferred names are used wherever possible, including communications and prescription labels. On a more personal level, it's been amazing to hear directly from pharmacists about how a session helped improve their communication with personal contacts such as friends and family members.