Pharmacy Check-in: Meet Christine Amoko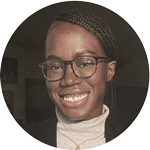 Christine Amoko (she/her)
Pharmacy Student
University of Saskatchewan, Class of 2024
Winnipeg, MB
Christine is a Doctor of Pharmacy student at the University of Saskatchewan. Before pharmacy school she completed a Bachelor of Science in Biochemistry from the University of Winnipeg. Having migrated to Canada as a refugee, Christine has witnessed and experienced systemic and individual racism. These experiences reinforced her desire and motivation to enter the health-care system and further strengthen her advocacy for inclusivity in all aspects of health care. The ways in which she wishes to practice are with the concepts of equity and diversity at the forefront of her care. Christine hopes to one day open a pharmacy/primary care center that focuses on health disparities that are faced by BIPOC individuals in order to adequately treat, prevent and educate these individuals in a safe space.
Q&A with Christine
We caught up with Christine during Black History Month to chat about how pharmacy students can contribute to inclusive pharmacy care.
Why is inclusive health care important especially in a pharmacy setting?
I'll answer this with a question. How do you trust someone who does not look like you? Or how do you trust a place that has no one that looks like you? If there is no sense of familiarity, patients will not feel welcomed or respected. These experiences most often result in minority patients having a single negative experience in the health-care system. These feelings then create a mistrust of all individuals working in health care.
Inclusive health care is equitable access to health services and resources for all individuals regardless of age, sex, race, gender, etc. It is very important in a pharmacy setting as it ensures that not only are patients treated with respect and dignity, but also gives patients full autonomy of their health. For pharmacists to practice inclusive health care they must understand that their patients are unique and come from different backgrounds, and they must tailor the services they provide accordingly. Furthermore, pharmacists must be able to advocate strongly based on differences that each patient presents. Pharmacists must be culturally competent, culturally sensitive as well as realizing and checking their implicit biases, whether it be unconsciously or consciously. When inclusive health care is implemented in the pharmacy setting all patients receive the best possible care, have better health outcomes and build a trusting relationship with their pharmacist and pharmacy staff.
How can pharmacy students contribute to enhancing inclusive care for patients?
From my experiences going into the doctor office with my immigrant parents, I noticed their health concerns are not taken seriously and often ignored. From the administrative staff to the nurses and physicians, the tone that is used to address my parents is one that is condescending and leaves them feeling slighted. As a pharmacy student, I feel it is my responsibility to always stand up for them and advocate for them and ensure they are receiving proper care.
At the community level as pharmacy students, we must contribute to enhancing inclusive care for the Black community by engaging in meaningful dialogue with Black patients and their families about their health-care needs. This can only be done by fostering a safe and welcoming environment. We must work to increase awareness and advocate for the Black community by being vocal about the issues and challenges the Black community faces in accessing health care. Additionally, pharmacy students must engage in education and outreach initiatives in their local communities to increase understanding of the importance of inclusive health care for all patients. Finally, pharmacy students must partner with other health-care professionals to advocate for policy changes that would support the implementation of inclusive health care.
At an institutional level, pharmacy students can lobby for changes to pharmacy school and health profession curricula, such as mandatory anti-racism training/education.
What are you most looking forward to as you think about your future career in pharmacy?
What I'm most looking forward to about my future career is being a preceptor and a role model to new Black students entering the profession! I can't wait to share my experiences as a student with them and get to be a part of their training. The Black Pharmacist Students' Association at the University of Alberta has been a great guiding resource for me through my pharmacy school journey and I have heard that the Black Pharmacist Student's Association at University of Toronto is doing amazing work to improve the experience of Black students. Hopefully when I start practicing, I would like to see a Black Pharmacy Student's Association formed at all pharmacy schools across Canada. Finally, I would love to see and be apart of the formation of a nationwide Black Pharmacy Students Association of Canada / Black Pharmacist Association of Canada, similar to that of the Black Medical Students of Canada/ Black Physicians of Canada where Black pharmacy students and pharmacists can create a social network, learn, support, mentor, guide and advocate for each other.
Is there anything else you'd like to share?
'You can't be what you can't see" (Marian Wright Edelman). This is how I felt for most of my pharmacy school experience within the college and at work. Seldom did I see other Black people on faculty or Black pharmacists. This has been my experience in the Canadian educational system for my entire life. The first time I was taught by a Black professor was in my third year of undergrad. I have experienced microaggression and overt discrimination from both patients and colleagues. In my experience, racism and anti-Blackness is an uncomfortable topic, thus there is lack of discussion. Even during therapeutics and pharmacology courses, most images are of white individuals, which makes it difficult to diagnose and characterize a condition on a Black person. There is a lack of representation among staff and students and lack of support for students who experience racism at an individual or institution level.
Representation is very important to challenge the status quo. By doing so, this can further empower Black people in thinking not only can they be pharmacists but rightly hold positions of power in health care. Last year I had the opportunity to meet and work with a Black female pharmacist (Anu Okunku) who is an amazing human being and amazing hospital pharmacist, I would like to be like her when I start my career.