Pharmacy Check-in: Meet Bob Mattice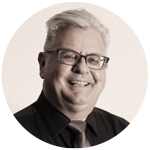 Bob Mattice, BSP (he/him)
Pharmacy Manager/Store Operator, Neighbourly Guardian Pharmacy #2029, Cold Lake, AB
Bob Mattice is approaching his 43rd year as a pharmacist and absolutely loves it! A proud University of Saskatchewan (1981) grad, Bob has spent his entire career working in community pharmacy in Alberta. His practice has been built on relationships and trust with patients and coworkers, and Bob prides himself on providing a personal touch. He believes in providing service to people in all walks of life, but has recently turned his focus to vulnerable populations and segments of his community. Bob owned and operated Value Drug Mart in Cold Lake, AB, from 1988 to 2020, and continues to practice in his community at Neighbourly Guardian Pharmacy. Bob recently fulfilled his dream of becoming a politician when he was elected as a city councillor in Cold Lake. In his spare time he performs as a stand-up comedian, and his stage highlight was opening a show for Brent Butt of Corner Gas fame.
Q&A with Bob
We caught up with Bob Mattice during National Immunization Awareness Week to talk about his practice and the important role pharmacists play in vaccinating their communities.
What is the most rewarding element of your pharmacy practice?
Making a difference in people's lives, whether through humour, compassion or performing hard-to-do tasks such as children's immunizations in my scope of practice.
What specific clinical practice areas or advocacy issues are of interest to you and why?
I see my specialty as being an injection-trained pharmacist, as I routinely provide over 1000 flu shots per season, and I have delivered over 3000 COVID-19 vaccinations in the last 2.5 years! Additionally, I provide specialty injections for medications including long-acting psychiatric medication, testosterone, Vitamin B12, etc… I provide an average of 5 or more injections daily (with great support staff help!). I have developed a reputation for successfully vaccinating people with needle fear, especially children, using various tricks of the trade (e.g., teddy bears, candy, dad jokes) and for making the experience enjoyable for the entire family.
What is a common misconception about pharmacists and pharmacy?
I sometimes think pharmacists are the Rodney Dangerfields of health care. We are key holed into being seen as pill counters and not recognized for the other services we provide. I'd love for the press to stop featuring pictures of pills on counting trays in pharmacy articles!
What is one practice area where you feel pharmacists could increase their role that would lead to better patient outcomes?
Pharmacy prescribing is huge, and many steps forward are taking place across the country. With our scope of practice in Alberta, we can fill gaps in health care, save costs to the taxpayers and add value to the interactions between the public and the health-care system. This is definitely an area that will make a huge difference for patients as more pharmacists are able to provide it in their communities.
What makes you proud to be a pharmacist?
I'm so proud to be introduced by people as "my pharmacist" and being able to make someone smile or laugh or help them through challenges they encounter, especially during COVID.
The last week of April is National Immunization Awareness Week. Why do you think pharmacists are ideally suited to play a critical role in immunizing their communities?
The obvious answer is that people have easy access to their pharmacists! But another is the pharmacist's ability to talk to patients or families while immunizing, to give further advice on immunizations and health care, and to educate them on topics that maybe need more personal space.
Do you have any advice for pharmacists who want to play a greater role in immunization and vaccination for their patients?
Don't be afraid to do the tough jobs and embrace vaccinations to provide help to patients. Respect and treasure the relationships you build with them, like when a 6-year-old says, "Hey, you gave me my needle and I didn't feel it!".
You've been a pharmacist for a long time. Do you have any tips to share on staying engaged and passionate?
Allow your team to help make you better. Look after yourself by taking breaks and taking care of your mental health. Above all, be kind to people. There has never been a more stressful time in recent history for people to need the kindness of "their pharmacist."