Pharmacy Check-in: Meet Alex Hosein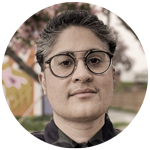 Alex Hosein, BSc. Pharm (they/them)
Bloom Program Coordinator, Nova Scotia Health
Community Pharmacist, Care Pharmacies
Kjipuktuk, Mi'kma'ki (Halifax, NS)
Alex Hosein is a community pharmacist and the Bloom Program Coordinator for Nova Scotia Health. Their community pharmacy practice has been focused in urban community settings, most recently working out of the dispensary in The Overlook—a harm reduction peer-supported housing project created by the North End Community Health Centre in partnership with Affordable Housing Association of Nova Scotia. The Bloom Program is a community pharmacy initiative designed to increase and improve mental health and addictions care for Nova Scotians. Alex is passionate about education, collaboration, and the imagining and creation of inclusive, just futures.
Q&A with Alex
We caught up with Alex during Pride Month to talk about how pharmacy professionals can provide and advocate for more inclusive care for the 2SLGBTQ+ community.
What is the #1 thing pharmacists can do to create a safe and inclusive space for members of the 2SLGBTQ+ community?
All health-care providers, including pharmacists, have a responsibility to minimize barriers to care and provide a non-judgemental and informed practice. This can help to create safe and inclusive spaces for many marginalized and equity-deserving groups, including 2SLGTBQIA+ patients. 2SLGTBQIA+ populations encompass so many identities and intersections and each person will have their own needs. As always, it is necessary to approach care through a holistic lens prioritizing shared decision making and person-focused care.
Why is inclusive health care important, especially in a pharmacy setting?
2SLGTBQIA+ patients have historically, and continue to, face discrimination in health-care settings. When we navigate a system of discrimination, one that feels like it was not built to care for or support us, it can lead us to feel apprehensive, on guard, or non-trusting. Pharmacists can provide information, navigation, and advocacy support. When non-biased and up-to-date information is provided, it empowers patients to take a part in deciding what their goals and desires are, so that they can be a part of their own health care journey. Ideally, the pharmacy is a space where someone is fully able to disclose and discuss their health care concerns and goals without fear of harm.
How can pharmacists play a greater role as advocates for inclusive health care, especially for the 2SLGBTQ+ community?
Pharmacists have a unique frontline practice. Located in urban, suburban, and rural areas, many pharmacies are open outside of "standard" operating business hours. They can offer both scheduled and on-demand service and can act has a hub of information, connecting patients to other resources both locally and beyond. Pharmacists can create an environment that offers care and respect to each individual who comes in. We can support people in trying to get the care they want and deserve by creating that in our particular pharmacy, as well as offering support navigating broader health-care systems.
Is there anything else you'd like to share about your practice, or about anything else that is important to you?
Something I come back to often is the fact that we must be open to learning and culture shift. Listen to your patients and consider them an expert in their own experience. I encourage myself and my colleagues to seek out learning opportunities which help advance our knowledge and competencies. Ask your professional association(s) to provide more education on 2SLGTBQIA+ health and demand it in the curriculum of current learners. Do your best with the information you have and prioritize gaining more. When we know better, we can do better.