Pharmacy Check-in: Meet Afomia Gebre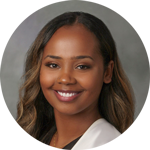 Afomia Gebre, BSc (Pharm), ACPR (she/her)
Clinical Pharmacist
Ottawa, ON
Afomia Gebre graduated from Dalhousie University's College of Pharmacy in 2020 and shortly after completed a hospital residency through the Nova Scotia Health Authority. During her residency she completed a study titled 'Understanding the Experiences of Black Nova Scotians with Community Pharmacists.' Afomia helped start the first Diversity and Equity Committee at the College of Pharmacy, travelled to Ghana as a delegate for the African Youth and Convergence Conference (AYGC) at which she was the chair for the health committee and has worked as a mentor and tutor for youth of diverse backgrounds through various organizations. After working at Qikitani General Hospital in Iqaluit for 9 months, Afomia is currently working as a hospital pharmacist in Ontario.
Q&A with Afomia
Tell us about the "A Black History to Rememer 2023: The Canadian Pharmacy Edition" campaign. What is it all about and why is it important?
One of my very good friends and colleagues, Mary Adegboyega, reached out to me about a project she was working on. Black History Month is a month for reflecting and also celebrating. This campaign was created to celebrate Black pharmacy professionals. It is also an opportunity for pharmacists to share about particular disease states that disproportionately affect Black people as well as advice on how we can better support our communities. This is only the beginning. I think there will be lots of opportunity for many people to be involved with projects such as this one in the future.
What is the #1 thing pharmacists can do to create safe and inclusive spaces for members of the Black community?
I think that education is the #1 thing that pharmacists can do in order to create safe spaces for Black people. Before beginning to create safe spaces, it is important to understand why they are necessary. This includes understanding how racism and discrimination impact health outcomes.
Education allows us to be aware of our own implicit biases and internalized racism which in turn allows us to minimize instances of microagression towards Black patients. Education also equips us with tools that are necessary to deliver trauma-informed care. Lastly, it allows us to recognize instances of racism that are so rampant within our medical system. For example, have you ever thought about why we are so comfortable diagnosing dermatological skin conditions in White patients versus Black patients? How we are not taught words outside of "erythematous" or "redness" when discussing skin conditions even though redness does not appear on all skin tones?
Being an ally is not easy, nor is it comfortable. It forces us to recognize the power and privilege we are afforded because of the culture we are part of. There is no "how-to" guide on becoming an ally but there are things that are important in order to be better informed:
Cultural humility: Think about who you are and how you have reached your world view, and the ways in which we may be contributing to harmful systems.
Education: the onus is on you to do the work in order to be better informed. It is not fair to expect Black people to do this work (especially for free).
What is the most rewarding part of your pharmacy practice?
I think one of the most rewarding parts of my pharmacy experience is that I am always given the opportunity to make change in regards to the experiences of equity seeking groups with their pharmacist. This profession allows me to combine my passion for clinical work with my passion to improve patient care by addressing and dismantling systemic racism in all its forms within pharmacy practice.
What specific clinical practice areas or advocacy issues are of interest to you and why?
My area of interest in pharmacy is to improve patient care by acknowledging, addressing, and then dismantling systemic racism and discrimination in all its forms within pharmacy practice. I have navigated the pharmacy as a Black patient, a Black student and now a Black pharmacist and all these experiences have been tainted with instances of racism and discrimination. I know firsthand how important this work is to truly deliver safe and equitable patient-centered care.
Why is diversity and inclusion in health care important in a pharmacy setting?
Inclusion and diversity are important in the pharmacy setting because it means multiple races, ages, genders and ethnicities are represented therefore a wide range of experience and background is represented. It also means that our patients see themselves in their care providers. But we must remember that diversity and inclusion are not interchangeable terms; diversity without inclusion is tokenism.
What is one thing that is important to do when working on equity and diversity initiatives?
I think that one thing that is necessary, but often not talked about, is having cultural humility. To put it simply, cultural humility is a life-long process of self-reflection and self-critique. It is being aware of your own internalized biases. I think about it the same way I think about driving a car. You can't buy a car that has no blind spots but being aware of them reminds you to check your mirrors and over your shoulders before you change lanes. Our internalized biases are those blind spots, and cultural humility is that shoulder check. We all have them, but it is acknowledging that they are there that allows us to begin the work in dismantling them within ourselves and then within the systems that we work and live in.
Is there anything else you'd like to share about this topic?
As health-care practitioners, we are all governed by the code of ethics, and we have a mandate to serve and protect the public. However, if we are not actively working to dismantle the systemic issues within our profession, then we cannot say that we are truly upholding this code:
Non-maleficence: Do we prevent harm when we do not truly understand the ways in which we are harmful to people of equity-seeking groups?
Beneficence: Do we fulfill our primary roles as professionals, to benefit society, when we continue to uphold a system that was created to benefit some and not others?
Respect for persons/Justice: Do we treat all our patients fairly, equitably and with respect if we do not provide trauma-informed and culturally safe care?
Fidelity: Do we act in the best interest of our patients and society if we are not actively mobilizing this profession into one that is equitable, diverse and inclusive?
If the diversity within the public that we serve, and their interests and perspectives, are not represented at the tables that make decisions for and about our profession, are we doing our part to protect the entire public or only the public that looks like us?