CPhA Advocacy Update: Fall 2022
Through the spring and summer, CPhA continued to advocate on your behalf with the federal government, stakeholders and partners, ensuring that pharmacy's voice is at the table for critical health discussions. Here's an update on some of our recent key priorities and initiatives.

Pharmacy Workforce Wellness initiative update
Launched in early 2022, CPhA's Pharmacy Workforce Wellness initiative is Canada's first national initiative aimed at addressing the health and wellness of the profession and ensuring that Canada's pharmacy workforce is able to meet the needs of Canadians. The initiative is being led by a steering committee that advises CPhA on how to advance the most pressing issues facing the community. We've moved this work forward in several key areas over the last several months, including:
Workforce planning study: We've launched a workforce planning study in New Brunswick to understand and address current workforce challenges. Aimed at developing 10-year rolling projections for pharmacy professionals based on specific provincial needs, this pilot project will inform similar work in provinces across the country.
Wellness Task Force: The Wellness Task Force is a critical next step in addressing the concerning results from the Canadian Pharmacy Mental Health and Workforce Wellness Survey we conducted in early 2022. The Task Force aims to enable important conversations within the profession to improve understanding of the issues causing poor mental health in the workplace, allowing pharmacists to input, shape and innovate to support the well-being of pharmacy teams.
CPhA continues to seek your input and guidance to inform this initiative. Please contact us if you would like to get involved.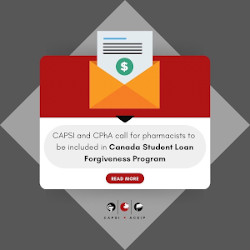 Canada Student Loan Forgiveness Program
One of the federal government's 2022 budget commitments was to expand the Canada Student Loan Forgiveness program to other health providers beyond physicians and nurses. CPhA has been working with the Canadian Association of Pharmacy Students and Interns (CAPSI) to advocate for the expansion of this program to include pharmacy graduates and residents as a critical recruitment and retention enabler for rural and remote parts of the country. Our efforts are also focused on placing eligible forgiveness amounts and timelines for pharmacists in the same category as physicians. To date, we've met with several federal officials and members of parliament to share the front-line experiences of pharmacists in rural remote areas and share data on tuition fees and debt levels for pharmacy students.
National public opinion polling
CPhA conducts regular national public opinion polling to help inform our advocacy work with the federal government and is shared with our provincial member organizations to support their own efforts. In September we released the results of 2 recent surveys:
Flu shot season and pharmacies: In mid-August, CPhA polled Canadians on their intentions to receive a flu shot this year. Concerningly, only 50% of respondents indicated they would be seeking a flu shot this year, however 62% of those plan to get vaccinated at the pharmacy. We are urging the public to get vaccinated to protect themselves, especially given the current health human resources challenges across our health-care system.
Role of pharmacists: Conducted in late August, this survey found that Canadians recognize the need to expand and fund additional health services in our communities and better utilize and support our health providers. The vast majority of respondents (90%) agreed that pharmacists can help address gaps in care caused by current workforce challenges.
Pharmacare and pharmaceutical policies
CPhA remains actively engaged in bringing pharmacy's voice to discussions around pharmacare and pharmaceutical policies affecting drug access. At the end of August, CPhA met with the federal health minister to discuss Canada's broad pharmaceutical agenda. We stressed the need for policies that enhance Access, Appropriateness while ensuring Affordability, as well as the role of pharmacists in achieving these goals. We also continued to share a pharmacy perspective on some of the federal government's drug pricing reform initiatives, stressing the need to formally engage the pharmacy community in negotiations and highlighting the impacts that some of these changes may have on the sustainability of pharmacy and on timely access to drug supply.
Federal budget submission
The House of Commons Standing Committee on Finance recently launched its annual pre-budget consultations. CPhA put forward a pre-budget submission focussed on 5 issues:
Ensuring that pharmacies do not solely have to bear the costs of e-prescribing
Investing in community-based care to support Canada's primary care network
Enhancing HHR strategies for recruitment and retention
Expanding the rural and remote student loan forgiveness program to include pharmacists
Implementing a mixed payer pharmacare program
Pre-budget consultations are an important element of ensuring that pharmacy priorities are included in the federal government's budget for the upcoming year.
International Pharmaceutical Federation meets in Spain
In September, CPhA attended the International Pharmaceutical Federation (FIP) meeting in Spain. As a FIP member organization, CPhA brought a Canadian perspective and experiences to this international meeting and organized meetings to discuss common issues including mental health and burnout, enhancing scope of practice and workforce challenges.