Pharmacist Awareness Month (PAM)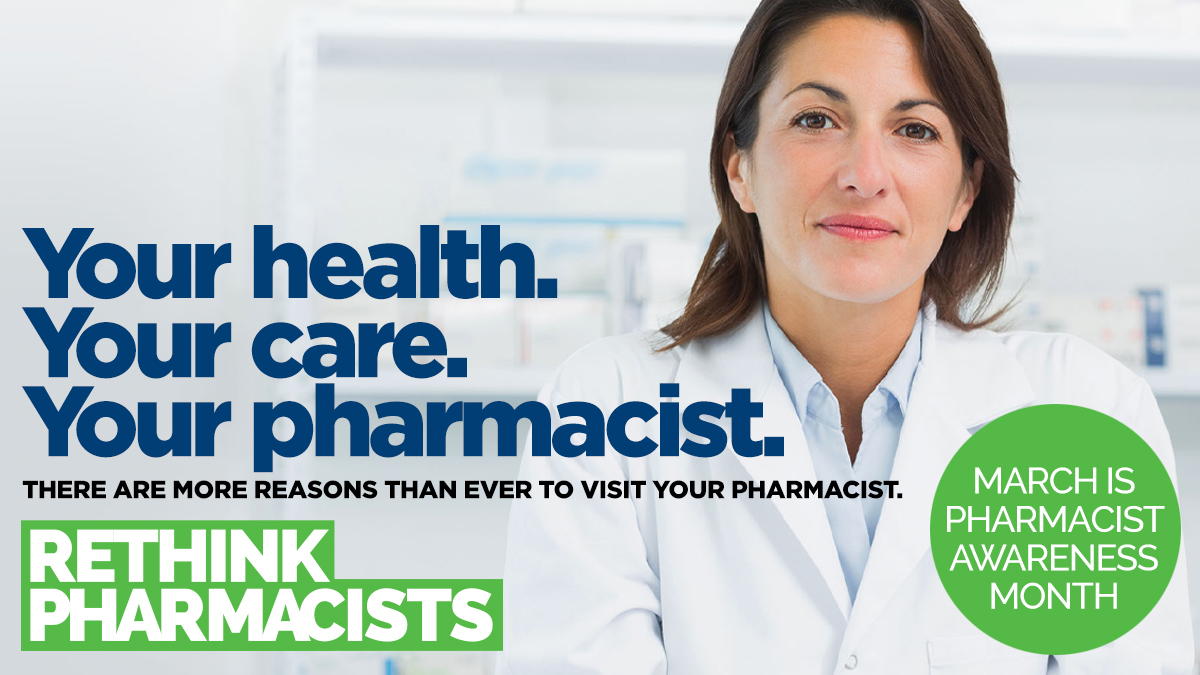 Each March Pharmacist Awareness Month (PAM) celebrates the contributions that pharmacists make to our health care system and helps educate Canadians about the health care services and advice their pharmacists are now delivering.
PAM is an opportunity to celebrate the pharmacist profession, highlight the health care services now offered at the pharmacy, and encourage Canadians to Rethink Pharmacists.
For patients and the public
It's time to rethink what your pharmacist is to you. From renewing prescriptions, delivering vaccinations, providing medication management services, and assessing and prescribing for minor ailments and conditions, there are more reasons than ever to visit your pharmacist. Discover what your pharmacist can do and learn more about why you should Rethink Pharmacists at www.rethinkpharmacists.ca
For pharmacists
Promote your role to your patients
Help us make sure your patients know what you can do for them! By working together throughout March, we can let Canadians know about the growing role of pharmacists in our health care system and all the different services pharmacists are now providing.
Tools and resources
CPhA has developed a wide variety of resources to help you promote Pharmacist Awareness Month to your patients and the public.
Get involved
Take time now to prepare for Pharmacist Awareness Month. Here are some ideas to help you get involved:
Make Pharmacist Awareness Month posters available at your pharmacy counter or waiting area.
Join the conversation on social media using the hashtags #PAM2020 and #RethinkPharmacists. Check out our sample messages and graphics to get your started.
Become more familiar with expanded scope of practice in your province and incorporate new services into your daily practice.
Talk to patients to let them know about the support you provide. Host a community information session to describe the services available at your pharmacy or hold a health awareness clinic to highlight a particular health issue you can help them with (e.g. medication management, diabetes, or heart health).
Take one of CPhA's high-quality continuing professional development programs to help you deliver expanded services to your patients or check out our Webinar Library for lots of great learning opportunities.
Get inspired
Share your story
Share your PAM stories, events and activities with us by email or on social media using the hashtags #PAM2020 and #RethinkPharmacists. We look forward to sharing your posts and tweets throughout the month of March to inspire other pharmacists to get involved.