Hypertension Care
Benefits of pharmacist care in hypertension management in Canada
While there is good evidence available for the health benefits of pharmacist intervention in hypertension management, there has been a lack of research done on the economic value of this type of intervention, particularly in Canada.
A 2017 study published in the Canadian Pharmacists Journal, shows that comprehensive long-term pharmacist care for Canadians with hypertension, including patient education and prescribing, improves health outcomes and will save money for Canada's cash-strapped health care system. Projected cost savings would be more than $15.7 billion if full scope pharmacist care were administered to the full eligible population in Canada.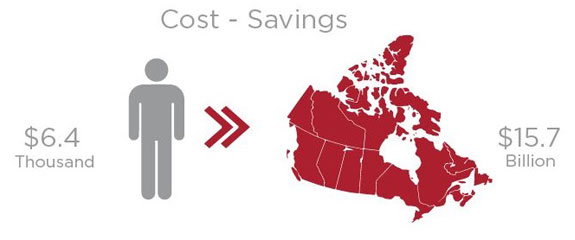 The peer-reviewed study looked at alternatives to usual hypertension care, including full scope pharmacist care—making full use of pharmacists' scope of skills, including prescribing. The analysis shows a real and significant benefit from pharmacist care both in terms of cost savings and health benefits when compared to usual care.
A conversation with the study's authors
The model presented in the report has been set up as an interactive tool that allows users to explore changes in economic and health impact under different timeframes and health scenarios:
Reports and Studies
CPhA Statements
Pharmacist care for patients with hypertension would save Canada's health care system more than $15.7 billion
March 29, 2017 – First study of its kind highlights significant economic impact of pharmacist care in hypertension management