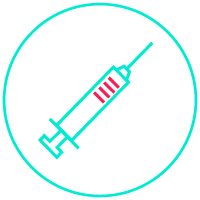 Influenza
Pharmacists play a vital public health role, administering more than half of all flu shots delivered across Canada each year.
The Canadian Pharmacists Association (CPhA) is working closely with governments, stakeholders and our provincial association partners to help pharmacists prepare for the 2022/2023 influenza season.
Flu season 2022/23: What Canadians are saying

50% of Canadians plan on getting the flu shot this year, down 6% from last year.

Over half of Canadians would schedule a COVID-19 booster with their flu shot.

Pharmacies continue to be the top choice for vaccination this flu season.
The results of CPhA's annual national flu survey point to a possibly concerning decrease in flu shot demand compared to the last two years, while pharmacy continues to grow as the top location where Canadians want to get a flu shot.
Information and resources

CPS Influenza Content
CPS Influenza Chapter: Updated for the 2022-23 season, our influenza chapter includes the latest information and evidence related to the prevention and treatment of influenza.
Common Cold and Influenza: Downloadable patient information infographic.