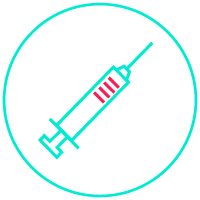 Influenza
Pharmacists play a vital public health role, administering nearly half of all flu shots delivered across Canada each year.
The Canadian Pharmacists Association (CPhA) is working closely with governments, stakeholders and our provincial association partners to help pharmacists prepare for the 2021/2022 influenza season. This page will be updated regularly to provide you with tools and resources to help you safely and effectively provide influenza immunizations to your patients this flu season.
Flu season 2021/22: What Canadians are saying

56% of Canadians plan on getting the flu shot this year.

1/3 of Canadians are more likely to get the flu shot because of COVID-19 and the 4th wave.

Pharmacies continue to be the top choice for vaccination this flu season.
According to a national survey commissioned by CPhA ahead of this flu season, the increased demand for flu shots experienced last year is expected to continue and pharmacies continue to be the most likely place for immunization.
Practice resources

Influenza 2021/2022: Suggested Best Practices for Pharmacies:
CPhA has updated its suggested operational best practices to help community pharmacy plan for the upcoming influenza season.

What to expect when you get your flu shot at the pharmacy:
Use this fact sheet to help prepare patients for their visit to the pharmacy.

Answers to common questions about the flu:
Use this resource to help you answer your patients' questions about the flu shot.
National Advisory Committee on Immunization (NACI)
Immunization awareness