What do Canadians think about their pharmacists anyway? Turns out, a lot.
by Christina Tulk, CPhA Chair
From the uncertain early days of the pandemic to the height of the vaccine rollout and beyond, the past 18 months have shown the world that pharmacists have a larger role to play in our health-care system.
This actually isn't a new idea. Pharmacists' scope of practice has expanded greatly over the past decade, and associations like CPhA have worked to highlight our untapped potential. But the pandemic has brought us to the forefront, and now that realization has reached patients en masse.
We recently asked Canadians what they thought of their pharmacists ahead of World Pharmacists Day, and one thing is abundantly clear: patients see and appreciate the extraordinary efforts and dedication of the profession.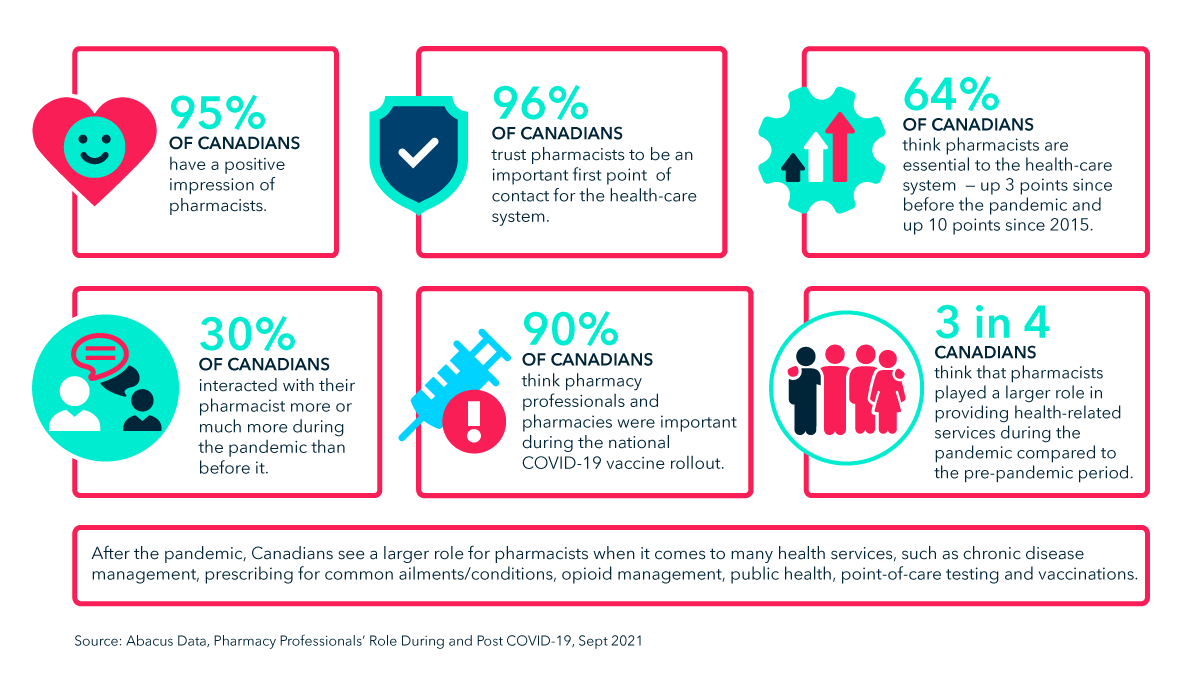 An uncertain time
Let's back up to March 2020. The early days of the pandemic were confusing and frightening for Canadians. Family doctors' offices quickly closed to in-person appointments; people were reluctant to visit hospitals if they could avoid it; regular channels of health care became difficult to navigate for most in the new environment.
But patients were willing to go to their pharmacy. Phones started ringing off the hook and patients started to take the short trip to see their pharmacists in droves — to renew prescriptions, access health services or get help with their chronic conditions, for COVID-19 information and public health guidance, or for reassurance to calm the fears and anxieties about the pandemic.
Part of this openness to visit the pharmacy is due to their accessibility in each community across the country — most Canadians live within 5 kilometres of one. But it also illustrates the trust Canadians put in their pharmacists. They sought out the familiar, trusted setting of their pharmacy for help and pharmacists became the primary touchpoint in a health-care system that was suddenly out of reach for many.
<23>In a new light
From day 1, pharmacists filled the gaps and did what needed to be done. We saw reports of pharmacy teams chipping in to make hard-to-find hand sanitizer for their communities, making house calls to elderly patients, coming up with innovative ways to protect themselves and their patients so they could stay open. But it was the unseen, daily interactions with patients that began transforming how Canadians were seeing their pharmacists and laid the groundwork for what would come. The pandemic fully revealed the depth of pharmacists' roles and services in a way that is impossible to ignore.
It was—and in most cases continues to be—an extremely difficult time for pharmacy teams. They pulled together and stepped up. They dealt with surges in patients seeking prescription renewals, worked to manage rising drug shortages and unpredictable supply, bridged gaps in care for some of the most vulnerable patients with new authorities to manage opioid prescriptions, educated patients on public health measures and how to reduce the spread of infection — all while managing patient expectations and emotions.
9.5 million COVID-19 shots and counting
On the heels of a challenging flu season that saw record demand for flu shots at pharmacies across the country, Canada's COVID-19 vaccine rollout was gathering steam and pharmacy was once again called on to help. Since March 2021, Canadian pharmacy teams have delivered more than 9.5 million COVID shots. In some provinces, pharmacies were responsible for more than half of all vaccines administered.
Canadians and governments took note
Canadians and governments have taken notice. For instance, the temporary exemptions to the Controlled Drugs and Substances Act (CDSA) that gave pharmacists the ability to better support their patients through the pandemic have extended until 2026 by the federal government — a direct acknowledgement of the vital role pharmacists have been playing to ensure uninterrupted care.
It's also not a coincidence that our Prime Minister, Deputy Prime Minister and Health Minister all visited their pharmacies to get vaccinated against COVID-19.
Pharmacy professionals showed up, did the hard job, and have been there for their patients every day. The challenges continue, as does this pandemic. As does our profession. We are approaching another difficult flu season that will once again ask a lot of our pharmacy teams. But through it all, know that your efforts are not going unnoticed. Know that Canadians and governments see you, appreciate you and continue to rely on a profession on the rise.