Survey: Share your experiences with the CDSA exemptions

Pharmacists have always played a vital role in the management of drug therapy and ensuring continuity of care for patients. That role has increased significantly during the COVID-19 pandemic when many health services have been limited.
Following temporary exemptions to the Controlled Drugs and Substances Act (CDSA) made in March 2020, pharmacists have been able to extend care to patients prescribed opioid therapy or other controlled substances.

Originally scheduled to expire in October 2021, CPhA successfully advocated for an extension to the exemptions, which now expire on September 30, 2026—a direct acknowledgement of the vital role pharmacists play in safe opioid management. While this was welcome news, CPhA continues to call for permanent changes to the CDSA and regulations that would expand pharmacists' role in managing opioids and controlled substances.
We want to hear from you! Have you been using these exemptions in your pharmacy practice?
To inform our advocacy efforts and help us better understand the impact of the exemptions on pharmacy practice and patient care over the course of the pandemic, CPhA is conducting a National Pharmacist Survey on the Exemptions under the Controlled Drugs and Substances Act (CDSA).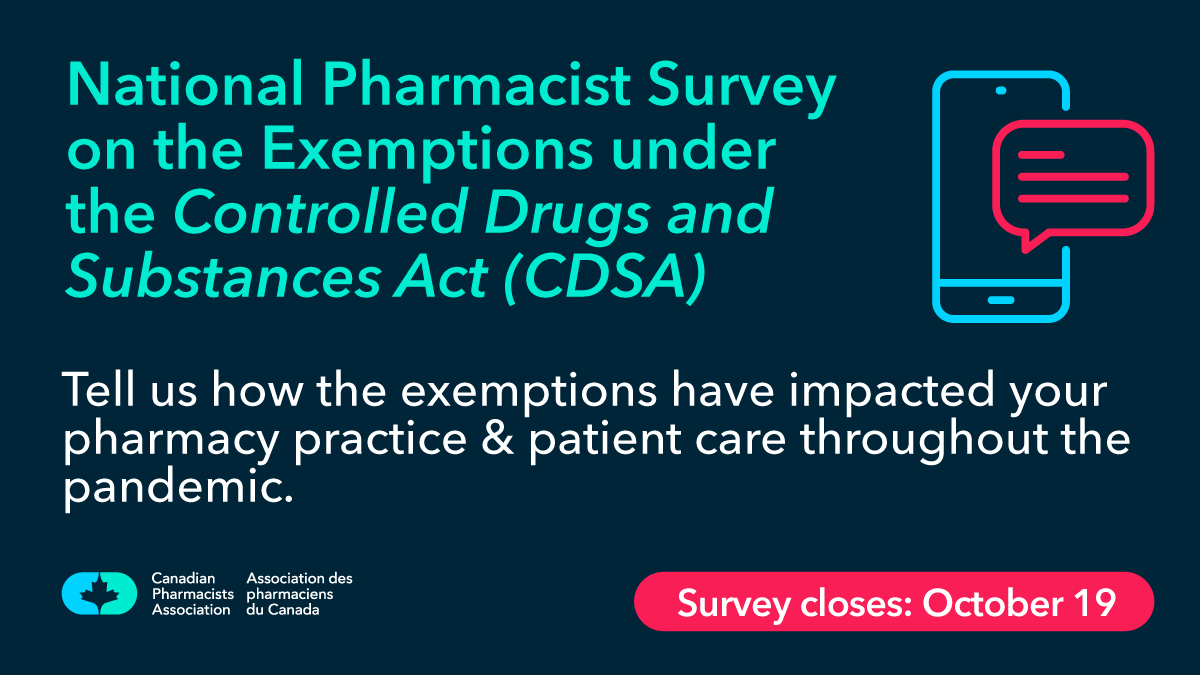 The survey is intended for practising community pharmacists. It is anonymous and should take approximately 10 minutes to complete. The survey will be open until 11:59 p.m. ET on October 19, 2021.
Thank you in advance for sharing your experiences with us!

Take the survey