Sharing our stories: CPhA organizes virtual meeting with Prime Minister, Deputy Prime Minister
On April 20, CPhA organized a virtual meeting with pharmacists from across Canada to speak with Prime Minister Justin Trudeau and Deputy Prime Minister Chrystia Freeland. Moderated by CPhA chair Christina Tulk, the session provided an opportunity for pharmacists to share their experiences administering COVID-19 vaccinations. In case you missed it, you can view the recording here:
Our thanks to the amazing pharmacists who shared their front-line experiences with Mr. Trudeau and Ms. Freeland, and so eloquently and passionately represented their profession: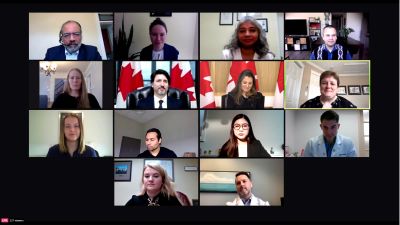 Raj Saini, MP Kitchener Centre; Rebecca Dunn, Cornwall, PE; Sheril Cyriac, St. Malo, MB; Jaris Swidrovich, Saskatoon, SK
Diane Harpell, Dartmouth, NS; Christina Tulk, Corner Brook, NL
Randilynne Urslak, Ottawa, ON; Jauher Ahmad, North York, ON; Agnes Wu, Vancouver, BC; Frederick Coussa, Brossard, QC
Caitlin McGrath, Bonnyville, AB; Dennis Abud, Dieppe, NB

Advocacy on your behalf
This meeting came amidst our extensive federal outreach campaign, undertaken to actively advocate for you at the federal level. Over the past 3 months we've met with dozens of MPs, senators and political staff from across all provinces and parties, connecting them with pharmacists from their riding to share their experiences on the front lines. Our goal at these meetings is to promote pharmacists as essential health-care providers, and to highlight 3 key issues:
Pharmacists' role in COVID-19 vaccination, urging the federal government to support vaccine delivery in community pharmacies and to provide early and consistent communications to all providers
Pharmacists' role in safe opioid prescribing and management, with a specific ask for Health Canada to extend or make permanent the exemptions made to the Controlled Drugs and Substances Act (CDSA) and to include pharmacists as practitioners under the act
Pharmacare, where we've outlined the need to include pharmacy in discussions and the impact changes to coverage can have on patients and pharmacy practice
All of our meetings have been incredibly positive, with much appreciation expressed for the profession and the work you are doing every day. Our campaign is ongoing and we encourage you to follow our updates on Twitter, Facebook, LinkedIn and Instagram.