Pharmacy on the world stage: Insights, innovation and collaboration at the FIP World Congress
The CPhA team has just returned from a whirlwind trip to Brisbane for the International Pharmaceutical Federation (FIP) World Congress. And wow, what an experience! For those of you who don't know FIP, their annual conference is the pharmacy world's version of the Olympics—it's a big deal. We're thrilled to fill you in on what we learned, and the importance of this annual global gathering for Canada's pharmacy sector.
The scene at FIP
Every year, the FIP Congress is the place to be for pharmacy professionals and stakeholders from around the world. It's the perfect place for CPhA representatives to engage, share and learn with our international counterparts. We always aim to bring back insights that can help shape our national strategies.
CPhA's delegates, including our CEO Glen Doucet, Board Chair Shawn Bugden and VP of Public and Professional Affairs Joelle Walker, had a busy agenda, taking part in numerous meetings and discussions. Here are just a few of their highlights: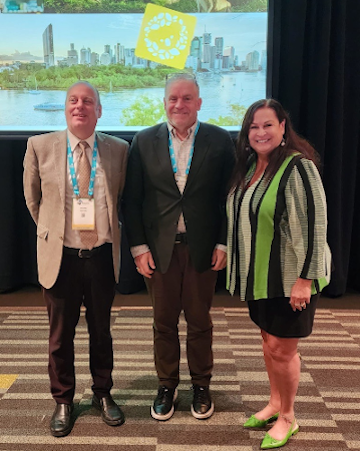 CPhA Chair Shawn Bugden, CEO Glen Doucet and Past Chair Christine Hrudka at FIP.
Pharmacy-led primary care: Canada is implementing ground-breaking practice advancement with our pharmacy-led primary care models. Our Board Chair delivered a session proudly showcasing our efforts, especially the rollout of minor ailments across the country and new pharmacy clinics in several provinces.
Reimbursement models panel: Our Chair also took part in a panel discussion where he highlighted Canada's unique stance on reimbursement models and shed light on the challenges we face.
Digital summit participation: Tech in pharmacy? Definitely! We delved into the digital world, exploring new AI tools, apps and other innovations that could redefine community pharmacy.
Strategic one-on-ones: Our team met with a several key individuals in the pharmacy world, including the new CEO of the American Pharmacists Association and the president of FIP. It was a great way to explore collaboration opportunities and mutual challenges.
Association meeting: We hosted a meeting for staff from other associations like ours from around the world. It was a chance to swap notes on the latest research, data and advocacy efforts. Online pharmacies, data management and workforce challenges were hot topics and we're planning some follow ups to discuss successful advocacy strategies.
Why do we attend FIP anyway?
Our FIP membership offers an unmatched opportunity for CPhA to both experience and share cutting-edge pharmacy advancements. Attending the FIP World Congress gives us:
Global insights: We get a front-row seat to global trends, innovative practices and emerging challenges.
Networking opportunities: Connecting with international peers offers us fresh perspectives and fosters collaboration.
Advocacy strategies: It's a platform to share Canada's success stories and challenges, and learn from others in return.
Three quick takeaways for Canadian pharmacists
Canada leads the way: Our efforts, especially in pharmacy-led primary care models, are making waves. It's a testament to Canada's drive and innovation, and the incredible pharmacists we have right here at home.
Digital innovation: The pharmacy world is rapidly evolving with the advent of new tech. There's so much potential for AI tools and apps in our sector.
Collaboration is key: There's power in unity. By engaging with international counterparts, we can collectively address global challenges and ensure that Canada remains an international leader in pharmacy practice.
Thanks for catching up with us on our FIP adventure! Together, we're shaping a brighter future for Canadian pharmacy.