Pharmacy Check-in: Meet Mirna Nasrah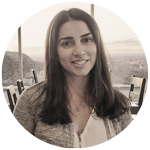 Mirna Nasrah, MPharm, PharmD Candidate (she/her)
University of Alberta
Montreal, QC
Mirna obtained her MPharm degree from the University of Manchester in England in 2017, and subsequently completed her pre-registration year at a community pharmacy before relocating to Montreal. Over the past 3 years, Mirna has been working as a community pharmacist in Montreal, where she has witnessed firsthand the necessary adaptations and significant changes that pharmacies had to undergo during the pandemic. Mirna also participated in the COVID-19 vaccination clinic for the Montreal region. In this role, she ensured the safe preparation of vaccines, supervised workflow processes, and addressed any inquiries or concerns related to the vaccines. While working, Mirna decided to pursue the PharmD for Practicing Pharmacists program at the University of Alberta in order to enhance her knowledge, sharpen her critical appraisal skills, and explore new opportunities within the field of pharmacy. When Mirna isn't working or studying, you can find her playing tennis, going on long walks, and exploring different parts of the world!
Q&A with Mirna
This spring we checked in with some of the pharmacy students on placements and rotations with CPhA. Mirna Nasrah is working towards her PharmD at the University of Alberta and is completing an internship with our clinical editors.
How do you see the role of the pharmacist evolving as the health-care system changes?
I have had the opportunity to work in the field of pharmacy both in the United Kingdom and Canada. Throughout my education at university and my experience as a practising pharmacist, I have witnessed the evolving and expanding role of pharmacists, with a shift towards a greater focus on clinical practice and patient-centred care. Pharmacists are assuming more independence and autonomy in their roles, including the ability to prescribe medications.
In the province of Quebec, for instance, pharmacists have the authority to prescribe treatment for over 20 minor ailments. They can also prescribe and interpret laboratory tests, make modifications to prescriptions, administer vaccinations, and in certain cases, take on the management of patients' therapies for specific conditions like hypertension and diabetes.
Pharmacists are recognized as frontline health-care professionals, but their involvement extends beyond that. They have a broad range of responsibilities in various areas of pharmacy, including primary care, academia, industry, advocacy, regulatory work, and more.
What are you most looking forward to as you think about your future career in pharmacy?
After working as a community pharmacist for several years, I am eager to broaden my horizons and explore different facets of the pharmacy profession. My goal is to acquire fresh experiences and knowledge that will not only enhance my existing skills and competencies but also help me discover new areas of interest. I am excited about the opportunity to grow and expand my professional capabilities.
Are there any specific clinical areas or advocacy issues that you're planning to focus on when you start your career?
As a pharmacist, beyond ensuring the safe and effective use of medications, one of my key responsibilities is to passionately advocate for the adoption of healthy habits. The reason for this emphasis is that preventing diseases is considerably easier than treating them. I strongly stress the significance of embracing a healthy lifestyle, which encompasses regular physical exercise, a balanced and nutritious diet, and active promotion of routine screenings to identify commonly occurring illnesses. By implementing these measures, individuals can enhance their quality of life and potentially avoid the need for medications! My true passion lies in inspiring individuals to prioritize their well-being and take proactive measures to achieve and maintain optimal health.
What are you excited about working on during your work term at CPhA?
I am thrilled to have the opportunity to be a part of the CPhA team during my internship which will provide me with valuable insights into the diverse roles of pharmacists within CPhA, particularly in editing published work for the Compendium of Pharmaceuticals and Specialties (CPS). I know some of my projects will be reviewing and appraising clinical trials, attending weekly editorial meetings, and reviewing the hypertension chapter in CPS with the clinical editor!
Is there anything else you'd like to share?
I strongly encourage all students to actively seek out opportunities for experiential learning while pursuing their studies, whether it be through work, volunteering, or summer placements. Engaging in such experiences not only allows you to apply your knowledge in practical settings but also enriches your learning journey and introduces you to new areas of interest and potential passions that you may wish to explore beyond graduation.
Lastly, your university years should be some of the most memorable and enjoyable times of your life. Remember to have fun, spend time with your loved ones and be able to relax!