Pharmacy Check-in: Meet Ajit Johal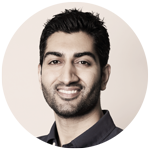 Ajit Johal, BSP RPh BCPP CTH (he, him)
Clinical Director, Immunize.io Health Association
Vancouver, BC
Ajit Johal has been providing immunizations and clinical education since 2012. As a community pharmacist, he is an accessible provider of immunizations to patients in the community. He is currently practicing in Vancouver, BC. Ajit works as a community pharmacist focused on vaccination services. He provides patients with routine, recommended and travel immunizations in an appointment-based model. In 2018, he started an organization called immunize.io, with a mission statement of "taking our best shot at immunizing the world." Through immunize.io he has worked with numerous organizations and communities to address vaccine hesitancy and improve vaccination access. His areas of interest include health-care provider education and implementation strategies, which focuses on empowering community pharmacists, developing outreach vaccination campaigns and supporting vaccination initiatives in developing countries. Ajit is also a clinical assistant professor for the University of British Columbia Faculty of Pharmaceutical Sciences Program.
Q&A with Ajit
We caught up with Ajit Johal during National Immunization Awareness Week to talk about his about his passion for pharmacists as immunizers and the important role pharmacists play in vaccinating their communities.
What is the most rewarding element of your pharmacy practice?
I enjoy taking accountability for patient clinical decision-making, so when I recommend and administer a vaccination, I play an integral role in protecting my patients against preventable diseases.
What specific clinical practice areas or advocacy issues are of interest to you and why?
I am very interested in reducing the current barriers to recommended immunizations for at-risk patient groups across the country. Every patient across Canada should be able to receive all recommended vaccinations at a community pharmacy. Unfortunately, jurisdictional scope of practice restrictions and limited pharmacy access to publicly funded vaccines hinder pharmacists' ability to provide comprehensive immunization services beyond influenza and COVID-19. Immunization rates, especially in Canadian adult populations, remain significantly below national targets. Empowering pharmacists with an expanded scope to independently administer all recommended immunizations and participate in all public immunization programs will improve patient access to vaccinations. Finally, pharmacists should be reimbursed for immunization assessments in addition to the administration of vaccinations. Identifying eligible patients, informing them of their vaccine-preventable disease risk, addressing their concerns about vaccine safety, and educating them on all recommended vaccinations are critical components of the immunization process, which occurs before administration.
What is one practice area where you feel pharmacists could increase their role that would lead to better patient outcomes?
Arguably nothing has advanced our profession more than the ability to provide immunization services. Pharmacists should increase their role as immunization providers and practice to their full scope. This includes recommending and administering all recommended vaccinations. And it includes providing immunization services beyond seasonal influenza and integrating vaccinations as a preventative health recommendation in all clinical assessments.
What is one thing you wish all patients knew that pharmacists could do?
The expanded scope of pharmacists as it pertains to immunization services. You can talk to your pharmacist about your recommended vaccinations based on your specific risk factors, then leave vaccinated and subsequently healthier!
What makes you proud to be a pharmacist?
The fact that for the past few years, most Canadians received their influenza vaccination at the community pharmacy. The millions of COVID-19 vaccinations administered by pharmacists during the pandemic. Community pharmacists who are practicing to their full scope, addressing immunization gaps, and even offering travel health services to their respective communities.
The last week of April is National Immunization Awareness Week. Why do you think pharmacists are ideally suited to play a critical role in immunizing their communities?
Convenience and access to vaccination services strongly contribute to (one-third!) vaccine hesitancy. Canadian pharmacists have made tremendous strides in becoming knowledgeable and accessible immunization providers for their communities. There remains considerable potential in further leveraging community pharmacists to improve community vaccination rates for more antigens and subsequently improve patient outcomes.
Do you have any advice for pharmacists who want to play a greater role in immunization and vaccination for their patients?
Pharmacists should embrace their growing role as community immunizers, which finally represents our much-discussed role of "accessible" health-care providers. We must continue to rise to the challenges presented by the growing health-care needs of our population and the shrinking capacity of our acute care system. To truly excel as community immunizers, pharmacists must be "all in." In that, they prioritize discussing and administering vaccinations as part of their daily duty to care for their patients.
Pharmacists across Canada looking to get more involved with vaccinations services can check out the following educational programs and resources:
Is there anything else you'd like to share about your practice or anything else important to you?
Regarding reducing the burden of vaccine-preventable diseases globally, "Nobody is safe until everyone is safe." Vaccination rates need to be high in all regions around the globe in our ongoing battle against vaccine-preventable diseases. Pharmacists are critical in achieving the Immunize.io mission statement, "Taking our best shot at Immunizing the world." Canadian pharmacists' current and future work is a powerful model for global jurisdictions looking to mobilize knowledgeable and accessible healthcare professionals to improve vaccination capacity.