New patient resource now available: Medication Emergency Preparedness
Natural disasters pose unique challenges to the practice of pharmacy, as they can disrupt essential health-care services and access to medications. During such events, pharmacists play a crucial role in ensuring the continuity of patient care. Not having access to medications can be a source of anxiety or even a life-threatening situation for many Canadians if they are unprepared.
CPhA has developed a new patient resource to help pharmacists discuss emergency preparedness with their patients. Including a medication checklist, grab & go medication bag content list and a table to track current medications, these resources can help your patients prepare for an emergency before it happens!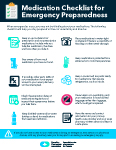 Patient handout (English)
Preparing for emergencies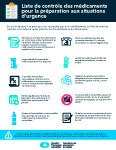 Document pour les patients (Français)
Se préparer aux urgences