High demand for flu shots expected to continue this season: Survey
Last year we saw a record demand for flu shots amid the first flu season during the pandemic. Canadians turned out in droves—the majority at pharmacies across the country—to get immunized and help do their part to protect our communities and avoid a "twindemic."
What Canadians are saying this year
According to a new national survey commissioned by CPhA and conducted by Abacus Data from September 9–12, the increased demand for flu shots will continue this season as 56% of Canadians say they intend to get the flu shot. The lack of flu spread last year does not appear to be reducing demand and the pandemic continues to increase the likelihood of Canadians getting vaccinated against the flu.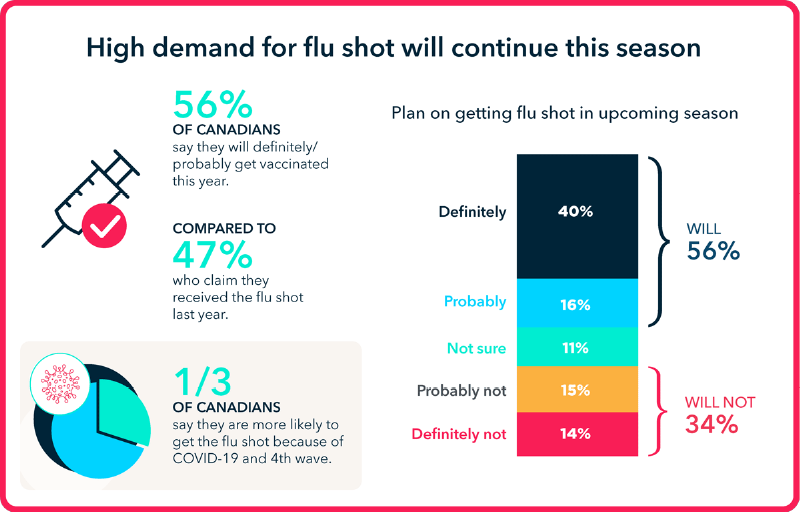 Ensuring pharmacies can meet demand
Last year, pharmacy teams administered more than half of the flu shots delivered across the country. As Canadians increasingly turn to their pharmacists for health-care services during the pandemic, pharmacy will be faced with another extremely busy flu season. According to the survey, 56% of Canadians who intend to get a flu shot this year say they will get it at the pharmacy, up from 54% who said they got it at a pharmacy last year.
With an expected increase in demand for flu shots at the pharmacy—over and above the record demand we saw last season—we are urging all governments to allocate enough supply to pharmacies. Making flu shots accessible in pharmacies is critical to reaching Canadians where they are.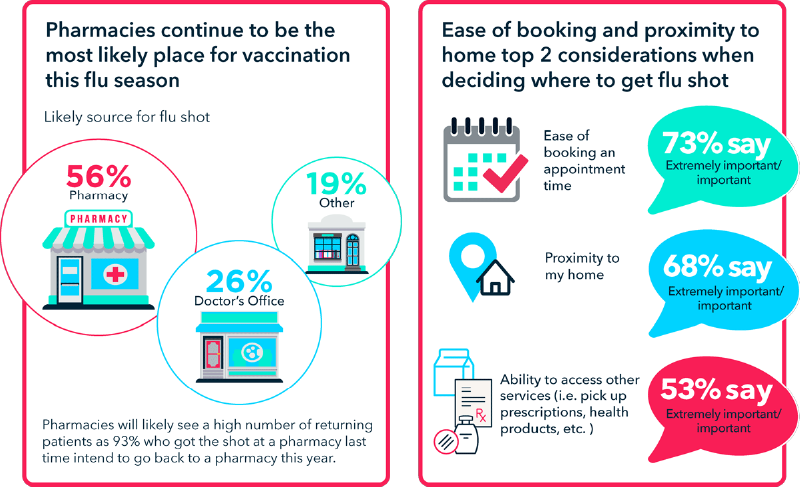 Protecting our communities and health-care system
Last year, there were very few flu cases due to the heath measures in place to stop the spread of COVID-19. Even though we're hoping for another mild flu season, we can't let our guards down—easing pandemic restrictions could mean the return of the seasonal flu.
Our health system is running at capacity in many parts of Canada to deal with the rising cases of the fourth wave and we cannot afford to add the pressure of flu on top of that. We need to do all we can to limit the spread of influenza, and getting the flu shot is the most effective way to protect ourselves and communities, ensuring that our emergency rooms have capacity to continue dealing with the pandemic.
Roll up your sleeves this flu season. Pharmacies should start receiving their flu shot supply in early to mid-October.