CPhA Referrals
We are stronger together
A key element in CPhA's tag line, "bringing the world of pharmacy together", refers to collaborating with and involving other players in the health care industry in Canada to enhance the lives of front-line pharmacists and to improve patient outcomes. We can do this by working together and leveraging the strengths of other organizations and companies.
The CPhA Referrals program is designed to promote and market products and services from the pharmaceutical and health services industry that we believe can help achieve our objectives of supporting pharmacists and improving patient outcomes.
These organizations have approached CPhA with a product or service that they believe help move us toward our goal and we want to tell you all about them!
---

Blue Charm Adherence
Blue Charm is a provider of digital healthcare solutions that help patients access medication and manage their health.
The Blue Charm mobile app allows patients to earn funding towards disease-related healthcare services by engaging with educational content, reminders, quizzes, and surveys. Blue Charm delivers custom digital health experiences on behalf of its program sponsors and is a proud partner of leading healthcare organizations including the Canadian Pharmacists Association, Multiple Sclerosis Society of Canada, GI Society, and Canadian Lung Association.
For more information on Blue Charm's services or to participate in the program please follow this link bluecharm.io
---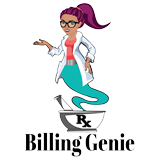 Rx Billing Genie
Created by a Pharmacist and a Pharmacists Assistant, the Rx Billing Genie app is designed to reduce the amount of time pharmacists and pharmacy technicians spend processing insurance claims on behalf of patients. The app is a resource tool for pharmacy staff that consolidates all the information that is required to process drug claims with insurance providers; it will allow you to search by insurance adjudicator, look up rejection codes, and even get an intervention code or solution without having to wait on the phone for someone to assist you.
Pharmacists and other staff can spend more than 15 hours per week on the phone trying to resolve billing issues when this time could be refocused on serving the needs of patients. The Rx Billing Genie app helps reduce that time by having key information to resolve billing issues close at hand and it is updated regularly.
The Canadian Pharmacists Association is pleased to help Rx Billing Genie get this app into the hands of pharmacists to reduce this time-wasting pain point in daily activities. The CPhA is offering all pharmacists a special discount available only through the CPhA to sign up and purchase this valuable resource tool. To access Rx Billing Genie you can download the app from Google Play or the App Store or access it on your computer. To get your special discount use the promo code "CPHA" when purchasing your subscription.
NOTE: Rx Billing Genie resources are currently available in Ontario, Alberta, and British Columbia
---

ShiftPosts
ShiftPosts is a Canadian company focused on making pharmacy staffing better. ShiftPosts is a marketplace platform that matches high quality pharmacy professionals (pharmacists, pharmacy technicians, and pharmacy assistants) with pharmacies that seek relief, part-time, or full-time work using a convenient mobile app and web platform. ShiftPosts uses an algorithm to quickly match potential candidates for needed pharmacy positions. Its fixed fee pricing structure sets it apart from traditional staffing services and boasts a customer service team that has earned the trust of dozens of brands and thousands of pharmacies across Canada.
For Pharmacists, ShiftPosts gives you the opportunity to see a bigger pool of opportunities for shift and relief work while providing you the power to set your rate and availability. The service is paid for by pharmacy owners so the rate you set is the rate you get.
For Pharmacies, ShiftPosts gives you a larger group of available, motivated and pre-screened candidates so you can get the best staff quickly and efficiently.
To register or get more information on ShiftPosts please Start Here
Connect with us to discuss how we can work together.
---
Participation in the CPhA Referrals Program by the organizations and companies set out above does not imply any endorsement, review or verification by the CPhA of any of the products or services offered by such organizations and companies. If you decide to access or purchase any products or services offered by any of the organizations and companies set out above, you do so at your own risk and the CPhA shall have no responsibility or liability to you in relation to such access or purchase.