Women in Pharmacy
Initiative • Report • Summit
Click here for the Women in Pharmacy Leadership Summit site.
Research shows clear gender disparities in the way women experience their careers in the pharmacy profession. This includes disparities in career progression and seniority, where women are over-represented among pharmacy students and in staff-level positions, but greatly under-represented in senior positions such as pharmacy owners or on pharmacy governing bodies and boards.
As the national voice of the pharmacist profession, the Canadian Pharmacists Association (CPhA) is committed to supporting and promoting gender equity and diversity within the profession.
To better understand the barriers that women face and identify potential solutions that will lead to better representation of women in leadership positions, CPhA has launched the Women in Pharmacy Leadership Initiative.
The current landscape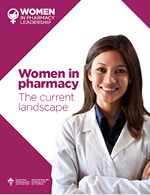 As the first phase of its Women in Pharmacy Leadership Initiative, CPhA commissioned a report, Women in Pharmacy: The Current Landscape, which analyzes available data on women working in various aspects of pharmacy. It examines where gaps exist, and highlights where women are disproportionately over- or under-represented.
Women in Pharmacy Leadership Summit
Thank you for such a successful, sold-out event!
We had an exciting and engaging half-day of discussion and workshops, followed by an evening reception for networking and relationship-building. The first Women in Pharmacy Leadership Summit was attended by many interested participants across the pharmacy sector, including those:
Starting out and looking for guidance
Facing challenges on their career path
Looking to give back to their profession
Interested in becoming the mentor they wish they had
Engaged in or curious about the topic
Find more information on the Rx Women Summit website and let's work together so that all pharmacists can reach their potential and improve health care for Canadians.