Pharmacist Awareness Month (PAM)
March 1, 2016 - March 31, 2016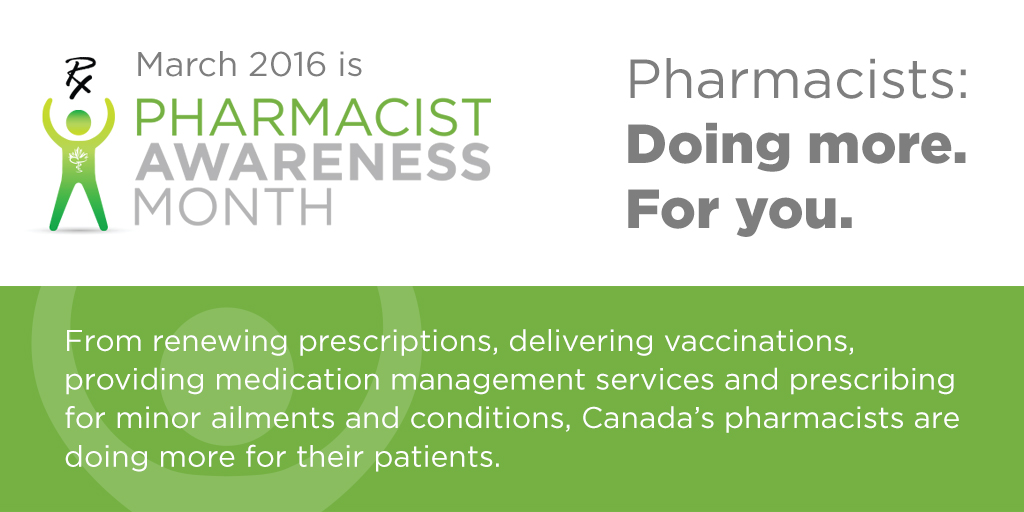 Each year Pharmacist Awareness Month (PAM) helps to celebrate and educate Canadians about the contributions that pharmacists make in the delivery of health care. Pharmacists across Canada have had a widely expanded scope of practice in the past ten years that have them doing more for their patients. We want to celebrate the great strides the profession has made and help educate Canadians about the health care services and advice that their pharmacists are now delivering.
Help us make sure your patients know what you can do for them! National and provincial pharmacy associations across Canada are working together to improve the public's understanding of the expanding role of pharmacists. To achieve this goal, CPhA is celebrating PAM for March 2016 with the theme: Pharmacists: Doing more. For you.
Promote your role to your patients
Pharmacists are medication experts and so much more. This campaign will raise public awareness about the increasing role pharmacists play in the provision of health care services and the tangible benefits they bring as health care providers. By working together throughout March, we can inform Canadians about all the different services pharmacists are qualified to provide, beyond dispensing, and encourage patients to use these valuable services that can improve their health.
For the campaign to succeed, we need you to take part by helping to educate and show Canadians the valuable services you provide that contribute to their health care.
Tools and resources
CPhA has developed a wide variety of tools and resources to help you promote Pharmacist Awareness Month to your patients and the public.
Get involved
Take time now to prepare for Pharmacist Awareness Month. Here are some ideas to help you get involved:
Make Pharmacist Awareness Month patient handouts and tip sheets available at your pharmacy counter and waiting area.
Become more familiar with expanded scope of practice in your province and incorporate new services into your daily practice.
Talk to patients to let them know about the support you provide. Host a community information session to describe the services available at your pharmacy.
Take one of CPhA's high-quality continuing professional development programs to help you deliver expanded medication management services to your patients.
Take CPhA's QUIT Smoking Cessation Program and offer smoking cessation services in your pharmacy.
Order copies of CPhA's Safe Medicines for Seniors to distribute to patients who are providing home care for loved ones.
Contact your local primary school and offer to present Kids and Medicine in Kindergarten to Grade 3 classes.
Encourage your patients to download the MyMedRec app to help them track the medications that they and their family members are taking, as well as many other elements related to their health.
Use CPhA's PharmaCheck program to complete medication reviews.
If your pharmacy offers vaccinations, add yourself to the Vaccines411.ca database. This free service helps patients seeking immunizations find the closest pharmacy or clinic.
Get inspired
Contact your local and provincial pharmacy organizations or follow them on social media to gain inspiration from what others in your area are doing to promote PAM.
Share your story
Share your PAM stories, events and activities with us by email or on social media using the hashtag #PAM2016. We look forward to sharing your posts and tweets throughout the month of March to inspire other pharmacists to get involved.