Choosing Wisely Canada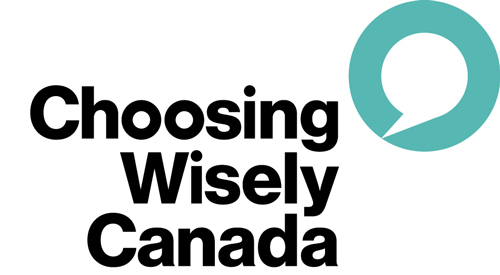 CPhA is proud to support the Choosing Wisely Canada campaign to help clinicians and patients engage in conversations about unnecessary tests and treatments and make smart and effective choices to ensure high-quality care.
We have recently joined over 40 Canadian health groups on a Choosing Wisely campaign to develop lists of recommendations to improve safety and prevent unnecessary harm to patients. These recommendations include tests or treatments to avoid or question; those that are not supported by evidence, and/or could expose patients to unnecessary harm. By taking account of unnecessary or harmful treatments, tests or procedures, pharmacists can ensure that more effort is placed on those which enhance patient care and safety.
List of primary care pharmacy recommendations
Our list of primary care pharmacy recommendations will be compiled in consultation with frontline pharmacists and researchers from across Canada who have first-hand knowledge of the evidence and understand the negative effects unnecessary treatments can have on patients. Please visit the Choosing Wisely Canada website for examples of recommendations put forward by other health care societies and more information about the lists.
The submission process for pharmacy recommendations is now closed.
Expert Committee
CPhA has established an expert committee to review and finalize the list of recommendations before it is submitted to Choosing Wisely Canada.
The expert committee has been formed based on the following criteria:
Broad knowledge and experience in pharmacy practice, quality improvement, and patient safety, spanning both community and hospital practice.
Expertise in the evaluation of evidence as it relates to drug therapy.
The available time to participate in the process leading up to the finalization of the pharmacy list.
Thank you for your submissions! Please contact us should you have any questions.