Pharmacists in Canada
Canada has approximately 39,000 licensed pharmacists. Of those, 27,500 work in 9600 community pharmacies and 6500 work in hospitals. Almost 5000 pharmacists work in other settings such as the pharmaceutical industry, governments, associations, colleges and universities.
What Can Pharmacists Do In Canada?
Today's pharmacists are highly respected as the medication management experts of the health care team. They collaborate with patients, their families and other health care providers to benefit the health of Canadians. The pharmacist's traditional role is expanding, and pharmacists across Canada deliver a range of innovative services, including medication reviews, chronic disease management, immunization services and wellness programs. Most provincial governments have approved pharmacist prescribing with varying scopes of authority, a service that complements the care provided by a doctor and can result in more convenient refills, less time spent dealing with prescription changes and collaborative medication management.
Expanded Scope
Pharmacists are taking on expanded roles and are increasingly being recognized as the medication management experts of the health care team. Here is our chart for an up-to-date review of what pharmacists are doing in each province: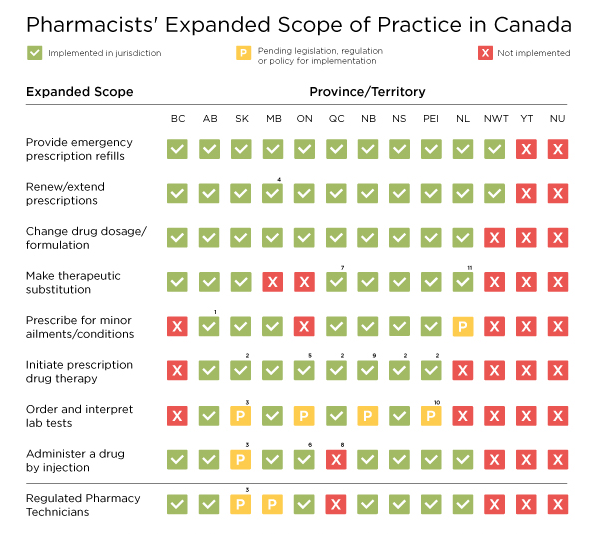 AB: pharmacists in Alberta who have "additional prescribing authority" can prescribe a Schedule F drug (prescription-only), including those for the treatment of minor ailments
SK, QC, NS & PEI: only as part of assessment and prescribing for minor ailments
SK: legislation introduced, expected implementation by fall 2015
MB: as Continued Care Prescriptions under section 122 of the Regulations to the Pharmaceutical Act
ON: restricted to prescribing specified drug products for the purpose of smoking cessation
ON: administration of influenza vaccination to patients five years of age and older; administration of all other injections and inhalations for demonstration and educational purposes
QC: in case of a supply shortage of the drug in question
QC: for demonstration purposes only
NB: prescribing constitutes adapting, emergency prescribing, prescribing non-presciption drugs or within a collaborative practice
PEI: implementation is pending pharmacist education and the development of standards of practice
NL: limited to non-formulary generic substitution
Download a PDF of this chart (en français).