RxTx Mobile v4.0 Release Notes
CPhA is happy to announce that we have redeveloped the RxTx Mobile app for iOS and Android. We are always gathering and reviewing your mobile app feedback, and significant changes were required to respond to your suggestions.
Critical areas have been improved, including the main page, search results and general navigation. Special consideration was taken to ensure that certain aspects of the previous version were preserved to eliminate the need to learn a totally new app.
Introducing RxTx Mobile Version 4.0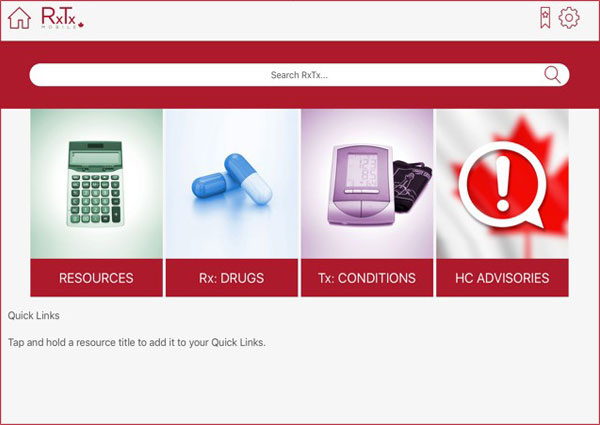 Main Page
The new main page groups the app's individual components into the four categories outlined below: Resources, Rx: Drugs, Tx: Conditions, and HC Advisories. The conditions category has been created in anticipation of the introduction of Compendium of Therapeutic Choices (CTC) and Compendium of Therapeutics for Minor Ailments (CTMA) content, coming in a future release.
Resources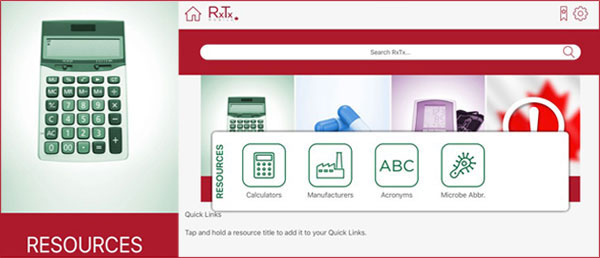 Previous resources remain available, with the added ability to add "Quick Links" to the main page for frequently accessed information. Tap and hold an icon to save it as a Quick Link, tap and hold it again to remove it.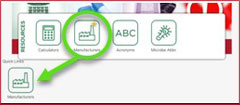 Rx: DRUGS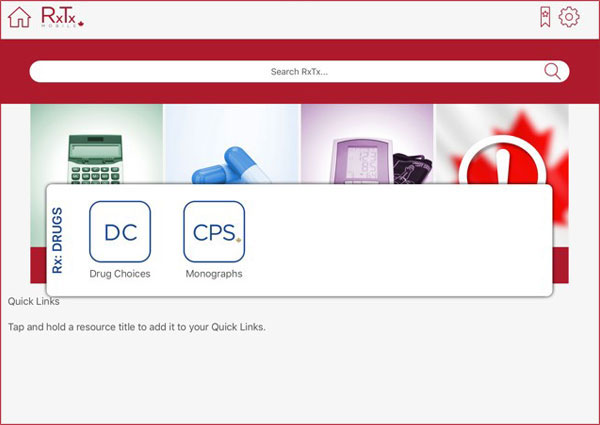 In the "Rx: DRUGS" category CPS Monographs and Drug Choices are still available. Please note the icon change for Drug Choices. The "Tx" icon will be used to identify therapeutic information once it's introduced in a future release.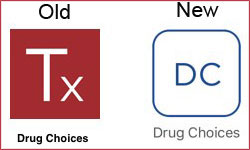 Reminder: If you want the CPS or DC applications more accessible, tap and hold their icons and to place them under "Quick Links" on the main page.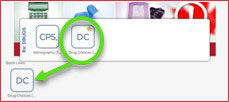 Tx: CONDITIONS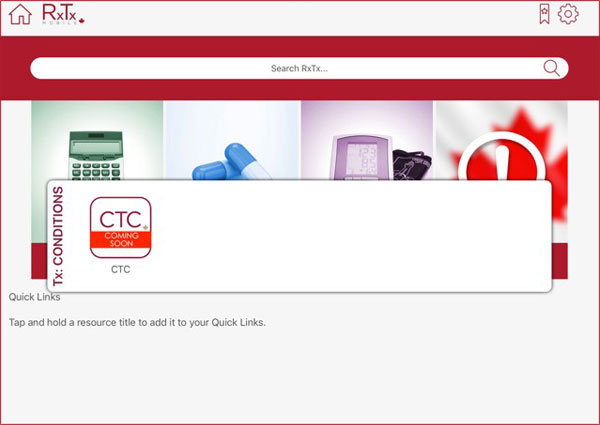 RxTx online offers content from the Compendium of Therapeutic Choices (CTC) and Compendium of Therapeutics for Minor Ailments (CTMA). Therapeutic content will be available as an add-on to your current subscription in future releases.
HC: Advisories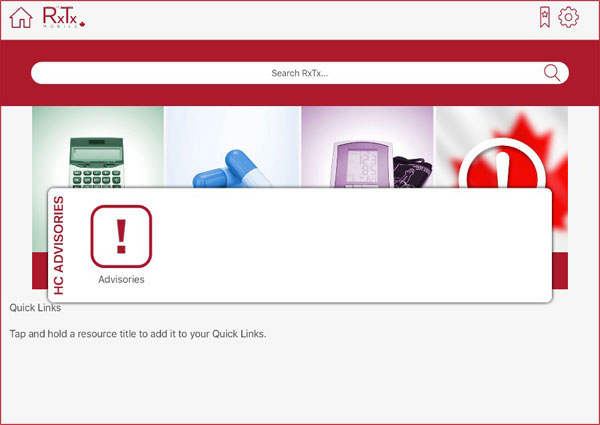 Health Canada advisories, warnings and recalls are found in this section.
Settings
Settings is now located in the top right corner.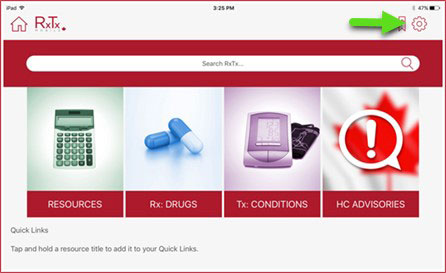 Bookmarking
To bookmark a monograph for quick access, click the
icon found in the bottom-right corner of the monograph. Pressing the icon saves it to the bookmark file. To retrieve it, click the
icon, visible in the top-right corner of the app (beside Settings).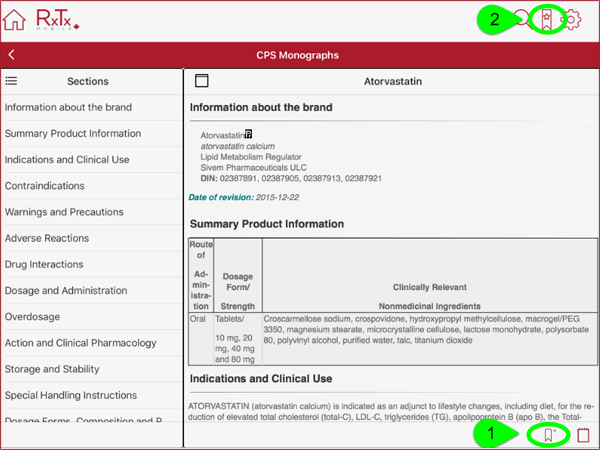 Searching from the main screen
Significant changes have been made from the last version of the RxTx Mobile app. Previous searches returned a long list of matches based on result name, DIN, generic ingredient and key words within the result. Many of these results were unwanted and confusing. For example, a search for "acetaminophen," returned over 100 results, with many duplicates due to the number of monograph and DIN matches.

After collaboration with users and a closer look at the app's main purpose, it was determined that users searched within RxTx for two main reasons:
The user knows the drug they are looking for, so they want to get detailed information on that product; or
The user knows the condition or disease and wants to find out the specific drugs or class of drugs to treat the patient.
The new app's modified algorithm drastically limits the search results when searching from the main screen. For drugs, it only returns results where the search term is found in the result name, drug class or generic ingredient. For conditions, it only returns "Drug Choices" (DC) where that condition/search term is found in the DC table name, or "Indications" subsection of a monograph. Some examples are below.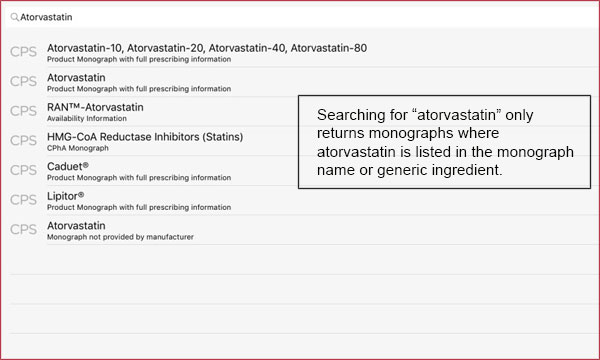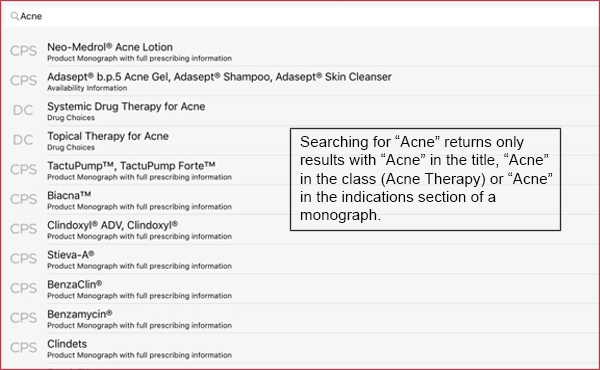 Searching for Drugs in CPS
Unlike searching from the main page, if you select CPS for your search it is performed against the "indexed" listings or "monograph title". If you search by "generic ingredient", once that ingredient is selected, a list of monographs with that ingredient are available to choose from.
Search "Lipitor" in CPS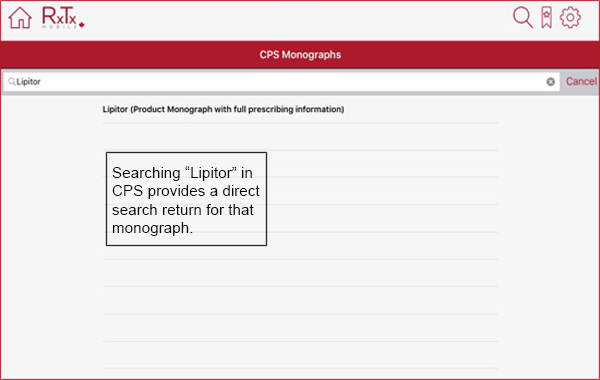 Search "Atorvastatin" in CPS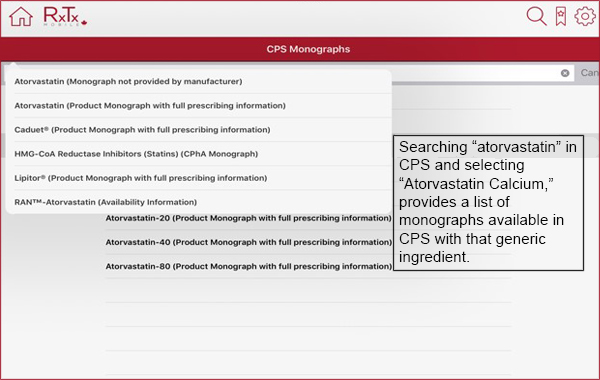 Searching for a condition in DC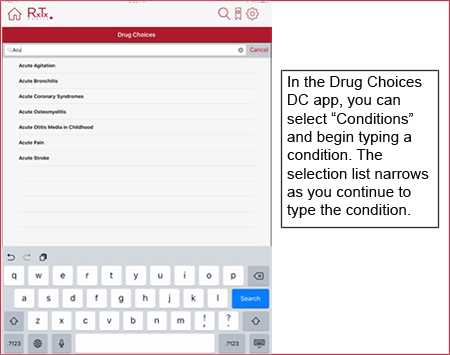 Navigation
This new RxTx Mobile app improves navigation by ensuring that all desired content is only a click away. The previous version had subsections accessible through an expand /collapse selection tool: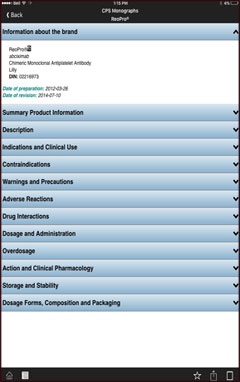 Once a section was opened and content reviewed, it often meant you had to scroll a substantial amount to return to the blue header and collapse that section only to open another.

The new navigation displays the entire content upon selecting a product monograph. A Table of Contents is present upon opening the monograph (if using a tablet), or launched by a single click (if using a smart phone).

Tablet Display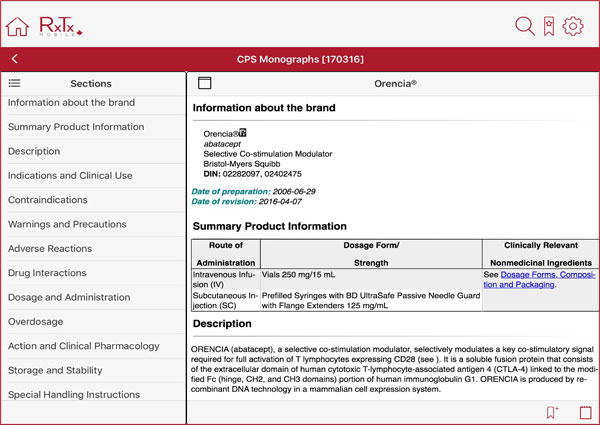 For more content-viewing space select the
icon to show a full panel view. Select the icon again to open the Table of Contents.




Phone Display
The new RxTx Mobile app intuitively adjusts the display based on device. For smartphones, the monograph display is slightly different from tablets, with the Table of Contents not visible by default, but launched by an icon. See below images showing the phone display for both iOS and Android.
Android and iOS Display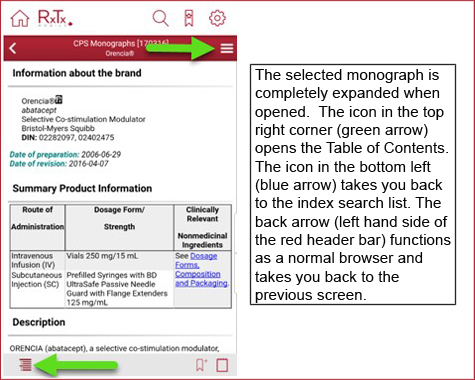 Launch Table of Contents

Android Table of Contents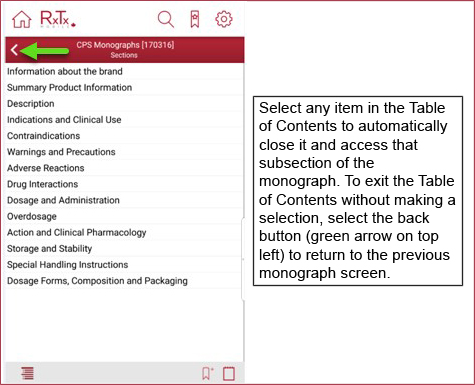 iOS Table of Contents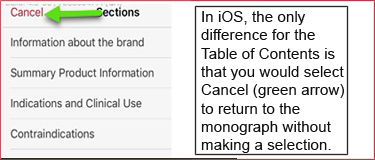 Favourites and Notes
To add a monograph to your Favourites list, tap and hold the
icon. As previously mentioned, you can access your favourites at the top right-corner. To remove a favourite, go into that monograph and then tap and hold the ribbon again.
To make and store notes, select the
icon in the bottom right-corner to launch a window for adding notes.


We hope you enjoy this new version of RxTx Mobile. Please feel free to submit any feedback to the Director of Product Management at: lmcphail@pharmacists.ca