RxTx Version 2.0 Release notes
CPhA is excited to announce some of the major enhancements that are included in this release. Since we released RxTx in 2015, we have been gathering critical feedback from you, our users, to make our product your go-to clinical decision support tool. Based on this feedback, we made the following improvements.
Important Notice:
IE 8 and IE 9 are no longer supported. If you need to update your browser, please click here.
---
1. Full screen display for clinical content viewing
You wanted more of the screen for viewing clinical content. Two enhancements were introduced to improve readability.

Simplified Menu and Toolbar



The search bar has decreased in thickness to allow more vertical space
Menu options have been simplified and decreased in size to increase vertical space, and Lexi-Interact is now part of the main menu
You will now change subscriptions and log out using the drop down arrow beside "Welcome XXX".

Responsive Desktop and tablet display
RxTx has changed from a static to fluid screen size, so the display adjusts to the size of screen you're using. This display resolution is set to a maximum of 1400; for larger desktops, this provides an expanded area for content display; for small to mid-size monitors, there are no longer the grey side panels.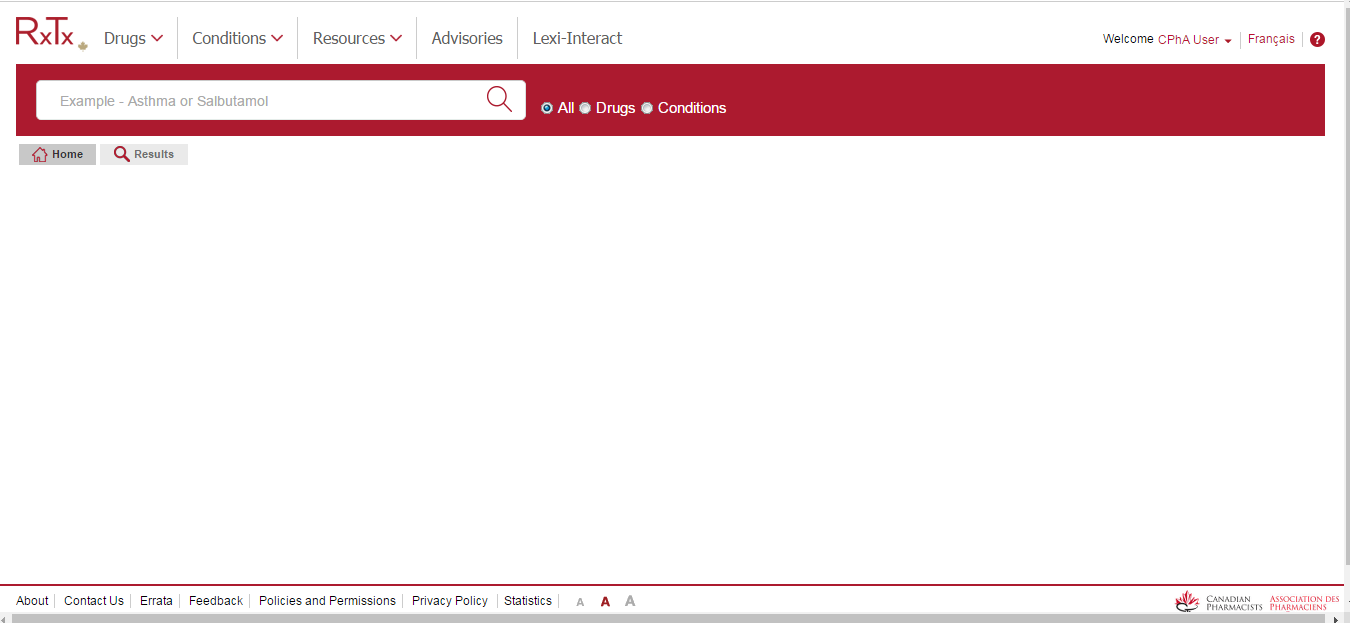 2. More intuitive Advanced Search
Many users were not initially aware of the advanced search function hidden behind the filter icon
, which also required additional clicks each time search criteria were modified. Now, the advanced search function is on the left sidebar of the results page. It remains open by default, but can be closed for a larger content viewing area.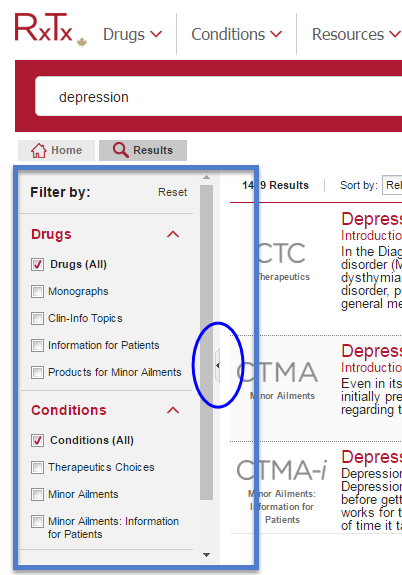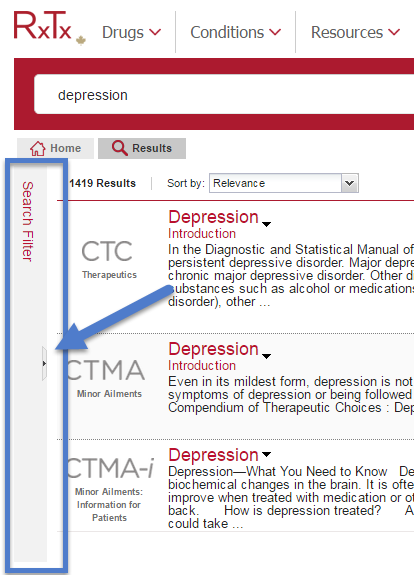 You can now quickly select only drug or condition content, and with a single click, can narrow searches specifically to CPS monographs or CTC content only. This can all be done without leaving the main search/results screen.
3. Easier Content Navigation
We received a lot of requests to improve the navigation within the content. Collapsed content as a default has benefits, but depending on screen resolution, often meant scrolling up and down to access subsection headers to minimize sections, or clicking "collapse all" before selecting another section to expand. The new version moves the table of contents to the left and is completely expanded by default, so you can select a subsection of content with a single click.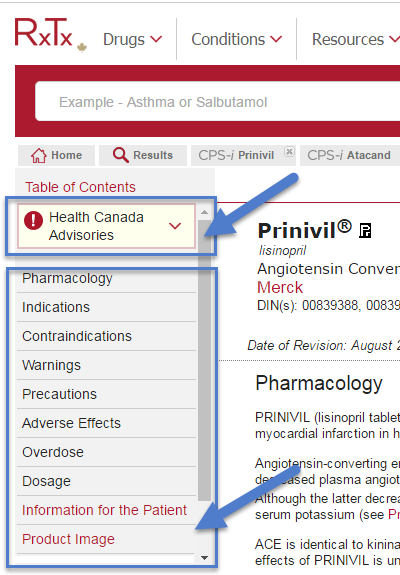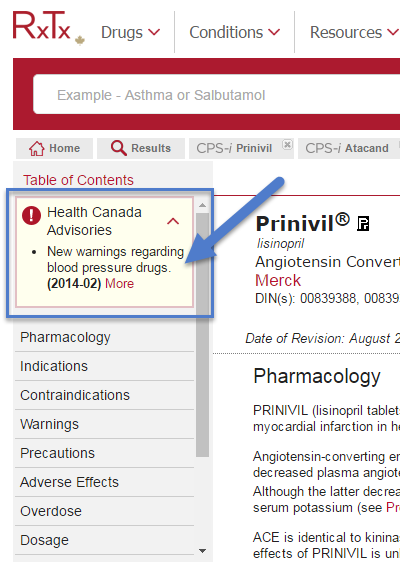 Health Canada Advisories, product images, and additional product information have moved from the product header to the left side navigation panel for easier access and cleaner design.
The tool bar has been removed from the main search screen, with some tools no longer needed, and others present when needed in certain windows. For instance:

The "jump to" menu has been removed as there is consistent access to subsections from the left hand table of content panel.
Lexi-Interact is now its own option on the main menu at the top
Expand all and Collapse all are now an intuitive toggle button instead of two separate tools.
Tool tips has been removed, as many of the tips were corrected with these new designs
The legend has been moved to the Help Page which is still located at the top right corner of the program, but is identified by the symbol

4. Conditions content (CTC, CTMA) displayed by Alphabetical or Body System
Many requests have come in to display the conditions menu by Body Systems. You now have the choice to to see the list of conditions by alphabetical order or by body systems.



5. Survey Button Removed
The survey button, located at the bottom of the page beside the CPhA logo has been removed. We encourage you to use the "Feedback" option found in the footer menu.




6. Font Sizer positioning
The font sizer has moved from the main toolbar to the footer of the page.