Drug Information for Dentists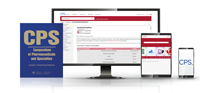 The Compendium of Pharmaceuticals and Specialties (CPS) is the Canadian standard for drug monographs, developed by manufacturers, approved by Health Canada and optimized by CPhA editors.
CPS is the only drug resource with a dedicated section on Canadian Drugs in Dentistry including analgesics, anti-infectives, anesthetics and drugs for medical emergencies. Drug tables provide clear and concise adult and pediatric dosing information.
CPS contains thousands of products including monographs for drugs, vaccines and natural health products. This definitive resource also includes CPhA monographs written by the Canadian Pharmacists Association's editorial staff, based on the best available evidence and reviewed by expert physicians and pharmacists. Clinical tools, product images and directories of drug and healthcare information are also included. Two volume set: A-L and M-Z. [en francais]

Canadian CPS contains unparalleled Canadian-specific content available in both official languages, including Health Canada–approved drug monographs, indications, formulations, doses and quick-reference clinical tools.

Comprehensive Includes information on thousands of products, a cross-referenced index of generic and brand names, clinical tools, product images and a therapeutic guide.

Current More than 50% of CPS content has changed since the last edition and the digital formats are updated weekly. Current and accurate information is critical to the safety and efficacy of your patients' drug therapy.

Convenient With CPS All Access, you have easy access to drug information on multiple platforms designed to suit the way you work. Now you can access CPS information whenever, wherever and however you want it.
Formats
Print: The CPS print edition is familiar and reliable. You can add notes, highlight information and it doesn't need a power source. Updated annually, it is the only comprehensive print reference for Canadian drug information – and has been for over 55 years.
Online: This web-based version of the CPS is updated weekly to ensure you have the most current drug information available including Health Canada advisories linked directly to the drug monographs. Exclusive to CPS online are the interactive Clin-Info tools including clinical monitoring tools, customizable tables, product images and the Product Identification tool.
Many of the monographs contain links to Health Canada safety advisories and warnings, posted online within 48 hours of being issued. Printable information for the patient written in plain language is also available.
Mobile: The CPS mobile format gives you quick access to key information on thousands of drugs and listings at your fingertips. Updated weekly, it is fully searchable and available on your iOS and Android devices – online or off. View a screen shot of the mobile app
Data Integration Our CPS content can be easily integrated into any electronic medical record (EMR), electronic health record (EHR) and drug information system (DIS) for maximum functionality and usability. Learn more about data integration.