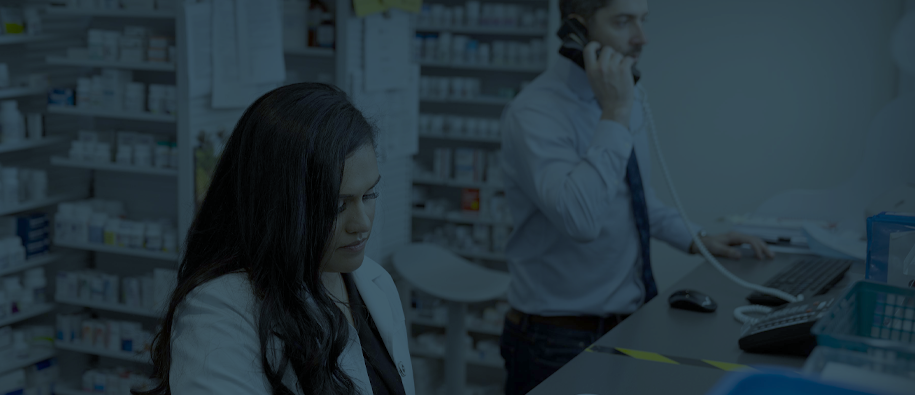 Fear, frustration and frenzy at the pharmacy

November 2022
It's a challenging time to be in pharmacy right now. No matter what setting you're practicing in, odds are that you're being pulled in many directions and the pressure is on. And if you're a parent or caregiver to young children/dependants or have aging parents to look out for, things are even more complicated. Respiratory viruses are rampant in our communities—RSV, influenza, COVID-19 and of course the common cold. Just writing this I feel the heaviness of the weight each of us is carrying.
Just when you thought it couldn't get any more challenging or stressful, it has. Amid flu season and administering bivalent COVID-19 boosters, we are now dealing with the recent drug supply issues of children's pain and fever medication and the strain on our inventory of antibiotics. Patients are turning to us to help manage their health amidst this slew of drug shortages. This time we've got the attention of governments and the public adding to the mounting tension and none of this is within our control. It sounds like a bad dream, and yet, it is our reality. Let's sit with that for a minute and acknowledge it before we turn our attention to figuring out a way to push through it.
Shortages are an unfortunate fact of life for pharmacy, but this time we are under close scrutiny from the media and from worried patients who are seeing what we do normally behind the scenes play out for all to witness. The curtain has been pulled back. Understandably, caregivers and parents are worried—they are scared when they see what we are dealing with, having to troubleshoot in real time to come up with therapeutic resolutions.
But pharmacy teams manage shortages all the time. It's part of the course of drug management. We look for alternatives, problem solve and collaborate with our prescribing colleagues and patients to find solutions. Throughout the pandemic we've seen countless examples of how pharmacy teams have stepped up and supported the community through difficult times. This time seems so much more desperate though. Put this sad situation within the context of a struggling and overburdened health-care system and it makes things even more grim. Health-care professionals are done. They're leaving left, right and centre and who can even blame them?
I've spent much of my time here at CPhA looking at ways to understand and support front-line pharmacists and their teams to address the mental health and wellness needs of the profession. We've set up a workforce steering committee and a wellness task force and have held numerous webinars and conference sessions on this exact topic. I've heard from many of you about the need to make positive shifts towards supporting our personal wellness. Work, after all, is just one aspect of our lives.
So, what is CPhA doing about it? I hope there's comfort in knowing that on these pressing issues, we've been working tirelessly on your behalf to help mitigate some of the consequences of these shortages, and to find and implement solutions.
We have been closely liaising with Health Canada to help evaluate options and offer support and guidance wherever possible. We've supported calls for the importation of foreign supply of acetaminophen and ibuprofen—calls that have been answered and should soon be bringing medication to your pharmacy shelves.
We've reached out to stakeholders, brought groups together and attended numerous meetings to ensure that pharmacists are present, and that our voice is represented. We've collaborated with our physician colleagues to help them better understand the circumstances we're facing on the front lines and establish ways we can unite in our approach to managing the challenges. We've released statements urging the public to moderate their purchasing to help reduce demand for product, and we've done countless media interviews, showcasing the role of pharmacists and highlighting our knowledge and expertise.
We've also been working with regulators and academic institutions to address some of these problems and mitigate the impacts. It's heartening to know that everyone is open to creative solutions. When we called on Health Canada for exemptions to be made to federal compounding regulations on children's over-the-counter pain and fever medications, they agreed, and now we're helping to share and disseminate compounding formulations so that pharmacies have access to available resources. Bringing the world of pharmacy together is easier when we can all clearly see our common goal and see how we each fit into the puzzle. How we can all contribute to the solution.
Helping patients and caregivers navigate this difficult time is part of our role as pharmacists, and how we can support you in doing just that has been a major focus for us here at CPhA. Our pharmacists and clinical team have produced a number of tools and resources—patient-facing information sheets, dosing charts for pain/fever medications and alternatives for antibiotics, that can aid you in your conversations with patients.
It seems like it's been non-stop since the summer for all of us! So, what do we do now? Where do we go from here?
The truth is I don't know. I can't even say with confidence that we've weathered the worst of it. What we do know is that our patients and health care in Canada could not get through this without pharmacy. They are depending on us, but I also truly believe they recognize and appreciate us as well (even though we may not always feel it).
At this point we need to harness whatever's left and rise above our circumstances to look at the big picture. We have an essential role to play in managing this crisis and really, if not us, who?
I encourage you to remember…
You've shown up for your patients—for their health, for their safety, for their peace of mind.
You've supported the fragile the health-care system—more than ever before.
Don't lose sight of the everyday wins—If you have kept one person out of the hospital, you have done a great service.
We need to protect and care for ourselves too—our personal well-being is a priority.
You are not alone—we are in this together.
We have an opportunity here to be health care leaders in our communities and to use our knowledge, training and professional judgment to make a meaningful difference. WE CAN DO HARD THINGS!!
I wanted to end this post with a series of notes we received as part of our pharmacist appreciation campaign. It's a hopeful reminder that what you do matters. That the field you've chosen is a noble one and that you're making a difference every single day. Your patients see you!
Never lose sight of the impact you have.

Carmen has helped me and my family so much with getting prescriptions. She answers questions and concerns we have and has helped when I called her regarding my mother and if her prescription could possibly be why she's having new problems and she was able to find out why, and also helped me to communicate to our doctor. Carmen is kind, approachable, wise and trustworthy. Living in an isolated community and the difficulties brought on by the pandemic, Carmen and the pharmacy team have truly provided services with care, and I truly appreciate them. They are a key part of our community.
Kim is an endless source of information and kindness. Whenever I need advice, or counselling Kim is patient and makes sure I have all the information to make educated and knowledgeable decisions. She is a pillar in the community and so valuable in helping everyone she encounters. Kim has a heart of gold and a dedication to the health of the community. She goes over and above, sacrificing her time and energy for patients. Kim is a true example of what a pharmacist should be.
Neha always goes above and beyond! In the midst of the most hectic times during the height of the pandemic, she ensured all patients were cared for. Always with a smile on her face, and genuine empathy and concern. She also does her due diligence when giving out vaccines. My family and I feel so blessed to have found her. Neha is one in a million!
Amyn sets the standard for what a pharmacist should be - someone who really cares about his clients. It's not about writing prescriptions and filling pill bottles; he takes great pride in getting to know you and uses his expertise to help relieve what ails you. Connected to the community. A great guy.
---