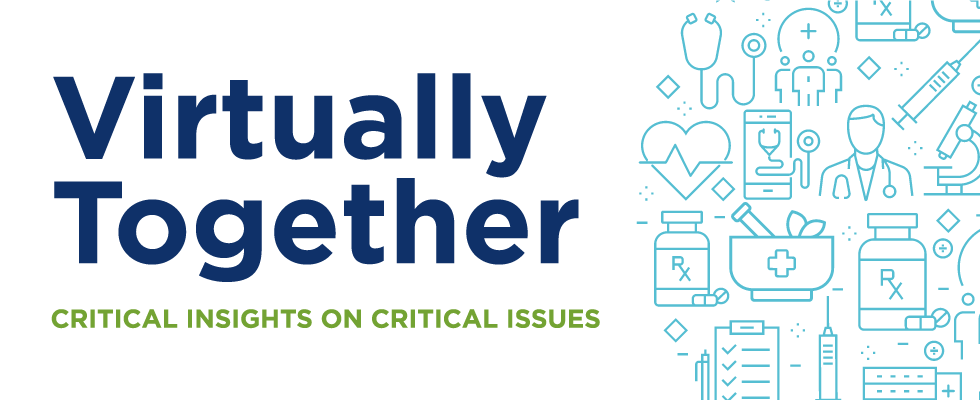 Discrimination and racism in the pharmacy profession part 2: Reflections from the pharmacy sector
Panelists
Zubin Austin is Professor and Koffler Chair in Management at the Leslie Dan Faculty of Pharmacy and Institute for Health Policy, Management, and Evaluation – Faculty of Medicine, University of Toronto. His research focuses on the professional and personal development of the health workforce. He has published over 200 peer reviewed papers and authored four reference textbooks, including the recently released Communication in Interprofessional Care: Theory and Applications. In 2017, in recognition of the global impact of his research, he was installed as a Fellow of the Canadian Academy of the Health Sciences, one of the highest honours for health researchers in Canada. He is also the only University of Toronto professor ever to have received the President's Teaching Award for sustained excellence as an educator and the President's Research Impact Award for the significance of his research. He has been selected Professor of the Year by undergraduate students on 20 separate occasions.
Justin J. Bates began his career in the advertising and marketing business before transitioning into the health insurance industry where he worked as a consultant for a pharmacy benefit manager and as a principal in a health insurance brokerage. He has spent more than 15 years advocating on behalf of the pharmacy sector in various capacities including as Chief Executive Officer of the Neighbourhood Pharmacy Association of Canada (Neighbourhood Pharmacies). In his current role as Chief Executive Officer of the Ontario Pharmacists Association, he brings a strategic, collaborative and transformative leadership approach while advocating and advancing the pharmacy profession.
In addition to a bachelor's degree in political science and psychology, Justin holds a negotiation certificate from the Harvard Negotiation Institute and has completed the Institute of Corporate Directors program and the University of Toronto's Rotman School of Management Executive Program: Not for Profit Governance Essentials. He also serves as a Board Director for the Canadian Foundation for Pharmacy.
As Executive Vice President, Pharmacy for Shoppers Drug Mart, Ashesh Desai oversees the healthcare business and pharmacy strategy and operations for more than 1,300 pharmacist- owned Shoppers Drug Mart locations and 500 Loblaw pharmacies.
Ash completed his Undergraduate Degree and Doctor of Pharmacy from the University of Toronto and was a practicing pharmacist in Toronto, Ontario before joining Shoppers in 2002. During his progressive roles within the organization, Ash has been instrumental in improving the customers' wellness journey. Through offerings and programs such as MediSystem, Specialty Health Network, Wellwise, in-store and online registered dietitians and Employer Health Solutions, Ash has been committed to improving accessibility to products and services for Canadians with complex or specialized healthcare needs. Ash is actively involved in Shoppers Drug Mart's advocacy work in an effort to shape healthcare systems and polices in Canada, specifically as it relates to pharmacy practice.
Ash lives in Toronto with his wife and young daughter.
Dr. Sandra Leal, PharmD, MPH, CDCES, FAPhA, serves as Executive Vice President for SinfoniaRx, A TRHC Solution. Tabula Rasa Healthcare is a leader in providing patient-specific, data-driven technology, and solutions that enable healthcare organizations to optimize medication regimens to improve patient outcomes, reduce hospitalizations, and lower healthcare costs.
She was installed as President-elect for the American Pharmacist Association to serve a term from 2020 to 2022. She is also past chair and current member of the National Center for Farmworker Health and the Association for Clinicians for the Underserved. She serves on various work groups with the American Diabetes Association which highlights the impact that pharmacists can have on improving the care for people with diabetes.
She has published and presented her work in numerous national and international publications and venues including Canada, India, Peru, Saudi Arabia, and Japan. She has been recognized as the Good Government Pharmacists of the Year by the American Pharmacists Association for her advocacy of pharmacy provider status, received two Pinnacle Awards for her progressive practice innovations, and received the ASHP Best Practice Award. Dr. Leal is a strong advocate for public health, pharmacists, and patients and has passion for efforts that improve access, quality, and outcomes.
Veronica Sison is a PharmD Candidate at the University of Waterloo Currently working with the CPhA Professional Affairs for her co-op term. She received her Honours Bachelor of Science at University of Toronto for Pharmacology and Biomedical Toxicology. She is now a Doctor of Pharmacy Candidate at University of Waterloo set to graduate in 2022. She is also currently working part-time at a Rexall pharmacy where she applies course materials, she has learned to provide patient-centered care.
Dr. Jaris Swidrovich is an Assistant Professor in the College of Pharmacy and Nutrition at the University of Saskatchewan. He is a Saulteaux First Nations man and pharmacist and a member of Yellow Quill First Nation. He was born, raised, and continues to reside in Saskatoon. He received his Bachelor of Science in Pharmacy (BSP) from the University of Saskatchewan and later completed the full-time post-baccalaureate Doctor of Pharmacy program at the University of Toronto. He is also a Ph.D. Candidate in the College of Education at the University of Saskatchewan. He is active in the community and was named one of CBC Saskatchewan's "Top 40 Under 40" in 2016.