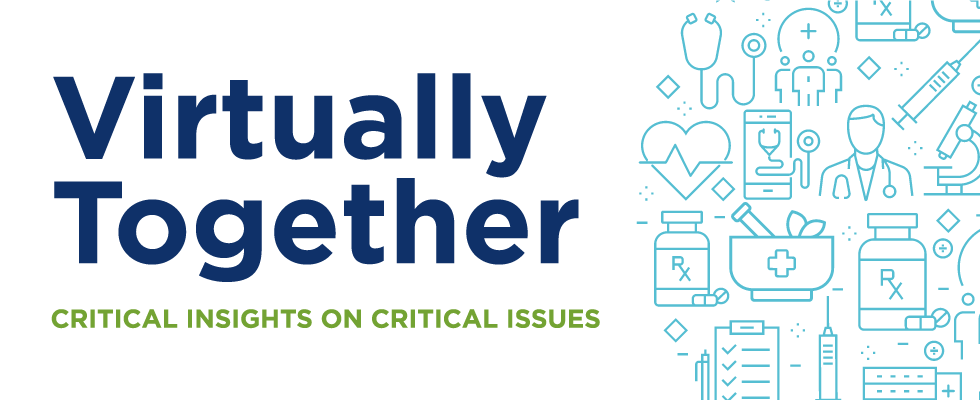 We are excited to launch our 2020 fall webinar series, Virtually Together: Critical Insights on Critical Issues.
Beginning September 28, and for the remainder of 2020, Zoom in for a series of accredited webinars featuring keynote speakers and panel discussions on topics critical to the evolving realities of pharmacy practice. In each of these engaging sessions, you'll hear from frontline pharmacists and industry experts from across Canada with their perspectives on some of the most pressing issues facing our profession.
Each webinar will last between 1-2 hours and attendees will receive Statements of Attendance and CEUs for participating in the live virtual sessions or watching the recordings, which will be made available after each event. The entire series is accredited for a total of 9.5 CEUs under CCCEP file #: 8002-2020-3103-C-P. Session dates and registration links will be added as they are confirmed.
Some sessions in this series have been generously supported by unrestricted educational grants.
Session Lineup
---
New horizons for pharmacists as public health stewards
Date: December 3, 2020
Time: 2:30 - 4:00 PM ET (90 mins)

The COVID-19 pandemic has provided a unique opportunity for Canadian pharmacists to contribute to preventative and public health and has helped lay the groundwork for a broader role for pharmacists as public health stewards. This session will highlight how pharmacists are building on their skills and capacity as immunizers and public health educators to provide COVID-19 testing and vaccine administration, both in Canada and globally. In addition, we'll touch on other ways pharmacists can support public health, such as combating the opioid crisis though harm reduction efforts, and we'll explore barriers and facilitators to helping community pharmacists prepare for new horizons in public health.
LEARNING OBJECTIVES:
Describe 3 key activities pharmacists could take on in a broader public health role
Identify barriers and facilitators to achieving a broader public health role
Explain the steps pharmacists need to take to prepare themselves for a broader public health role
PANELISTS:
Matt Tachuk, BScPharm, RPh
Director of Pharmacy Practice, Alberta Pharmacists' Association (RxA)
Angeline Ng, RPh.
Director, Professional Affairs, Ontario Pharmacists Association
Jeff Mehltretter
Vice President, Pharmacy and Business Development for Neighbourhood Pharmacy Association of Canada
Carlene Oleksyn BSP, RPh, CDE, CTH
Pharmacy Owner/Manager, Mint Health + Drugs and Consultant, colekPharm
Kerry Robinson
Executive Director, Intergovernmental, Indigenous & Stakeholder Policy Division, Public Health Agency of Canada
1.5 CEUs
Supported by an unrestricted educational grant from AbbVie
---
Pharmacy's pandemic response: Reflections on future pandemic planning
Pharmacists are Canadians' most accessible health care providers. This fact has never been more evident that during the COVID-19 pandemic. Community pharmacies remained open and pharmacists continued to provide essential medication management care to patients while other health care providers closed their doors. However, the pandemic has presented community pharmacy with many practice challenges, including procurement of PPE, maintaining continuity of care for patients, managing drug shortages and providing care to a surge of patients seeking help, all while maintaining increased infection control measures. It is essential to incorporate early lessons learned from the COVID-19 pandemic to help pharmacists be better prepared for any future pandemic or wave. This presentation will highlight key strategies and considerations in achieving patient continuity of care, safeguarding medication supply and optimizing workflow to protect staff and patients. While it is impossible to prevent a pandemic from occurring, there is much pharmacists can do to prepare.
LEARNING OBJECTIVES:
Identify the various roles pharmacists play during a pandemic
Discuss changes to workflow and practice to protect pharmacy team members and patients
List challenges to continuity of care and describe solutions to overcoming these barriers
Identify strategies for preparedness for future pandemics
Panellists: TBD
1.5 CEUs