Dr. Zubin Austin: Research on the Pharmacist Professional Identity
Interested in learning more about pharmacists, their psychology and practice change? The Canadian Pharmacists Journal has published many articles in this area and is considered one of the leading international journals in the field. These articles will help you better understand the psychology of practice change. Click on the article you are interested in to read more.
Trust in interprofessional collaboration: Perspectives of pharmacists and physicians
Effective collaboration between pharmacists and physicians requires trust.
Different cognitive models of trust produce different behavioural expectations.
Misalignments between practitioners' cognitive models of trust may produce interprofessional tensions.
For pharmacists, trust is conferred based on status, degree, title or positional authority, while for family physicians, trust is earned based on competence and performance.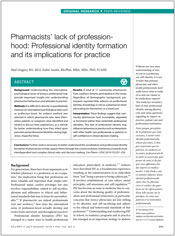 Pharmacists' lack of profession-hood: Professional identity formation and its implications for practice
Professional self-identity is a hallmark of professional status and an important part of what motivates and supports practice.
Pharmacists have weak or incomplete professional self-identity formation. We found that in times of crisis, when it matters most, pharmacists do not identify as pharmacists.
Weak or incomplete professional self-identity formation may adversely affect patient care and practice. This may explain pharmacists' lack of confidence, reluctance to take responsibility and, ultimately, why a full scope of practice is difficult to achieve.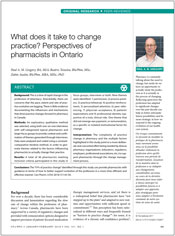 What does it take to change practice? Perspectives of pharmacists in Ontario
Practice change is a complex amalgam of environmental, contextual and personal/psychological factors.
Practice change may happen without support, in a haphazard, slow and disorganized manner.
Supporting practice change in pharmacy requires diverse stakeholders to collaborate to address the 9 Ps of practice change highlighted in this study.
Providing support for practice change in a structured and organized manner may accelerate the pace and extent of change and may provide pharmacists with the confidence and skills needed to enhance quality of care and services provided.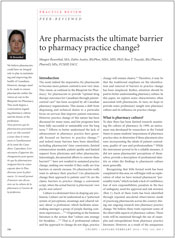 Are pharmacists the ultimate barrier to pharmacy practice change?
The pace of long-term and sustainable pharmacy practice change has been slow.
Previously identified barriers to practice change may represent only observable aspects of an underlying pharmacy culture resistant to change.
An examination of pharmacy culture will provide mechanisms for the development of culturally specific change initiatives.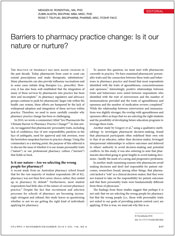 Barriers to pharmacy practice change: Is it our nature or nurture?
This paper provides an opportunity to reflect upon how we as pharmacists support, and frustrate, our own attempts to create practice change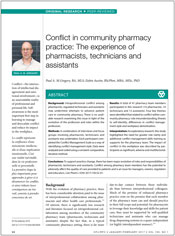 Conflict in community pharmacy practice: The experience of pharmacists, technicians and assistants
Effective collaboration within the pharmacy team requires conflict management and resolution skills.
Role misunderstanding and ambiguity may trigger conflict.
Changing scopes of practice and roles may escalate conflict because of the impact on personal and professional self-identity.
Understanding different conflict management styles may be useful to help de-escalate or prevent conflict.
Conflict is an important reason for workplace demotivation.