Canadian Pharmacists Journal
Call for submissions: Pharmacists on the front lines
In a time of great challenge and uncertainty, pharmacists and pharmacy technicians have stepped up at the front line to provide care to stressed and frightened members of their communities. CPJ and CPhA would like to highlight your efforts, your innovations in care and your challenges. In 200-300 words, tell us:
What was the situation/problem you encountered
Background (give some brief details so the problem and actions make sense to the reader)
Your Assessment and Actions
Reaction from your patient(s)
How did it make you feel as a pharmacist?
And any other challenges you have encountered and faced?
We'll tell your stories in a future issue of CPJ, in CPhA social media and other venues. If you have a photo that illustrates your story, please send it along (should be at least 400 KB). Send to cpj@pharmacists.ca.
We're also looking for your patients' perspectives! Please encourage your patients, family and friends to email us their stories of how pharmacists and pharmacy teams have gone above and beyond for them during the COVID-19 pandemic.
About the Canadian Pharmacists Journal
The Canadian Pharmacists Journal is the voice of pharmacy practice research in Canada, focusing on the evidence for pharmacist care. This peer-reviewed journal is published 6 times per year, and features original research, reviews, commentaries, evidence briefs, clinical practice guidelines and practice tools relating to advancing pharmacy practice towards patient-centred care and improving outcomes. Opinion pieces and descriptions of innovative practice models are also welcome.
Pharmacist professional identity: Dr. Zubin Austin
Did you miss Dr. Zubin Austin's thought-provoking session on professional and personal identity in pharmacy practice at PxP2019? This CPJ-sponsored lecture was one of the hits of the recent conference.
The University of Toronto has released a video of Dr. Austin sharing his insights into the psychology of pharmacists and practice change. You can also read Dr. Austin's research on this topic in CPJ.
Special supplement to the CPJ: 2019 Pharmacy Practice Research Abstracts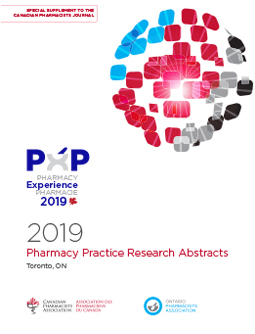 A special conference issue of the CPJ, sponsored by Canada Health Infoway, was created for PxP2019: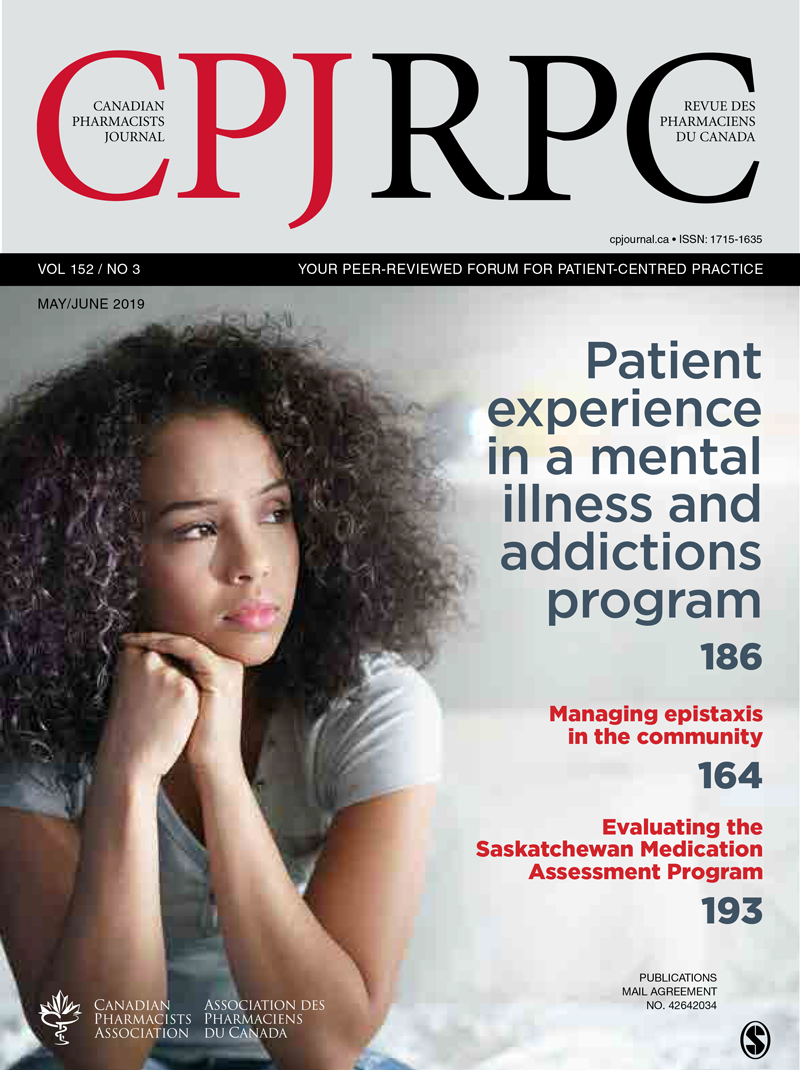 Happy birthday, CPJ!
In 2018, CPJ celebrates 150 years, making it the oldest continuously published periodical in North America! On behalf of the Canadian Pharmacists Association, HAPPY BIRTHDAY, CPJ!
Why read CPJ?
New CPhA associate benefit!
CPhA associates now receive the Canadian Pharmacists Journal as a complimentary member benefit! NOTE: Student associates receive access to CPJ Online only.
How do I become a CPhA associate?
In June 2014, CPhA changed its membership model. Members of provincial and national pharmacy associations that have joined CPhA are now able to become CPhA associates at no charge. If your association is a member of CPhA, you will automatically begin receiving print copies of CPJ in the mail. To access CPJ Online, simply register as an associate on our website or log in to CPJ Online if you're already registered. Learn more about CPhA's new membership & governance model.
If you are not a CPhA associate, you can subscribe to CPJ directly through SAGE Publications.
Get Involved
The mission of the Canadian Pharmacists Journal is to support pharmacists in optimizing patient care by linking knowledge to practice. To fulfill this mission, we need your help. We are looking for reviewers with expertise and interest in a wide range of practice areas, for both English and French language submissions. We also encourage you to submit your manuscripts for consideration. Submit a manuscript or become a CPJ Reviewer.
Advertise in CPJ
For queries about advertising opportunities, contact Cameron Shannon by email or phone 805-410-7313.
Stay Connected