Influenza 2021/2022: Suggested Best Practices for Pharmacies
Updated September 28, 2021
The purpose of this document is to provide best practice suggestions and considerations for the delivery of seasonal influenza vaccine by community pharmacists in fall 2021 in the context of the ongoing COVID-19 pandemic.
This document assumes that pharmacies/pharmacists providing seasonal influenza immunizations already meet their jurisdictional regulatory requirements to do so. Information provided here is intended to highlight considerations regarding new or adapted practices that pharmacies may need to implement as a result of the COVID-19 pandemic. For information on annual immunization guidelines, such as immunization schedules, please consult your provincial website or the Government of Canada's Provincial and Territorial Immunization Information web page.
These suggested best practices, originally developed by the Canadian Pharmacists Association (CPhA) in consultation with its National Influenza Preparedness Working Group for the 2020/21 flu season, have been updated for 2021/22. Guidance from the National Advisory Committee on Immunization (NACI) and the Public Health Agency of Canada supersedes all considerations and suggestions in this document. Furthermore, pharmacy regulators in some provinces have already issued COVID-19 guidance, which must be consulted prior to proceeding with any measures outlined here. Following that, any additional corporate policies (including guidance from a central office, if applicable) must also be taken into consideration.
Contents
---
Challenges in 2021/22
With expected high patient demand for influenza immunizations consistent with the 20/21 season, and a fourth wave of COVID-19, community pharmacy is preparing for a challenging 2021/22 influenza season. Pharmacists are planning how to manage the additional time, tasks and supplies they will need to provide immunizations safely to their patients, while protecting themselves and their staff.
Specific challenges include:
Ongoing COVID-19 activity, which may continue to stress public health capacity
Continued need for physical distancing and other infection control procedures
Increased demand from patients for influenza immunizations
Increased risk to patients seeking influenza immunizations of contracting both influenza and COVID-19
Reduced access to immunization services from other providers
Shortages of seasonal influenza immunization vaccines and supplies
Lack of awareness regarding updated guidance on COVID-19 and influenza vaccine co-administration (See NACI recommendation on co-administration)
Some pharmacies may also be challenged by:
Having only 1 pharmacist on staff at a time or no overlap
Smaller footprint with limited space for patient flow/waiting areas, depending on whether capacity limitations are restricted during the fourth wave
High volume with many patients coming into the waiting area
Curbside pickup or delivery services with no access to the pharmacy by the public
Households seeking influenza immunizations together (as encouraged by NACI)
Co-administration/individuals seeking multiple immunizations or other services at the same time as influenza immunization (as encouraged by NACI), specifically those seeking first or second COVID-19 shots.
Adaptations to influenza immunization services
In order to accommodate what may be changing conditions as well as demand fluctuations, pharmacies may need to adapt their operations as follows:
Anytime walk-in immunizations (not recommended for high-volume pharmacies)
Dedicated hours for walk-in immunizations
Appointment-based model for individuals or households
Special hours for vulnerable patients, including closing the pharmacy to foot traffic during these hours
Immunizations off-site (e.g., home visits, congregate locations, workplaces)
Booking other "open spaces" such as community halls
Temporary structures co-located with the pharmacy (i.e., parking lot)
Drive-through services (i.e., immunizing patients in their vehicles)
IMPORTANT: If pharmacies choose to use off-site or drive through models to provide immunizations, remember to ensure that such activities are authorized by your jurisdictional regulation and covered by your liability insurance.
Key Workflow Principles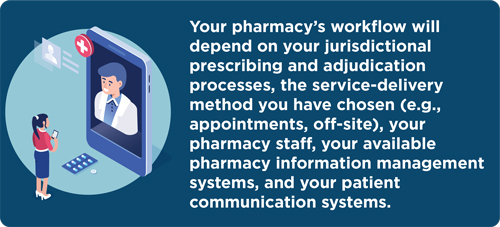 No matter which delivery model your pharmacy chooses, your influenza immunization workflow should strive to:
Maintain physical distancing between individuals
Minimize the number of patients entering the pharmacy and number of pharmacy staff interacting with them
Minimize the length of time patients spend in the pharmacy and in close contact with any pharmacy staff
Reduce the transfer of objects (e.g., paperwork, pens) between all individuals
Incorporate contactless or paperless processes for certain elements of information gathering and distribution, patient registration, documentation, adjudication, payment, and record-keeping wherever possible
Account for all other COVID-related infection control measures to protect staff and patients and to minimize the spread of infection (e.g., screening patients, increased cleaning and disinfecting protocols, use of PPE)
Key considerations
Documentation and Forms
The immunization and patient information you collect, document, transmit or adjudicate and how you do so will depend on your jurisdictional requirements, corporate policies, pharmacy information management systems, and any other technology platforms you may use. It is beyond the scope of this document to provide best practices that consider all these different factors.
Pharmacies may wish to consider:
Documents that patients can complete (via website, email or some other means) and submit ahead of time in a secure manner
Documents that patients can access (via website, email or some other means), complete and bring in hard copy to the pharmacy (this may minimize patient time in the pharmacy but also may increase the transfer of objects between individuals)
Adding COVID-19 screening questions to existing immunization screening forms to streamline workflow while maintaining a record for contact-tracing purposes (this will depend on jurisdictional requirements)
Being aware of possible changes to patient documentation with respect to vaccination passports, which may emerge in fall/winter 2021/2022
Scheduling Appointments/Hours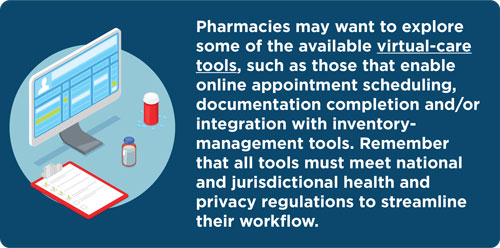 In order to control workflow and minimize the number of patients in the pharmacy (or immunization space), pharmacies may consider adopting a service model where patients register in advance for an immunization appointment at a specific time.
Schedule appointments for individuals approximately every 15 minutes
Limit the number of individuals attending an appointment to the patient(s) receiving the immunization and 1 essential caregiver, if required (e.g., parent; caregiver to elderly patient)
Consider immunizing household members together (which may require longer appointment times)
Schedule appointments online, by email, by phone or other method
Provide appointment reminders by text, email, phone or other method
Consider options or processes to remind patients to contact the pharmacy if they need to cancel or reschedule their appointment, or for pharmacy staff to contact patients in the event of a cancellation/change in schedule
The process you use to schedule appointments or send reminders may also provide opportunities to communicate with patients that may help minimize the time they spend in the pharmacy when they come in for their immunization. Consider:
Pre-screening patients for COVID-19 (via phone conversation with staff on the day of the immunization) or providing pre-screening information to them, and to query whether the patient has had both COVID-19 shots and explain that they can be co-administered with the flu shot if applicable.
Providing patients with immunization documentation that may be completed and/or submitted ahead of time (where feasible)
Updating patient files
Obtaining information on patient preferences or special needs
Confirming patient eligibility for publicly funded vaccines (where applicable)
Providing patients with specific instructions on new procedures or what to expect
Providing patients with an opportunity to cancel or reschedule their appointment, if needed
Providing the pharmacy with an opportunity to cancel or reschedule the appointment, if needed
Answering any other questions
See "Communicating with Patients" for more details.
Screening for COVID-19

Patients must be screened for COVID-19 before being immunized; immunizations should not be provided to patients who screen positive. Patients should be instructed to self-screen before coming into the pharmacy for their immunization, then be actively screened by a staff member shortly before the immunization is provided. Ideally, this active screening should be done before the patient enters the premises where the immunization will take place (and preferably before any vaccines are prepared for the patient).
Patients who screen positive for COVID-19 should be encouraged to be vaccinated for both influenza and COVID-19 after testing negative for COVID-19 and can be vaccinated once they come out of isolation.
Passive screening can be done via:
Online self-screening tool available to patients (e.g., on pharmacy's website, via an appointment booking system) when they make their immunization appointment
Online self-screening tool provided to patients on the day of their immunization (e.g., via email, text link)
Posters or signage at the entry to the pharmacy/immunization space with self-screening criteria and instructions. Signage could also incorporate:

QR codes or URLs linked to online self-screening tools
Video instructions
Any passive screening tools should take your patients' language and accessibility requirements into consideration, as well as their knowledge and comfort with digital technology. Passive screening tools must provide patients with instructions on what to do should they self-screen positive for any factor.
Active screening can be done:
By phone call with a pharmacy staff member on the day of the immunization appointment
In the patient's vehicle by a pharmacy staff member when the patient(s) arrives for the appointment
At the entry to the pharmacy by a pharmacy staff member when the patient(s) arrives for the appointment
Pharmacy staff carrying out active screening should be wearing all appropriate PPE to protect themselves and must be prepared to instruct patients on what to do should they screen positive for any factor.
NOTE: Some of the reported reactions to an influenza immunization (fever, headache, muscle pain) may be similar to current screening criteria for COVID-19. At the moment, NACI and PHAC are still recommending that all patients should be advised to consider any symptoms as potential COVID-19 symptoms, regardless of any other possible cause, and follow any local public health guidance regarding isolation, monitoring or testing for COVID-19. This includes any policies established for school attendance.
Preparing Your Pharmacy/Immunization Premises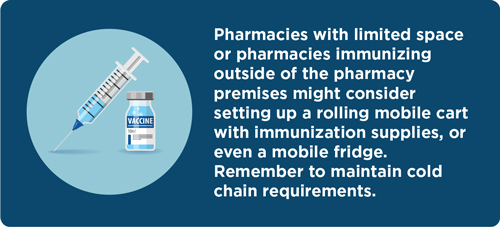 Steps to consider when preparing your premises to accommodate an influx of patients getting immunizations while maintaining physical distancing and other infection control procedures:
Determine limit on the number of people who may enter the pharmacy (or immunization space) at the same time, based on pharmacy size, physical distancing requirements and jurisdictional legislation
Minimize patient movement and contact via:

One-way traffic flow
Separate entrance and exit, if possible, and limited access points
Indicators on the ground to denote which direction patients should move and how far they should stay apart
Tables or other distance barriers to add distance between patients

Determine required functional areas for service delivery ("stations") and plan space allocations
Separate stations 6 feet/2 metres apart where possible or separate stations/spaces by plastic sheeting barriers or plexiglass barriers. Separate rooms for different functions are ideal but likely not possible in many pharmacies. For all stations, consider:

Positioning hand sanitizers at key stations
Ensuring all surfaces that patients may come in contact with (e.g., chairs) can be easily cleaned
Ensuring adequate air flow or ventilation in all patient areas
Ensuring access to sufficient amounts of cleaning/disinfection products

Maximize ventilation by ensuring that heating, ventilation and air conditioning (HVAC) systems are in good working order. Drawing as much fresh air as possible from outside will decrease the concentration of aerosols that may be suspended in the air, and reduce the chances of SARS-CoV-2 spread if those aerosols happen to contain the virus. If the weather and facilities permit, open a window.
Individual stations may include:

Active patient screening for COVID-19 by staff prior to immunization

Depending on your physical set-up, this might take place at the dispensary, at the entrance to the pharmacy, outside the pharmacy or even in the patient's vehicle

Patient check-in and immunization form completion

Consider having patients receive and complete forms before entering the pharmacy to reduce time spent in the pharmacy. This may include:

Completing and submitting digital forms online, if your systems allow
Printing and completing hard copy forms at home and bringing them to the pharmacy (although this may increase the transfer of objects between individuals)

If patients are completing forms at the pharmacy, minimize the sharing of items such as pens or clipboards
Jurisdictional requirements for obtaining and/or documenting informed patient consent will apply

Pre- or post-immunization waiting/observation space

Arrange seating 6 feet/2 metres apart in the waiting area
Remove all non-essential and other shared items from exposed surfaces (e.g., magazines, toys)
Consider instructing patients to wait outside the pharmacy or even in their vehicle until called in for their immunization
NACI has issued the following recommendations regarding post-immunization observation time:

Maintain current post -vaccination observation period in settings that can adhere to appropriate infection control measures to reduce transmission:

Maintain 15 minutes post-vaccination observation period (30 minutes if specific concerns regarding vaccine allergy)

Shorter observation period (5-15 minutes) only when distancing in post-vaccination areas cannot otherwise be maintained (discretionary recommendation):

This is secondary to insufficient evidence to support a standardized reduced post vaccination observation period

This shorter period to be considered only if recipient meets criteria specified in the attachment (e.g. no h/o allergy, post vaccine reaction, accompanied by a chaperone to monitor etc.)
Immunization area

Set up patient chair so that the pharmacist is not required to be directly in front of or leaning over patient while providing immunization
Patients and their accompanying persons should be asked to wear an appropriate mask or face covering.

Area for staff PPE donning, doffing and disposal (see next section)
Personal Protective Equipment (PPE) Requirements
PPE needs for all activities related to the delivery of immunizations in the pharmacy should be evaluated using a point-of-care risk assessment approach and based on public health guidance. The differential risks of injectable vs. nasal formulations should be considered.
Remember to ensure a well-ventilated area in the immunization space and avoid overcrowding to minimize airborne transmission of COVID-19.
For immunization services provided to asymptomatic patients where staff will be within 6 feet/2 metres of the patient, without a barrier between them, the following PPE measures are suggested: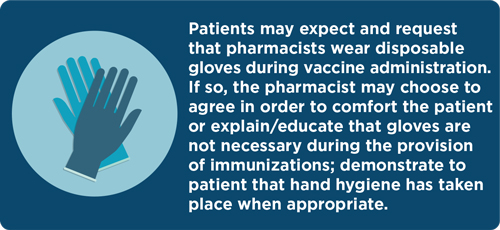 Consider sessional use for eye protection, masks and gowns (if worn). A session is defined as a period of time where a health care worker is undertaking duties in a specific setting or exposure environment, such as a 4-hour shift as designated vaccinator. A session ends when the worker leaves the environment
Wear eye protection (face shield or goggles) for duration of session; disinfect or dispose of after each session
Wear surgical/procedural mask for duration of session; replace sooner if it becomes damp, soiled or damaged
Gowns may not be required. Consider gowns in instances where vaccinator will be required to manage large numbers of patients; dispose or disinfect at the end of each session; in situations where gowns are not required, some pharmacists choose to wear scrubs sessionally when providing influenza immunizations
Gloves are required only for nasal vaccines. Depending on their own specific point-of-care risk assessment, some pharmacists may also choose to wear gloves for influenza injections; if worn, they must be replaced after each immunization (sessional use or use of hand sanitizer or bleach solution on gloves for repeated use are not recommended)
Review proper donning, doffing and hand hygiene processes with all staff, as well as consider posting signage in pharmacy to help remind staff of best practices for infection prevention and control.
Follow all other donning, doffing and hand hygiene best practices.
Infection Prevention and Control Measures
Perform routine environmental cleaning, especially in frequently visited areas (e.g., waiting area, registration area, door handles, washrooms) and on high-touch surfaces at least twice a day
Clean equipment shared with multiple people (e.g., pens, clipboards, chairs, tablet if digital information and consent performed) after each use
Station hand sanitizers at main areas of the pharmacy, including the entrance, exit, registration area, immunization area, waiting room and other areas of patient contact
Clean hands using alcohol-based hand sanitizer containing 60–90% alcohol; alternatively, wash with soap and water for at least 20 seconds
Clean and disinfect immunization area (e.g., chairs, table, door handles) after each patient immunization
Use sanitation verification logs to ensure areas are cleaned regularly
Preparing Your Staff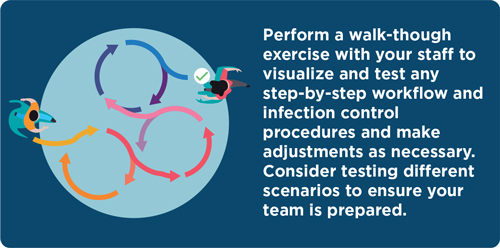 Where possible, designate staff to specific tasks for the duration of their shift. Consider dividing pharmacy staff into separate teams to prevent overlapping shifts
Consider which tasks can be performed by a pharmacy student, intern, technician or assistant under supervision. Depending on your service model, immunizations may also be performed by a pharmacy technician, nurse or other health care provider
When scheduling shifts and appointments/sessions, ensure the duration accounts for breaks for the team member. Consider having your designated immunizer work for no more than 4 hours before a break
Ensure staff members are trained on your pharmacy's immunization protocols, injection-related policies, appropriate PPE use, hand hygiene, and infection prevention and control procedures
Before each shift, screen staff members for COVID-19 symptoms or potential exposure to COVID-19. Staff who screen positive should not be working in the pharmacy
Continue to implement other pandemic sanitary measures as specified by public health and/or your provincial pharmacy college
Instruct your staff on what to do if a patient screens positive at any time during the service. This may include:

Not performing the service
Collecting the patient's name, phone number and date/time at the pharmacy (if the information has not already been obtained) in the event it is required for contact tracing
Instructing the patient to return home and call their local public health unit for more guidance
Wearing appropriate PPE and cleaning areas and surfaces touched by the patient
Consider strategies for managing patient situations that may create COVID-19 infection risks (e.g., a crying or thrashing child)
Keep up-to-date with emerging information and guidance around COVID-19 so that pharmacy staff are prepared to answer any patient questions
Summary of Workflow Tasks
If possible, assign 1 individual to be the designated vaccinator for the duration of the immunization session(s). Other staff may assist with tasks where appropriate. Depending on jurisdictional regulation, certain tasks can be done by pharmacy technicians, assistants or even students.
Before the patient arrives at the pharmacy
Book and confirm appointments
Provide immunization documents to patients (where feasible)
Gather patient information (e.g., update patient file; confirm eligibility, preferences, special needs)
Provide instructions
When the patient arrives at the pharmacy
Screen patient for COVID-19
Direct patient where to wait (e.g.,inside the pharmacy, outside the pharmacy, in their vehicle)
Provide patient with immunization forms, if not provided beforehand
Answer patient questions, confirm eligibility
Obtain any patient-specific information that is needed by the vaccinator (e.g., which arm, if giving injection)
Scan or otherwise enter immunization forms into pharmacy information management system (i.e., process the "prescription" and transmit information to vaccinator)

Ensure that patient contact information (name and contact number), plus the time and date the patient visited the pharmacy, is clear and easily accessible if needed for contact tracing purposes

Alert patients (in person, by phone or by text) when they may come into the immunization area
Consider identifying patients who are most at risk and should receive the influenza vaccine:

People at risk of severe COVID-19-related illnesses (adults over 65 years of age and/or with chronic health conditions)
People capable of transmitting influenza to those at high risk of severe and critical illness related to COVID-19
When delivering the immunization
Don PPE for the session
Stage the chair/room appropriately as per patient requirements; ensure vaccinator is beside patient (not leaning over or in front of patient)
If providing immunizations to a household group at the same time, consider preparing their vaccines and other supplies in a batch; consider use of pre-filled syringes where possible
Review and complete immunization forms with patient (which may be in hard copy of digital, depending on your pharmacy information management systems)
Consider administering all adult vaccines for other vaccine-preventable diseases that the patient requires to optimize vaccinations and minimize visits to the pharmacy
Instruct patient to face away from vaccinating pharmacist while delivering injection
Perform hand hygiene
Deliver immunization
Perform hand hygiene
Instruct patient where and when to wait post-immunization
Between and after immunizations
Clean and disinfect immunization area, patient waiting area (if in the pharmacy) and any other stations
Monitor patient flow and adherence to physical distancing protocols
Ensure patient remains in designated waiting area for required length of time; notify patient when free to go
Scan immunization documentation into pharmacy information management system (if not done previously)
Complete adjudication/billing
Provide patient with immunization record/receipt
Communicating with patients
Before the patient arrives at the pharmacy
Provide instructions and procedures to patients in advance (e.g., via website, using QR codes, email, video).
Regardless of service model, patients should be instructed to:
Self-screen for COVID-19* before coming to the pharmacy. Service cannot be performed on patients who:

Have tested positive for COVID-19 and have not been cleared
Demonstrate any COVID-19 symptoms (on day of service)
Have experienced any COVID-19 symptoms within 2 weeks of service
Have travelled out of the country within 2 weeks of service
Are living with an individual who currently has COVID-19 or has been out of the country within the last 2 weeks
Are under self-isolation
*Criteria may vary based on local or jurisdictional case definition.
Wear some form of mask or face covering to receive service. If patient (or any essential companion) does not have a mask/face covering, the immunization cannot be performed. Pharmacy staff should be prepared to either ask patients to return home or alternatively provide them with a medical mask. Exceptions are permitted for children (2 years of age and under), patients with breathing difficulties, patients who may be unable to remove a mask without assistance or patients who have another medical condition preventing them from wearing a mask
Wear loose clothing with short sleeves to allow access to immunization site
Arrive on time, not early, to avoid crowding and to maintain physical distancing
Minimize the number of individuals entering the pharmacy who are not being immunized (e.g., 1 caregiver for a child; where possible, no siblings unless also being immunized)
Contact the pharmacy if patient needs to cancel or change the scheduled appointment/immunization time
Be aware of any new COVID-related policies or procedures, such as:

Advance completion of screening forms (if available)
Where to wait for service
How long (and where) to wait post-immunization
Any situational instructions (e.g., If using "drive-through" service, pharmacy staff should encourage patients to leave their car doors unlocked during observation time after receiving flu shots, to ensure staff can access patients if additional care is needed.)
Pharmacies should be proactive in informing patients that COVID-19 and influenza vaccines can be co-administered so that the decision is not made on the day of administration in the pharmacy (where applicable).
Further instructions to patients on what to expect when they arrive at the pharmacy will depend on your service model and pharmacy information systems.
At the pharmacy
Develop and post signage that provides similar instructions and procedures to patients regarding COVID-19 screening and processes. Consider QR code scanning, large posters or videos.
In addition, materials should further instruct patients to:
Follow the pharmacy's check-in and waiting area procedures, which may include waiting in a designated area, waiting outside the pharmacy or even waiting in one's vehicle
Follow all directional and physical distancing signage
Respect posted limits of number of individuals allowed in the pharmacy at any one time
Be aware of how long to wait after immunization and where to wait
References
Balick R. What we do and don't know about flu in the COVID-19 era [PDF file]. Pharmacy Today. August 2020. Available from: www.pharmacytoday.org/article/S1042-0991(20)30757-X/pdf
Centers for Disease Control and Prevention. Best practices for vaccination clinics held at satellite, temporary, or off-site locations [PDF file]. February 8, 2019. Available from: www.izsummitpartners.org/content/uploads/2019/02/off-site-vaccination-clinic-checklist.pdf
Centers for Disease Control and Prevention. Frequently asked influenza (flu) questions: 2020-2021 season [internet]. August 14, 2020. Available from: www.cdc.gov/flu/season/faq-flu-season-2020-2021.htm
Centers for Disease Control and Prevention. Vaccination guidance during a pandemic [internet]. August 17, 2020. Available from: www.cdc.gov/vaccines/pandemic-guidance/index.html
College of Pharmacists of Manitoba. Guidance to pharmacists: administration of injections during the COVID-19 pandemic [PDF file]. April 3, 2020.
Government of Canada. COVID-19: Main Modes of Transmission. Ventilation. November 5, 2020. https://www.canada.ca/en/public-health/services/diseases/2019-novel-coronavirus-infection/health-professionals/main-modes-transmission.html#_Increase_ventilation
Government of Canada, National Advisory Committee on Immunization. Guidance for influenza vaccine delivery in the presence of COVID-19 [internet]. August 5, 2020. Available from: www.canada.ca/en/public-health/services/immunization/national-advisory-committee-on-immunization-naci/guidance-influenza-vaccine-delivery-covid-19.html
Immunisation Coalition (Australia). Influenza vaccination during COVID-19.
Morawska, L. et al. How can airborne transmission of COVID-19 indoors be minimised?. Environmental International. 2020. Volume 142. https://doi.org/10.1016/j.envint.2020.105832. http://www.sciencedirect.com/science/article/pii/S0160412020317876.
New Brunswick College of Pharmacists. COVID-19 & administration of injections [PDF file]. Updated May 28, 2020. Available from: https://nbcp.in1touch.org/document/5464/COVID-19AdministrationofInjectionsMAY2020EN.pdf
New Brunswick Health Authority. 2020-2021 seasonal influenza vaccine information for immunization providers [PDF file]. Available from: https://mcusercontent.com/a6b30937b18899fb02a32550f/files/0e0469c7-85dd-4983-937a-029f1c472546/Seasonal_Influenza_Vaccine_Information_for_Immunization_Providers_2020_2021_.pdf
Pharmacy Association of Saskatchewan. The 2020-2021 influenza season: protecting adults aged 65 and older in the context of COVID [conference recording]. July 30, 2020. Available from: www.skpharmacists.ca/site/pd/2020_pas_conference [subscription required]
Public Health Agency of Canada. Vaccine annex: Canadian pandemic influenza preparedness: planning guidance for the health sector. Appendix B - planning guidance for mass immunization clinics [internet]. March 2017. Available from: www.canada.ca/en/public-health/services/flu-influenza/canadian-pandemic-influenza-preparedness-planning-guidance-health-sector/vaccine-annex.html#appb
World Health Organization. Immunization in the context of COVID-19 pandemic [PDF file]. April 16, 2020. Available from: https://apps.who.int/iris/bitstream/handle/10665/331818/WHO-2019-nCoV-immunization_services-FAQ-2020.1-eng.pdf?sequence=1&isAllowed=y